15 Best Cenotes near Tulum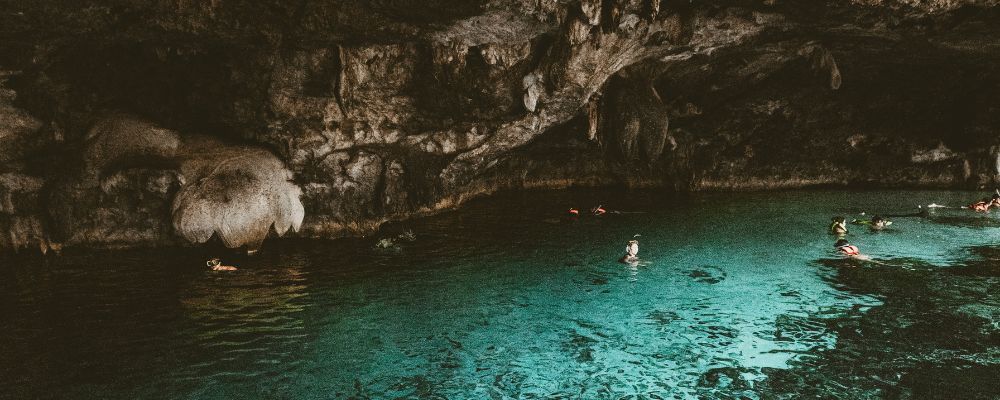 Thanks to its beautiful white sand beaches, internationally renowned gastronomy, proximity to impressive Mayan ruins and pristine crystalline cenotes, Tulum is one of the jewels of the Riviera Maya's tourist destinations. Among these attractions, Tulum boasts a profusion of captivating cenotes. From the famous Gran Cenote, which offers a captivating mix of subterranean caves, caverns and an open-air cenote, to the renowned Cenote Dos Ojos, a diver's paradise, and the expansive waters of Cenote Zacil-Ha and Cenote Carwash, a realm of stunning cenotes surrounds the city, eagerly waiting to be explored.
Embark on an unforgettable adventure with this complete guide to the wonders of the 15 best cenotes in and near Tulum.
What are cenotes?
A cenote is a phenomenon of water-filled sinkholes that form naturally in limestone rock when a subterranean cave collapses and exposes the groundwater below. There are thousands of cenotes in the Yucatan Peninsula, and Tulum is home to some of the most famous, beautiful and characteristic ones.
The water in the cenotes maintains a cool temperature from subterranean springs, making them perfect for a rejuvenating swim. During the Mayan era, many of the cenotes were important for sacrificial rituals, and objects such as gold, pottery and even human and animal remains have been discovered in their depths.
The cenotes near Tulum fall into several categories: open, semi-open and subterranean. Here we explain what each one is like.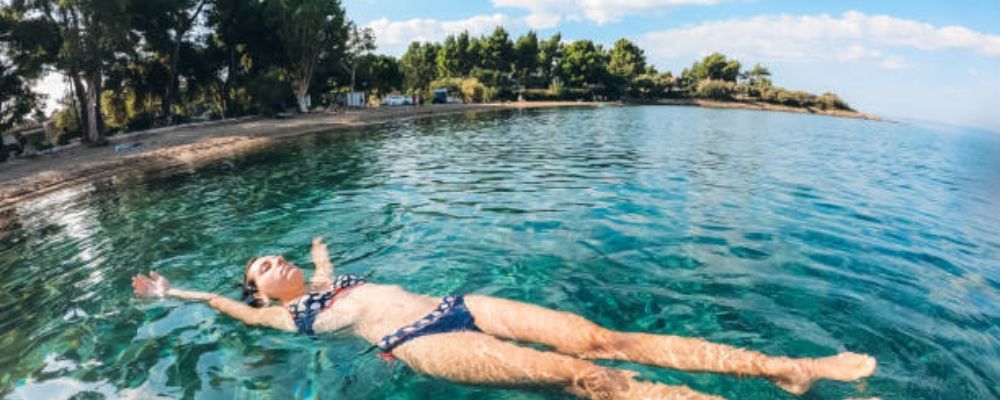 Open Cenotes
They are caves that have completely collapsed, showing themselves to the sky. They occupy a special place in the preferences of tourists, since they allow swimming under the blue sky while enjoying the pleasant temperature and abundant corners to relax at the water's edge. Cenote Carwash and Cenote Zacil Ha stand out as two of the best open-air cenotes in Tulum.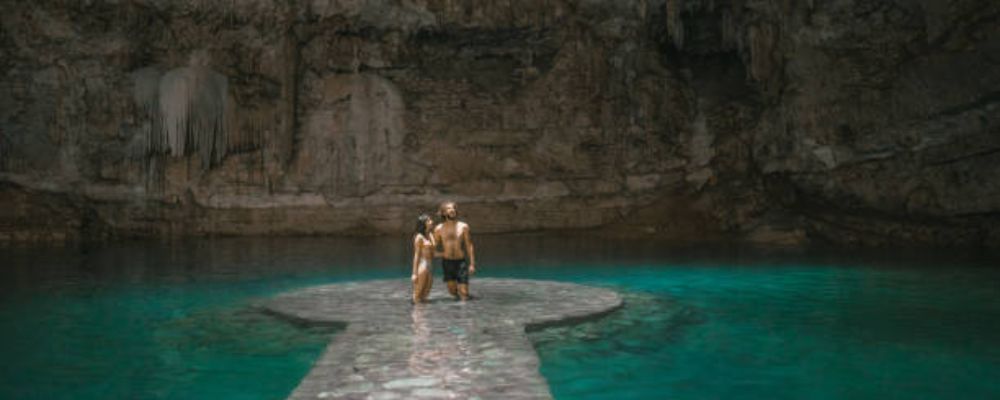 Semi-open cenotes
This type of cenotes are mostly underground, but have small openings at the top that allow light and fresh air to enter. This play of light provides an extraordinary beauty when the sun's rays illuminate the crystal clear water. Among the favorite semi-open cenotes for travelers are Cenote Ik Kil, often included in day trips to Chichén Itzá, and Cenote Samula, located very close to Valladolid, which will completely captivate your senses.
Subterranean Cenotes
These cenotes are located entirely within cave systems, so there is no natural lighting to illuminate their waters. Among the subterranean cenotes of the Yucatan peninsula near Tulum are Cenote Choo-Ha, next to the ruins of Coba, and Cenote Xkeken, very close to Valladolid.
Where to stay in Tulum?
If you want to stay in Tulum, you should know that there are several exclusive resorts to do so. Some of the best known are Casa Santiago, La Zebra Colibri, Kanan Tulum, Ahau Tulum, Alaya Tulum, and Hotel Poc Na Tulum.
Best Cenotes in Tulum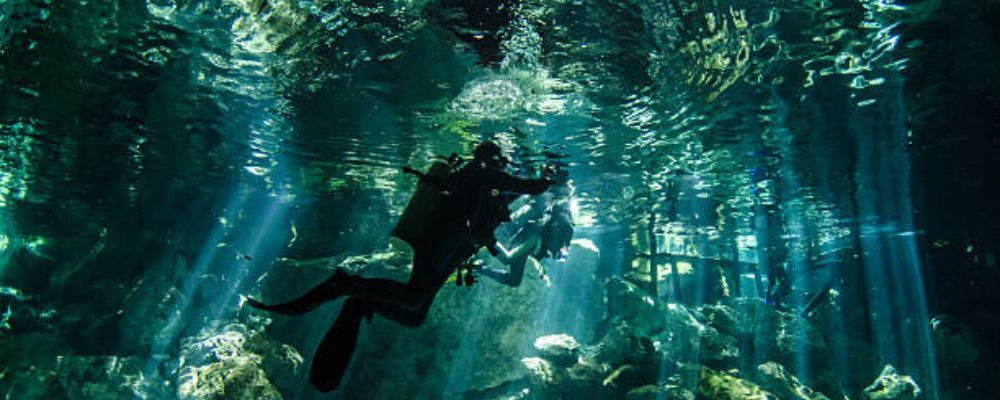 1- Gran Cenote
The popular Gran Cenote is an immense cenote of crystal clear and transparent waters, located beyond the perimeter of Tulum. This enchanting destination is an amalgam of caves, caverns and an open-air cenote, connected by winding wooden walkways and surrounded by lush vegetation. Attractive to swimmers, divers and snorkelers, the Gran Cenote captivates both the inhabitants of Tulum and those on their way to the ruins of Cobá.
The Gran Cenote consists of an open-air river-shaped cenote, flanked by two designated snorkeling areas, where the chance to watch turtles gliding gracefully through its waters often delights visitors.
How to get to Gran Cenote: Getting to Gran Cenote is very easy. Renting a car makes it easy to get there. If you leave from Tulum, opt for a cab or a colectivo on Tour to Coba and let the driver know your destination.
Entrance fee to the Gran Cenote: Tickets for the Gran Cenote cost 500 pesos.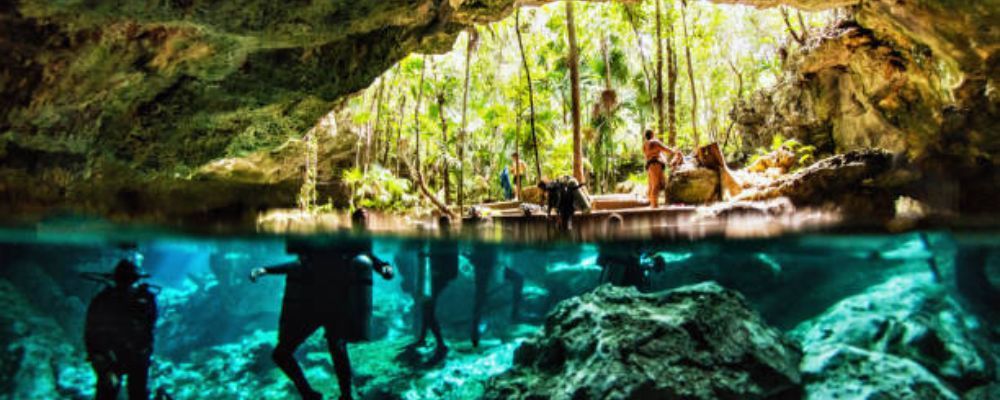 2 - Cenote Dos Ojos
Located between Playa del Carmen and Tulum, Cenote Dos Ojos is only a 30 minute drive from Tulum and secures its position as one of the top diving cenotes in the Yucatan Peninsula.
Its name, "Cenote Dos Ojos", is due to the amazing formation of two cenotes, interconnected by a boardwalk that resembles a pair of watchful eyes. These two cenotes merge gracefully beneath the earth's surface to create an enchanting subterranean chamber. Many adventurers venture into the heart of these caves on guided snorkeling excursions. With its intricate network of deep caverns, Dos Ojos magnetizes diving enthusiasts with its irresistible allure.
How to get to Cenote Dos Ojos: To get to Cenote Dos Ojos, the most comfortable way is to rent a car or travel by private transportation from Tulum.
If you don't have a car, you will have to consider that you will have to walk 30 minutes on a dirt road to get to the cenote.
Entrance fee to Cenote Dos Ojos: The entrance fee to Cenote Dos Ojos is 450 pesos and includes access to all the cenotes in Dos Ojos Park.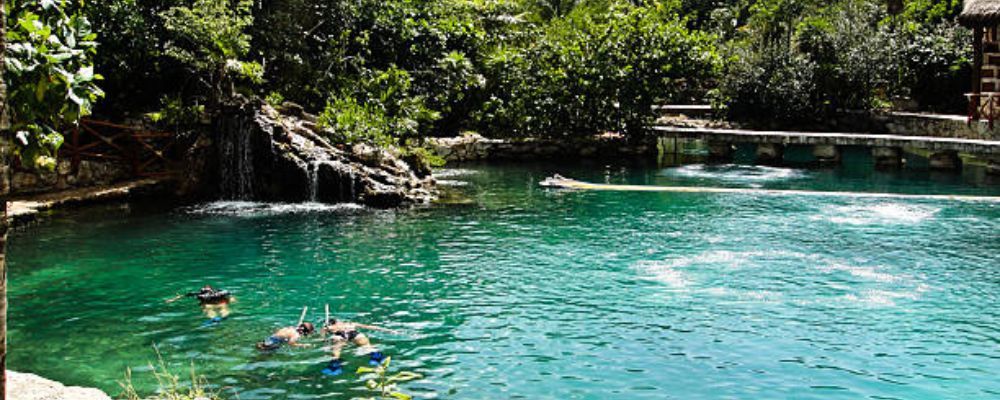 3 - Cenote Carwash
Located under the open sky, Cenote Ak Tun Ha, known as the CarWash Cenote, owes its name to its historical role in car-cleaning activities. This expansive aquatic oasis features a large swimming area conveniently located next to the parking lot, ensuring easy access for all.
Within it unfolds a captivating underwater tapestry of rock formations, inhabited by fish and turtles. Occasionally, a crocodile makes an appearance. Lush undergrowth guides visitors into a segment of the cave, adding an element of intrigue to the experience. With depths of up to 15 meters, the Carwash Cenote often sees divers dive into its refreshing waters.
How to get to Cenote Car Wash: Getting to Cenote Carwash is easy thanks to the guided tours. For those leaving from Tulum, just take a cab or tour to Coba and specify to the driver the point of arrival.
Entrance fee to the Cenote Car Wash: The entrance fee to Cenote Carwash is 300 pesos, a passport to its captivating wonders.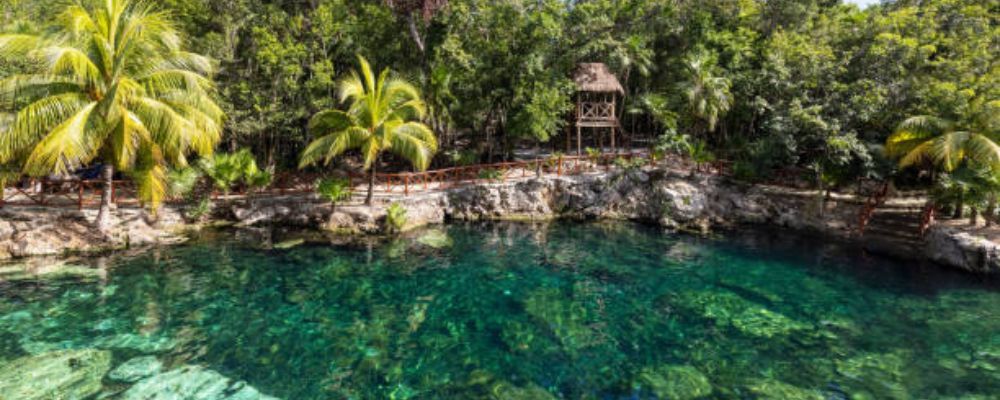 4 - Casa Cenote
Located along the road linking Playa del Carmen and Tulum, Casa Cenote stands as a marvel among its peers, offering a distinctive charm near Tulum. Its mesmerizing turquoise waters, exceptionally clear and inviting, are embraced by the abundant foliage of trees and the intricate tangle of mangroves. A visit to this place can easily be complemented with a pleasant excursion to the nearby beaches, creating a unique experience.
The activities available at Casa Cenote are varied: a leisurely swim, a serene kayak ride or a paddleboard excursion, all set against the backdrop of this natural wonder. With a depth of only 20 feet, it is ideal for families looking to spend time together. Casa Cenote's charm extends to divers who are captivated by its underwater wonders. In addition, the cenote's underwater cave system attracts divers, leading them on a fascinating path that connects with the immensity of the ocean.
How to get to Casa Cenote: You can access the cenote by different means: car rental, private transportation in Playa del Carmen or Tulum, and even colectivos and tours alone or in groups.
Entrance fee to Casa Cenote: For those who wish to enter the wonders of Casa Cenote, a 150 peso ticket is the gateway to this enchanting experience.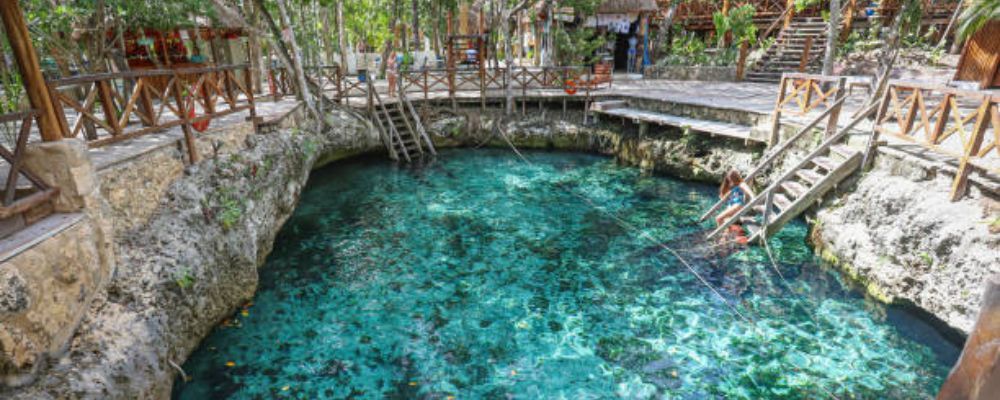 5 - Cenote Zacil-Ha
Very close to the Carwash cenote is the Zacil-Ha cenote, a picturesque open-air cenote with extraordinarily transparent waters. Among all the cenotes discovered, Zacil-Ha is the one that most resembles a conventional swimming pool, although with a special charm. The space offers abundant opportunities for thrilling jumps from the shore, and for those seeking an extra thrill, a zip line provides a unique vantage point before diving into the cenote. In addition to these adventures, the cenote is equipped with hammocks and conventional bathing areas, inviting visitors to unhurried relaxation.
How to get to Cenote Zazil: To get to Cenote Zazil you can rent a car, travel on your own in public transportation, or travel alone or with your family in a private transportation service.
Entrance fee to Cenote Zazil: Entrance to Cenote Zacil Ha is 200 pesos and allows access to its wonders. In addition, for those who are attracted to the zip-line experience, a nominal fee of 10 pesos guarantees an added thrill on the calm waters.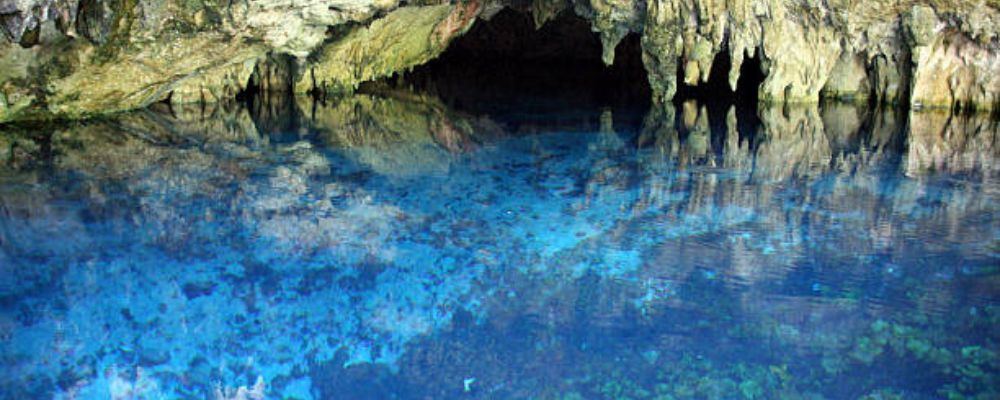 6 - Cenotes Sac Actun, Nicte-Ha and El Pit
Near Parque dos Ojos, a constellation of cenotes awaits you, each with its own unique charm. In particular, Cenote Sac Actun, popularly known as the "pet cemetery cenote," and Cenote El Pit, revered as the deepest cenote in Yucatán, beckon with their captivating charm. Set like a tranquil pond amidst lush lily pads, Cenote Nicte-Ha completes this trio of favorites.
How to get to Cenote Sac Tun, Nicte Ha and El Pit: Access to Cenote Sac Actun, Cenote El Pit and Cenote Nicte-Ha is easy if you have a vehicle at your disposal, you can also take a Colectivo in Tulum, a direct transfer from Cancun or even in Playa del Carmen. As in Cenote 2 ojos, in case you don't have a vehicle, the entrance to the cenote will be a 30 min walk.
Entrance fee to Cenote Sac Tun, Nicte Ha and the Pit: Entrance to this captivating world of cenotes at Dos Ojos Park is priced at $450 pesos, which includes access to all cenotes within the park, including Sac Actun and Nicte Ha, which offer their own unique splendors. Those interested exclusively in exploring Cenote Dos Ojos can purchase individual tickets for 350 pesos.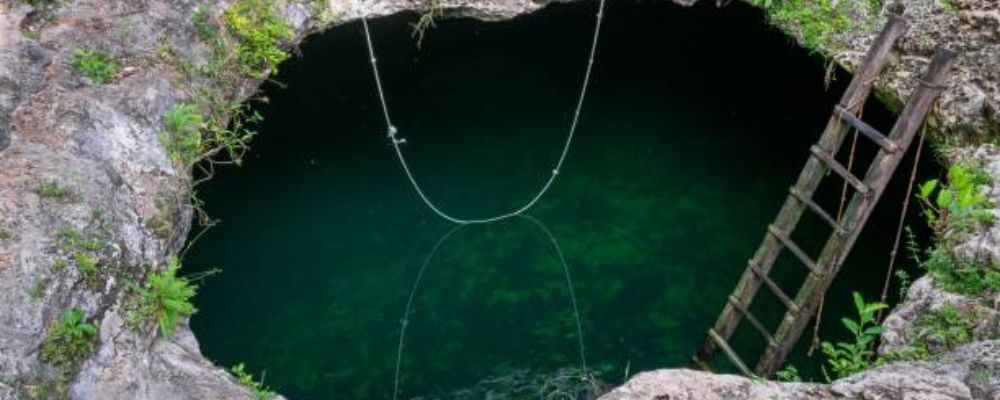 7 - Cenote Calavera
Cenote Calavera is a true gem among Tulum's cenotes. Its name, which translates as "Cenote Calavera", aptly describes its formation: three sinkholes that look like two eyes and a mouth, creating a mysterious skull-shaped face above the cenote. To access the refreshing waters, you have two options: descend the 4-meter drop down the sturdy staircase at the edge of the cenote or, for the more adventurous, jump off the side and take a thrilling plunge into the depths of the cenote.
Despite its proximity to Tulum, Cenote Calavera remains a well-kept secret, a hidden treasure waiting to be discovered by those seeking a more tranquil cenote experience.
How to get to Cenote Calavera: Getting to Cenote Calavera is easy, if you leave Tulum, you can get a private transportation service, rent a vehicle or even hire a collective service.
Entrance fee to Cenote Calavera: The entrance fee to Cenote Calavera is $250 pesos, and if you wish to capture the memories with photos or videos, an additional fee of $200 pesos is required.

8 - Cenote Azul
Cenote Azul is an extensive open-air cenote that offers an enchanting water park north of Tulum. This exceptional cenote is divided into two distinct swimming areas, carefully separated by a sturdy wooden boardwalk.
On one side, you'll find shallow waters, perfect for the little ones to wade in the crystal clear waters. This family-friendly area is very popular with visitors. On the other side is a deeper pool, adorned with a cliff that invites adrenaline lovers to enjoy jumping into the cenote. Diving enthusiasts also find their refuge in this deeper domain.
For those embarking on a trip to Tulum's cenotes, a valuable tip: Cenote Azul is easily accessible from Cancun, Playa del Carmen, and Tulum. Consequently, it tends to attract considerable crowds. For a more serene experience, plan your visit in the early morning or late afternoon to avoid the crowds.
How to get to Cenote Azul: Getting to Cenote Azul is easy, with multiple options available to the visitor. Whether you opt for a rental car, hop on a local Colectivo or prefer the convenience of a quick cab ride, you will find accessible routes.
Entrance fee to Cenote Azul: As for the entrance fee, Cenote Azul offers you its aquatic wonders for an affordable price of 150 pesos per person.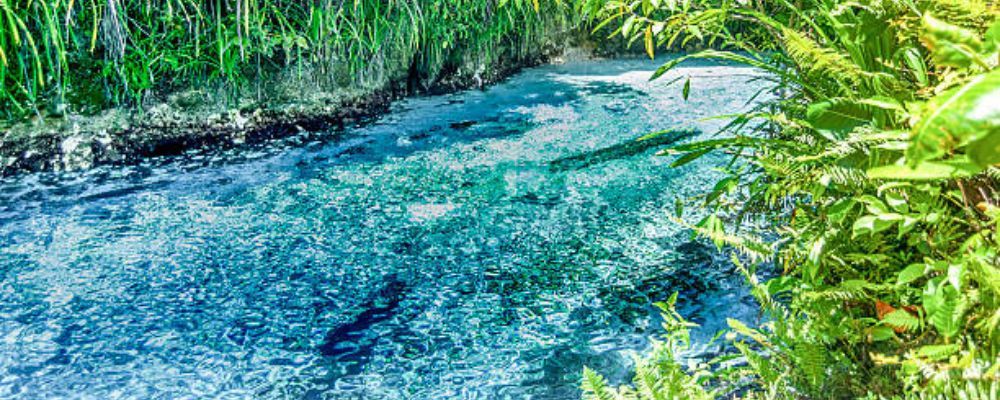 9 - Cenote Jardin Del Eden
Cenote Jardin del Eden, also known as Cenote Ponderosa, is, along with its neighbors, Cenote Azul and Cenote Cristalino, one of the most coveted and charming cenotes located between Tulum and Playa del Carmen.
As soon as you set foot in this cenote, its nickname, the Jardin del Eden, becomes instantly clear. This expansive open-air pool is nestled in a vibrant, lush green oasis, embodying the very essence of what one might imagine as the Garden of Eden.
The Jardin del Eden Cenote offers more than just a refreshing dip in its pristine waters. It is the perfect setting for thrilling cliff diving and memorable snorkeling adventures. The cenote's intricate cave system is a coveted destination among scuba divers, adding to its natural wonders.
How to get to Cenote Garden of Eden: When it comes to accessing Cenote Jardin del Eden, you can take various methods of transportation, cab, private transfer, colectivo or rent a car.
Cenote Jardin del Eden Entrance Fee: The enchanting Cenote Jardín del Edén has an entrance fee of 200 pesos per person.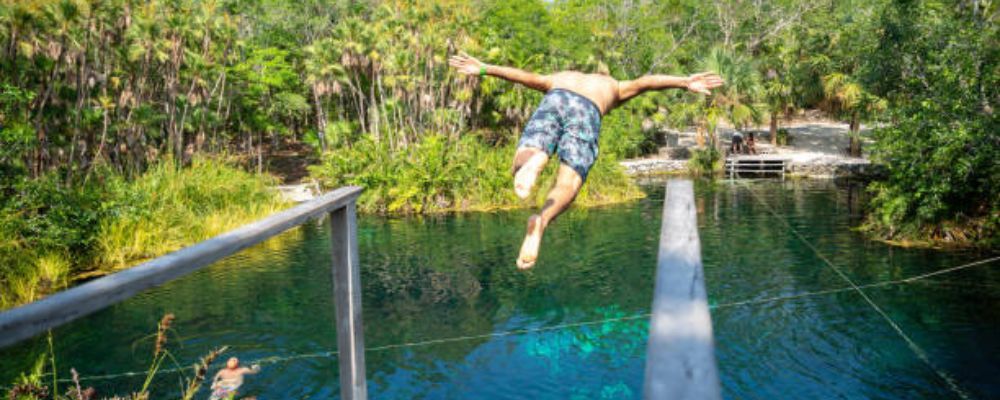 10 - Cenote Cristalino
Cenote Cristalino, located very close to the aforementioned Cenote Azul, is a must-see gem near Tulum that should not be missed. This open-air cenote has one of the clearest and most radiant blue waters in Mexico, ideal for first time or thousandth time visitors.
How to get to Cenote Cristalino: Getting to Cenote Cristalino is very easy thanks to its convenient access. Whether you prefer to rent a car or take a local colectivo in Tulum or Playa del Carmen, it is even easy to get to Cenote Cristalino if you decide to take a cab, there are many options to suit your needs.
Cenote Cristalino Entrance Fee: If you wish to immerse yourself in the splendor of Cenote Cristalino, an entrance fee of 150 pesos per person will open the doors to this fascinating aquatic paradise.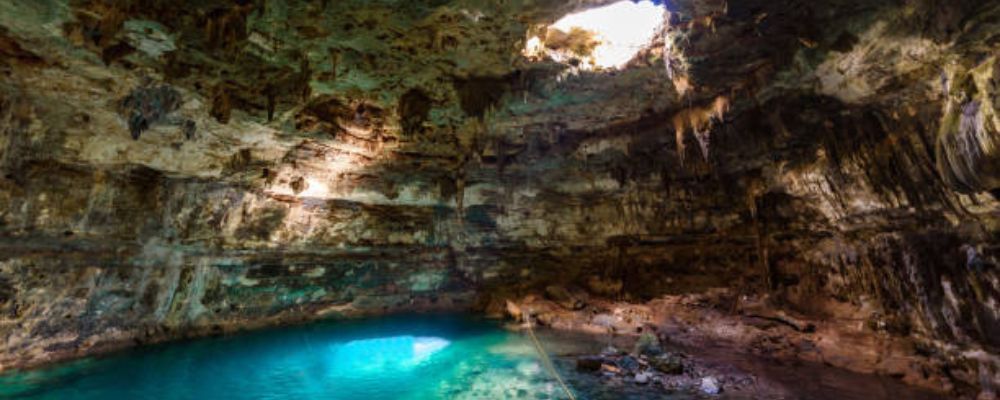 11 - Cenote escondido and Cenote Cristal
Located south of the town of Tulum, the Escondido and Cristal cenotes offer a serene and modest outdoor experience. These hidden gems are surrounded by lush vegetation and are located on opposite sides of the road, intriguingly connected by an underwater tunnel! The entrance ticket will give you access to both cenotes, but Cristal, adorned with wooden jumping platforms, is a traveler's favorite.
How to get to Cenote Escondido and Cenote Cristal: To get to Cenote Cristal and Cenote Escondido you can rent a bike from Tulum to admire nature, book transportation or a rental car. Some tours include transportation.
Entrance fee to Cenote Escondido and Cenote Cristal: Entrance to both cenotes costs about 150 pesos per person, an excellent option to visit two of the most coveted cenotes near Tulum.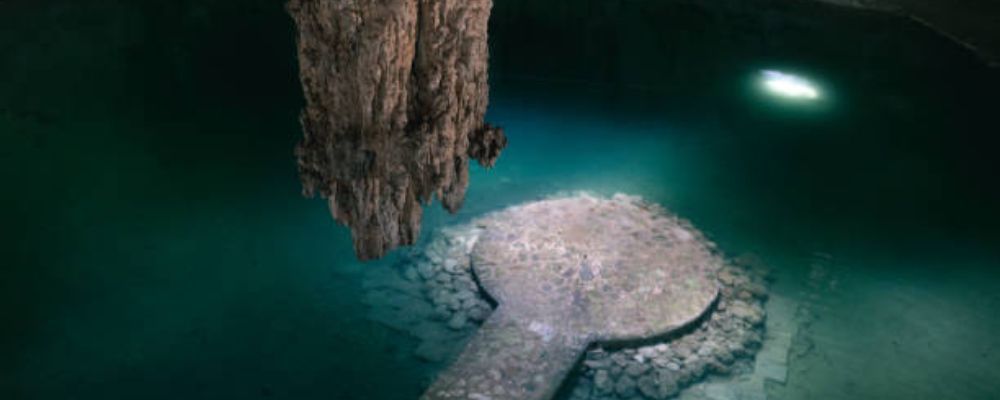 3 Cenotes to visit on day trips from Tulum (cenotes near Tulum)
Most visitors to Tulum long to immerse themselves in the rich history of the Yucatan Peninsula, often seeking out the ancient Mayan ruins that adorn this region. We have chosen to feature these extraordinary cenotes, as they complement perfectly with trips to some of Yucatán's most iconic ruins, such as Chichén Itzá and Cobá.
12 - Suytun Cenote (near valladolid)
The captivating Cenote Suytun gained notoriety on Instagram a few years ago, thanks to its stunning feature: beams of sunlight gracefully piercing the cenote's roof, casting a mesmerizing glow on the circular platform below. The reality lives up to expectations: Cenote Suytun is as impressive in person as it is in photographs. The visit can be seamlessly integrated into the Cobá ruins excursion, with only an hour added to the round trip from Tulum.
Although swimming is permitted at Cenote Suytun, many visitors make a pit stop, mainly to capture indelible photos. Those who choose to take a dip should wear life jackets.
Visiting this cenote in the late afternoon or very early in the morning is ideal, besides avoiding crowds, you can enjoy the beautiful rays of the sun entering through this impressive semi-open cenote.
How to get to Cenote Suytun: To go to this cenote you can enjoy several travel options. You can get an ADO (bus) from Tulum, rent a car, take collective transportation (vans) or book a Taxi or private transfer round trip. Another popular option is to take an all-inclusive tour to get transportation to this beautiful cenote.
Entrance fee to Cenote Suytun: Entrance fee to the Suytun cenote is 200 pesos per person.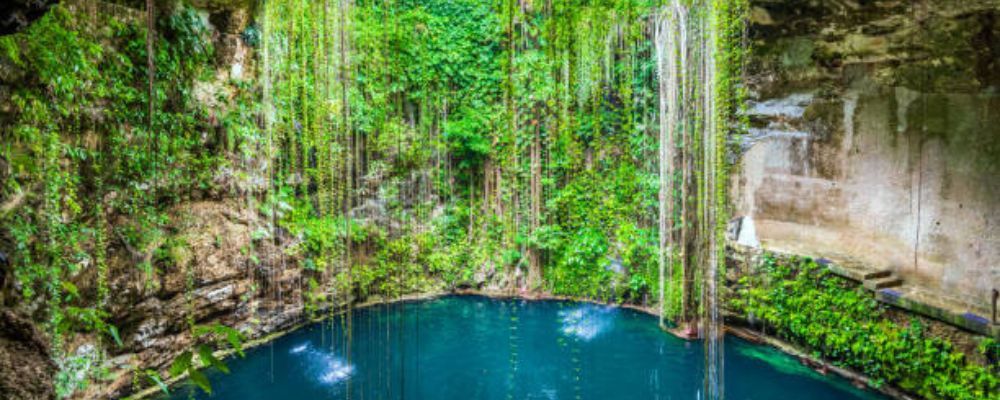 13 - Cenote Ik Kil (Near Chichen Itza)
A trip to Chichen Itza, considered one of the 7 New Wonders of the World and a UNESCO World Heritage Site, is one of the most popular day trips from Tulum. Nearby you will find the famous cenote Ik Kil, a jewel par excellence of the Yucatan Peninsula.
Cenote Ik Kil fascinates with its unique charm, as the cave's roof has completely collapsed, allowing the roots of the trees to cascade over its crystal clear waters, creating a truly spectacular sight. As you swim in its depths, you will be able to look up at the open sky, which will create a surreal and unforgettable experience. We recommend that you include a visit to Cenote Ik Kil in your excursion to Chichén Itzá. It is easily accessible from Tulum, and even if you don't have personal transportation, most excursions to Chichén Itzá incorporate a stop at Cenote Ik Kil.
How to get to Cenote Ik Kil: There are many options to get to Cenote Ik Kil. taking a tour, bus, renting a rental car will offer you flexibility and allow you to explore the area.
Another easier method is to join an excursion to Chichén Itzá. Numerous tours departing from Cancun, Playa del Carmen and Tulum include Cenote Ik Kil in their itineraries.
Entrance fee to Cenote Ik Kil: The cost to discover the charm of Cenote Ik Kil is $150 pesos per person.
14 - Coba Cenotes
Many travelers to Tulum embark on a day trip to the extraordinary Mayan ruins of Coba, and conveniently, there are three splendid cenotes located near the entrance to the Coba ruins: Cenote Choo-Ha, Multum-Ha and the wonderful Tamcach-Ha. These cenotes form a trio of small but refreshing aquatic paradises, ideal for a revitalizing swim after exploring the captivating ruins of the Maya jungle.
The cenotes Choo-Ha, Multum-Ha and Tamcach-Ha share their subterrain nature: two are set in caves, while Multum-Ha has a small opening in the roof. Among them, Choo-Ha stands out for its crystal clear waters and intriguing rock formations. Its shallow waters make it a perfect place for a family outing. A stone's throw away, Tamcach-Ha has its own charm, with diving platforms that add an element of fun to swimming. The Multum-Ha cenote, although a bit farther away, rewards the effort with its deep waters and the enchanting play of light beams pouring through the small opening in the roof.
A valuable tip for exploring the cenotes of Tulum, near Cobá: these cenotes are relatively untouched by the tourist crowds, guaranteeing tranquility and serenity. During your visit, you may be lucky and be able to enjoy two of them exclusively.
How to get to the three cenotes of Coba: To access the cenotes of Cobá, the most comfortable way is to travel with a private transportation or tour agency.
Some excursions to the ruins of Cobá may include some cenotes, but not all.
Entrance fee to the three cenotes of Coba: The collective entrance fee to the three cenotes is a reasonable 100 pesos.
Here you can find a tour to Coba that will complement your visit completely.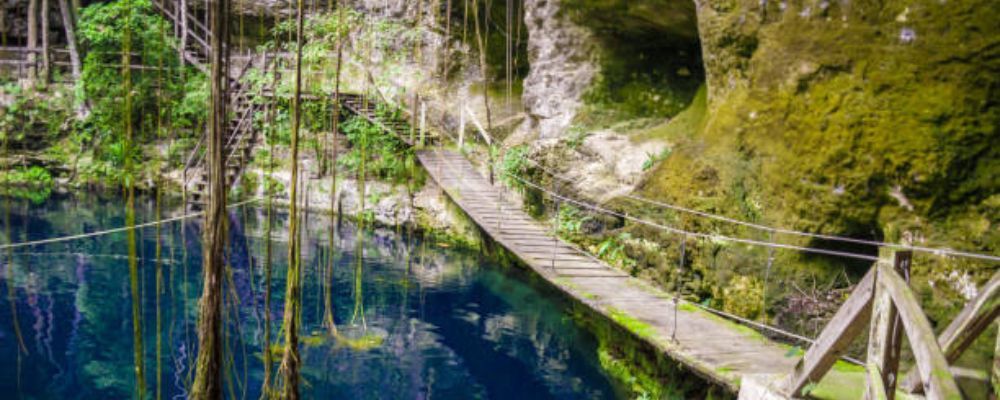 15 - Xcanche Cenote
Ek Balam, a coveted destination for many Mexican visitors and international tourists seeking the charm of lesser-known Maya ruins, also features the enchanting Cenote Xcanche, nestled just inside the archaeological zone and conveniently close to its entrance.
Cenote Xcanche is a visual delight, a wide open cenote adorned with an elegant waterfall. In addition to swimming, this tranquil cenote offers thrilling experiences such as zip-lining and swing jumping, all amidst peaceful surroundings. After a busy morning exploring the ruins of Ek Balam, Xcanche offers the ideal respite to unwind and refresh. We highly recommend taking the time to visit this gem of a cenote.
PRO-TIP: the entrance to the cenote is located before the Ek Balam ticket booths, allowing you to explore the ruins and the cenote independently.
How to get to Cenote Xcanche: To get to the Xcanche cenote, you only have to travel about 2 km from the entrance to the ruins of Ek Balam. You can walk or ride a bicycle. During your visit, you can even take a bicycle cab after exploring Ek Balam. If you are traveling from Playa del Carmen, getting to Ek Balam is very easy, either by mototaxi, private transport, rental car or by taking a bus to Valladolid, and then completing the trip by colectivo or cab.
Cenote Xcanche Entrance Fee: Entrance to Cenote Xcanche is a modest 70 pesos. Our return trip by bicycle cab, including entrance fee, was 150 pesos.
What to bring to visit the Cenotes of Tulum
Visiting the cenotes of Tulum is no different than visiting the beaches, the ruins or a swimming pool, so it won't be difficult to find the items you need to bring, surely you have already added them to your list of must-haves for traveling to Tulum.
Cash: Many of the entrances to the cenote do not accept any form of payment other than cash. If possible, exchange your dollars, euros or any other currency into pesos MXN.

Towels: The cenotes do not offer towels, so be prepared with your own towels to lie on the cold floor of the cenotes to sunbathe, or to dry off on the way out.

Swimming shoes: If you are not used to walking among the rocks (almost no one) you should use swimming shoes, you can get them in OXXO stores, GoMart or in a supermarket in Tulum.
Mosquito Repellent: The repellent will usually only be necessary for sunset activities, however, we recommend that you take it with you to all your activities and cenotes, as these are usually in a humid environment, full of vegetation, the favorite place for these small insects.

Sunscreen: The sun's rays are embracing in the mornings and afternoons, we recommend you not to skip the sunscreen step.

Waterproof camera: You can take a waterproof camera, or a case for your cell phone or camera, we assure you that inside the cenotes you will have shots that you won't have anywhere else.

Change of Clothes: Believe us, a change of clothes is not always enough. Many times the areas where you will be will be full of water, so drying your clothes will not be an option.
Also read → https://www.airportcancun.com/blog/best-tulum-all-inclusive-resorts