Find the best
Cancun Tours
Book a Cancun Tour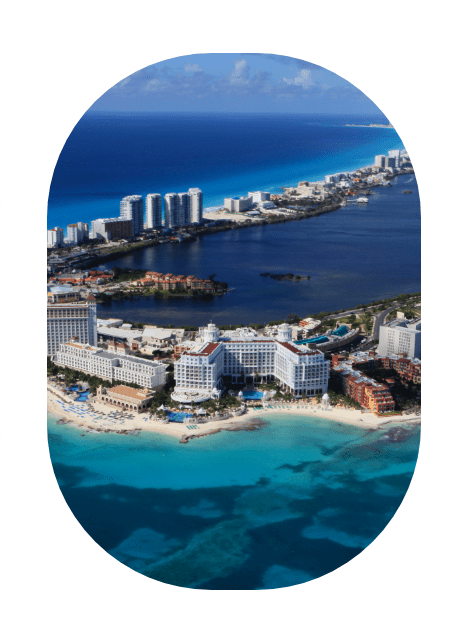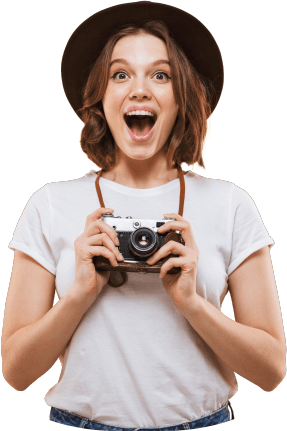 Cancun Tours
Enjoy the best Tours and Activities in Cancun
Are you traveling to Cancun? Meet the Best Cancun Tours Service and enjoy the best activities in and out of the city. Visit the main destinations in Cancun and discover all that this paradisiacal city has to offer.
Book now your Cancun Tours service and make the most of your trip.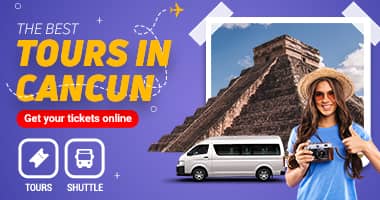 Top attractions in Cancún
---
What to see and do in Cancun
Know what places to visit and what to do in Cancun. Make the most of your next vacation, and don't miss a single activity, tour, or excursion in Cancun. In this list, you will find several essential activities that you cannot miss during your visit to this wonderful city. Visit Archaeological Ruins, Beaches, Museums, Markets, Attractions, and more in one of the most exciting cities in all of Mexico.
Tours in Cancun
Frequently Asked Questions
How much does a Cancun Tour cost?
On average, a Tour in Cancun ranges from 1,200 to 5,000 pesos MXN.
What places can I visit in Cancun?
Cancun is a beautiful city, where you can visit impressive areas in its interior and surroundings. From Cancun you can visit cities like Playa del Carmen, Isla Mujeres, Tulum, Puerto Morelos, Chichen Itza and more.
Within Cancun, there are several tours that you can get to know according to your tastes and needs.
There are recreational activity tours in water parks like Xcaret, Xel Há, Xplor, Ventura Park, and others.
You can also take a tour of downtown Cancun, where you will learn more about this wonderful city's local culture.
You can also take Cancun Tours to visit the most amazing archaeological sites such as "El Meco" and "El Rey" within the city. If you want to visit one of the 7 wonders of the modern world, visit Tulum and Chichen Itza, they should also be on your itinerary in Tours!
If you don't want to leave the city and travel with friends, a tour of Cancun's nightclubs will be an activity that you can't miss.
What nearby destinations can I visit from Cancun?
Near Cancun, you can visit Tulum, Playa del Carmen, Isla Mujeres, Akumal, Isla Contoy, Holbox, and more incredible places that you can't miss during your visit to Cancun.
Remember that if you want to visit more than one of Cancun's nearby sites in a day, taking a tour will significantly help. Check with agencies like Airport Cancun and discover the best choice in Cancun Tours.
What is the best Tour Agency in Cancun?
Airport Cancun is the #1 Tour Agency in Cancun. We have been recognized for offering exceptional service. Find a perfect Cancun tour package with exclusive promotions and great activities for you.
Don't let more time pass, and book now Cancun's ideal tour for you with the best Tours Agency in Cancun.
What to do in Cancun?
There are so many things to do in Cancun that you probably don't even know where to start; let Airport Cancun take care of it! We'll make sure you live the best experience in the Riviera Maya and the Caribbean Sea at the best price.
Visit the second-largest barrier reef in the world by getting a Cancun to Cozumel Tour. Dive into the depths of the Caribbean Sea with a Cancun Scuba Diving or Snorkeling Tour. Visit Xcaret, Xplor, Aktun Chen and Ventura Park. Here you can do extreme activities such as zip line jumps, ATV tours, and more.
Don't miss any of the most amazing archaeological sites such as Chichen Itza, Tulum, Playa Car, El Rey, Coba, Uxmal, and many more.
Visit the Interactive Underwater Museum located in Punta Nizuc and Isla Mujeres. Live a complete experience and travel by catamaran from Cancun to Isla Mujeres or Isla Mujeres to Cancun.
Don't miss a single detail of Cancun with our Tours and Excursions around the city and its surroundings.
Tours in Cancun
The best Tour experience! Book your Cancun Tours in a practical and easy way with us. Find out why we are one of the top rated Tour companies on the internet - Book today with Airport Cancun!
Discover why more than

5K

happy customers rate us with

5

stars
Tours in Cancun | from

50

USD