Home / blog / cancun-things-to-do
Adventure
Beaches
Cenotes
Culture
Gastronomy
Nightlife
Top Things to Do in Cancun (The ultimate list)
Add more ideas to your Cancun bucket list! Get to know Cancun from every angle, and avoid getting stuck only partying or enjoying the beach. There are tons of things to do in Quintana Roo!

Manuel M.,
2023-01-14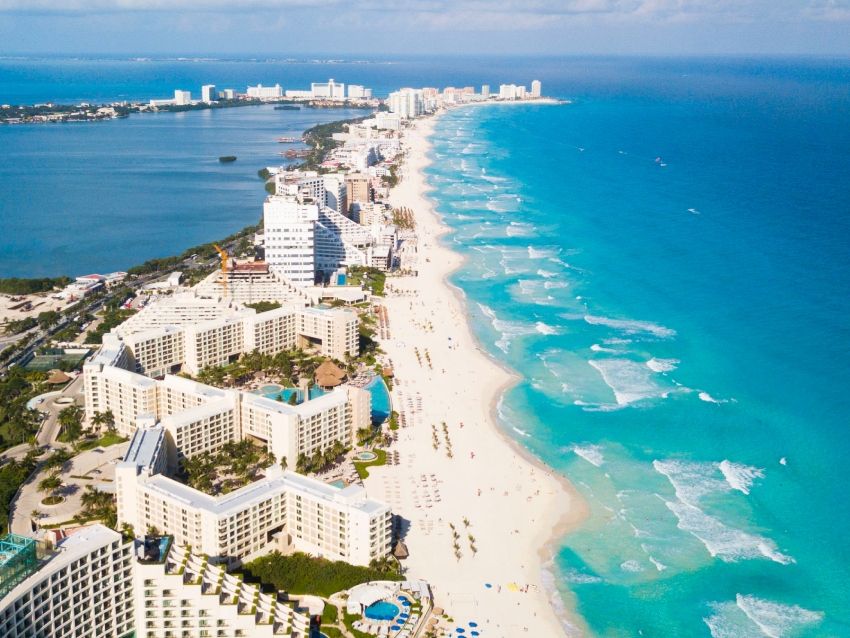 Cancun: A Guide to the Top Things to Do
Cancun is a tropical paradise that has been drawing in visitors for years. It's widely known for its amazing beaches and crystal-clear waters. So it's no wonder it's one of Mexico's most popular vacation spots.
With direct flights from many major cities worldwide, Cancun is an easy choice for a quick breakout.
One of the things that makes Cancun so appealing is its ability to cater to a wide range of travelers. Whether you're a family looking for a fun filled vacation, a couple seeking a romantic escape, or a group of friends looking for an adventure, Cancun has something for everyone.
From outdoor activities like snorkeling and ziplining to spa treatments and luxury resorts, there's something for every interest.
Cancun is also rich in culture and history, with ancient ruins and museums that offer a glimpse into the region's past. Shopping enthusiasts will love the city's markets and shopping centers, while foodies will be delighted by the wide variety of delicious cuisine.
Also, we must mention that the city is well connected. With well-established transportation and accommodation options, it's easy for visitors to navigate and enjoy all that the city has to offer. For travelers coming out of a long pandemic, Cancun offers the ease and convenience they need to relax and unwind.
Safety first: Mexico & COVID
As of 2023, Mexico has lifted all COVID-19-related travel restrictions. Meaning travelers are no longer required to give negative test results, vaccination records, or health forms upon entry to the country.
So, it's an ideal time to plan a trip to Cancun, one of Mexico's most popular destinations. However, it's worth noting that while most hotels, tourist attractions, and private tours are open, they have implemented new health and safety protocols to protect visitors and staff.
As a result, you may see the hotel or tour staff wearing masks, depending on your destination. But no need to worry. If you want to know more, check our entry on the safety measures you need to take while traveling to Cancun.
1. Explore the Heart of Cancun Tourism: The Hotel Zone
When you arrive at this paradise, you might have to choose between wandering into Cancún's two main areas: downtown, also known as Ciudad Cancun, and the Hotel Zone, also known as "Zona Hotelera."
The Hotel Zone is an area made for tourists, known for its luxurious resorts, thrilling catamaran excursions, vibrant nightlife, and stunning beaches. This 15-mile building area is where most visitors choose to stay.
In the Hotel Zone are also most of Cancun's famous beaches, which offer endless sunbathing, swimming, and water sports opportunities.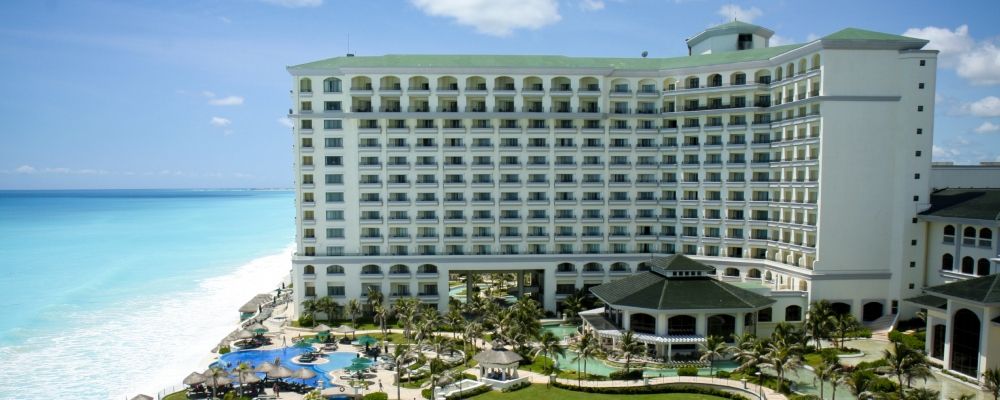 Just arriving in Cancun? Get the best deals for transportation to your Hotel here.
2. Experience the Local Culture in Downtown Cancun
If you're looking for a break from partying at the Hotel Zone, you should take a look at Ciudad Cancun to immerse yourself in the local culture. Here you'll find delicious street food and amazing green parks.
Downtown Cancun is where many locals who work in the Hotel Zone call home. This area provides a glimpse into the authentic side of the city. Take a stroll down Avenida Tulum to explore the local street vendors, try some delicious street food, and savor the flavors of authentic Mexican cuisine.
You can also visit Parque Kabah, a family-friendly park where you can relax and enjoy the peaceful ambiance.
In short, if you're looking for a more authentic experience of Cancun, head downtown, sample some delicious tacos, and discover the city's real charm.
3. Diving into the Beauty of Cenotes
Mexico's Yucatan Peninsula (where Cancun is located) is renowned for its spectacular cenotes (natural sinkholes filled with water that has formed within limestone caves). The entire Riviera Maya region is home to thousands of cenotes, many of which are open for swimming.
These natural wonders attract visitors to Quintana Roo to swim, scuba dive, and snorkel in these crystal-clear waters.
One of the best areas to explore cenotes near Cancun is along a road next called Ruta De Cenotes (Cenote Route), which can be found after just a 30-minute drive from the city of Puerto Morelos.
This area features cenotes such as La Noria, Verde Lucero, Mojarras, and Selvatica, among many others. Consider visiting one of these majestic natural wonders.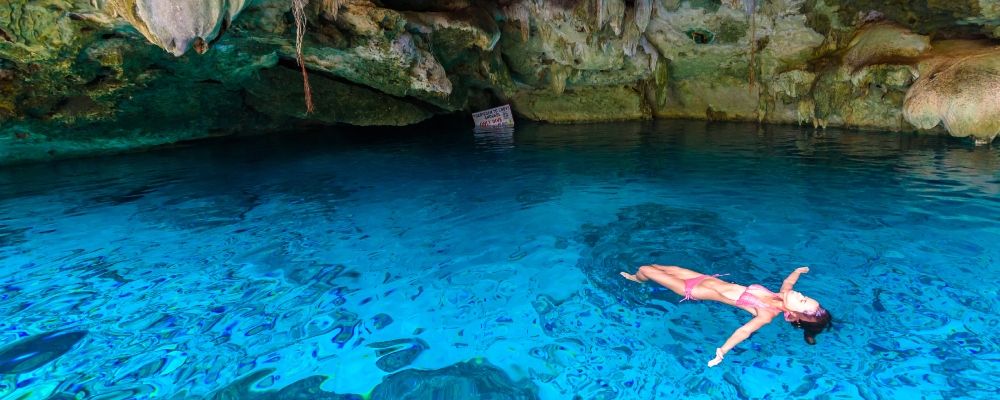 4. You can snorkel in Cancun
Many people visiting Cancun swim in the (not so deep) turquoise waters of the Caribbean. One of the most known places to explore snorkeling is the famous Underwater Museum at Punta Nizuc.
Under there, you can appreciate hundreds of eco-friendly sculptures and even VW Beetles exhibited at the bottom of the sea.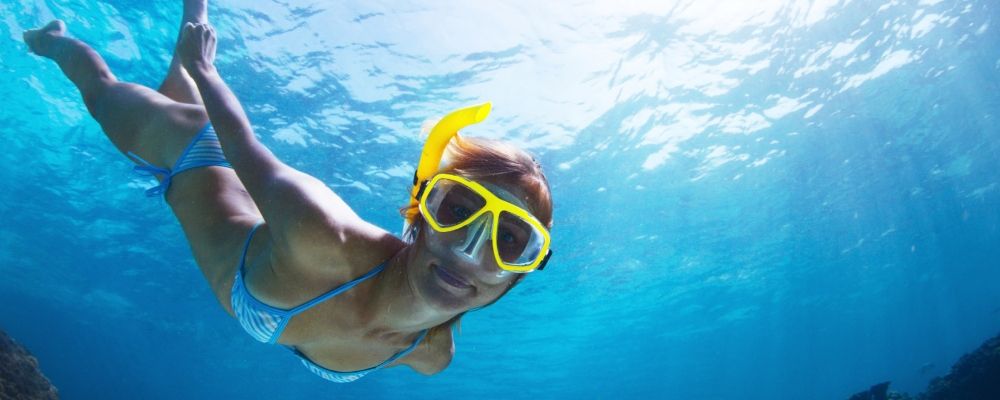 5. Temazcal is more than a spa
Mayan used o have many traditions, one of which involves a sauna-like experience. For example, at the Temazcal, you'll be requested to join inside a little hut heated with hot rocks and water.
Since it's a traditional ceremony, you will be instructed by a spiritual leader who will take care of each participant. How will he do that?
First, he'll organize the whole ceremony, creating the proper atmosphere for purification that will clear your head. After that, the goal is to get the group in a proper state of meditation. Would you try this?
6. Don't forget about the beautiful beaches
Most people know Cancun because of their amazing beaches. Some people even say that they are some of the best in the whole world (even better than the ones in the Bahamas)
And if you are doubtful about this, we encourage you to visit the almost 13 miles of the white sand seaside. Over there, you'll find a surreal contrast between the soft sand and the multicolor ocean that goes from a turquoise blue to a marine blue in just a span of miles.
Playa Delfines, Playa Tortugas, and Playa Forum are some of the most well-known beaches. Be sure to check them all out.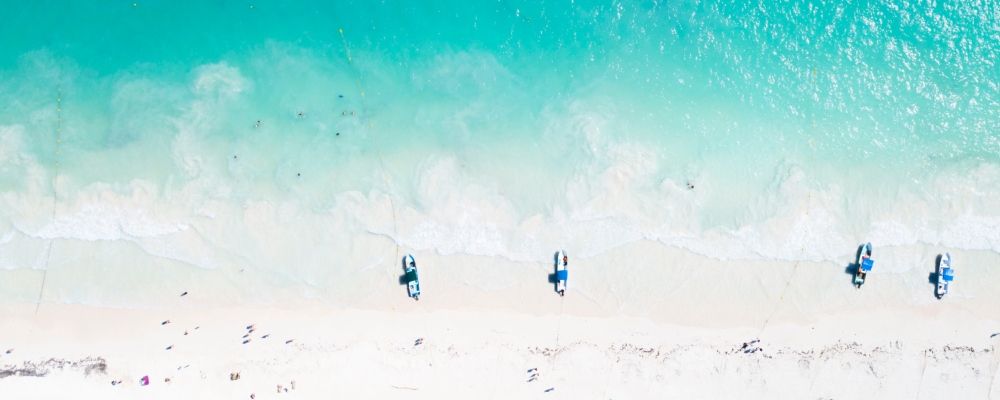 7. Aerial runway in the jungle
As you know, Cancun (and all of Quintana Roo in general) still has many jungle areas. Some of them are nature reserves, and others are open to the public. The latter has many activities for extreme sports, like (you guessed it) aerial runway.
Zipline is one of the best activities you can do in Cancun; surrounded by the jungle, having the chance to appreciate the wild nature from above is something unique.
8. Where culture is born: Chichen Itzá
If you want to explore one of the most important structures ever built, you must visit Chichen Itzá. This ancient Mayan city still has impressive pyramids and ceremonial centers.
The most notable is the 98-foot-tall Temple of Kukulkan. The pyramid's nine terraces symbolize the Mayan belief in nine levels of heaven. As one of the best-preserved Mayan sites, Chichen Itza offers visitors a glimpse into the lives of the ancient Mayan culture.
Located about 2.5 hours from Cancun by car or 3 hours by bus, Chichen Itza is the Yucatan's most famous Mayan attraction.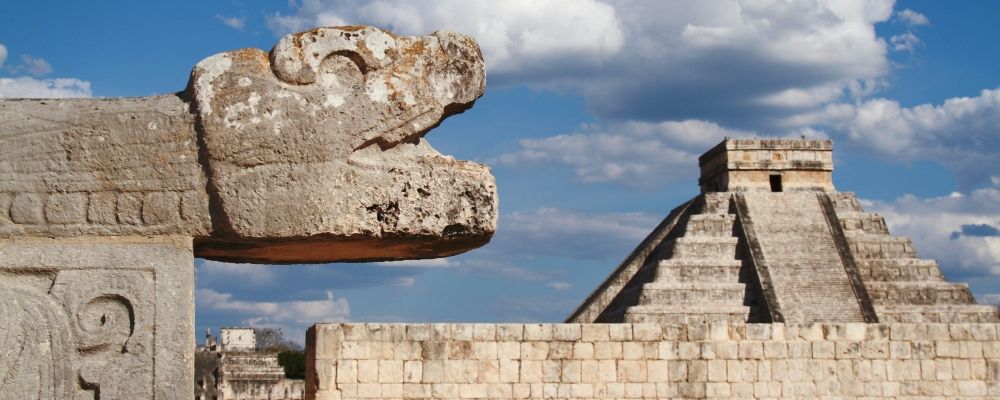 9. Watch the city from above: the Cancun Scenic Tower
The Cancun Scenic Tower (Torre Escenica in Spanish) offers a dreamlike view of the Caribbean coast and Cancun. This fantastic attraction opens daily from 9 to 9 (AM to PM), and the tower provides visitors with a 360-degree view of the Hotel Zone from its 260-foot height.
The ride to the top takes around 5 minutes, and visitors can spend an additional 15 minutes taking in the panoramic views and snapping photographs as the deck rotates. The tower also provides an opportunity to learn about the history of Cancun.
10. An alternative to mainstream shopping: Mercado 28
This giant flea market features 600 vendors offering different products, from unique clothing to handmade souvenirs. Bargaining is standard practice at Mercado 28, so you'll watch many people trying to negotiate for better deals.
The market also offers local restaurants' food at a fraction of the cost of the Hotel Zone. (an excellent opportunity for foodies, just saying). Don't worry about access since you can come by bus from the Hotel Zone. If you are driving, make sure you remember which parking lot you parked in since there are many options, and it's easy to get confused.
11. A glimpse into the night(life)
Of course, it is only possible to discuss the beautiful Cancun by examining its incredible nightlife (we know why most people come to this part of Mexico).
Particularly during Spring Break, when students flock to the city for a good time, the night turns to life.
After a day of wandering on the fantastic beaches, visitors will get loose and dance until sunrise at some of Cancun's top nightclubs. The best clubs often have long lines (no different from your average city), but the wait is worth it. Coco Bongo is the most famous club in Cancun, known for its mix of acrobats, cover bands, and DJs that keep the party going.
City Nightclub is another renowned option, regularly hosting multiple DJs. The club can accommodate up to 5000 people per night with three floors and nine bars.
For a beach party experience, you should check out Mandala Beach Club. This club opens daily at 9:30 PM, offering great music and tropical cocktails.
Are you looking for techno and house music, professional dancers, light shows, and body painting? Then, Daddy'O is the place to go.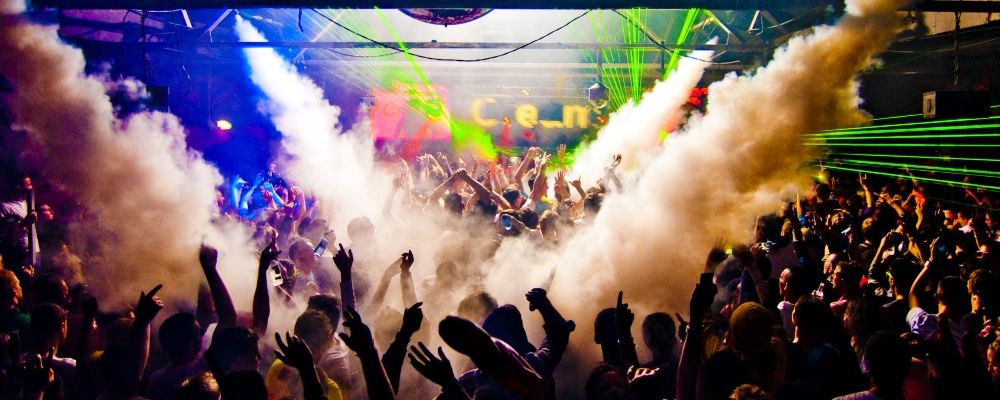 12. Elevate Your Water Adventure with Stand Up Paddleboarding
In Cancun, stand-up paddleboarding is a popular sport; almost everyone can do it. Renting a paddle board on the beach or joining a group excursion to explore different areas is an excellent opportunity for people that want more than swimming in the turquoise Caribbean waters.
For a more adventurous experience, you could take a long tour from Cancun to Isla Mujeres or paddle through the Nichupte Lagoon mangrove jungle during a sunrise wildlife tour.
13. A Venecia like experience: Xoximilco
Ever wonder what it would feel to party in a traditional Mexican canoe that travels across channels and lagoons? If so, you should come to Xoximilco.
Inspired by the original Xochimilco in Mexico City, this theme park offers visitors the opportunity to rent boats called trajineras and float down the water while listening to live musicians.
Of course, the party is filled with tequila and delicious local cuisine, making it an ideal way to live with Mexican culture.
14. An unforgettable sailing trip
The Riviera Maya and Isla Mujeres in Mexico offer some of the most stunning sunsets in the Caribbean, and the best way to enjoy them is on a sailing trip.
Hop on board a sailing catamaran, and take in the vibrant sunset hues while the sea breeze plays through your hair. Many sunset sailing trips out of Cancun also come with an open bar and snacks, allowing you to relax and soak in the experience.
These trips typically last around 2 hours, but beware, since Cancun is technically a tropical island (you'd know this after visiting the Scenic Tower), you could face stormy weather, so check the weather before booking this marvelous experience.
When it's not raining, you can see how the first daylights come to the American continent.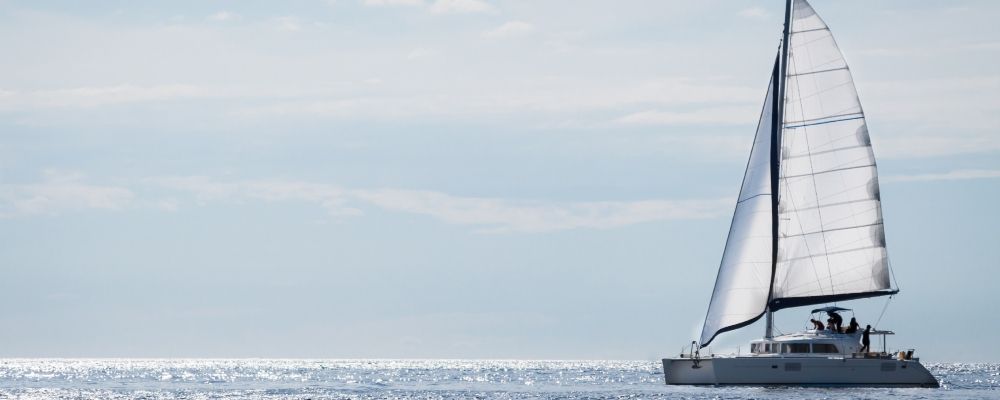 15. Dive into Adventure: Scuba Diving Excursions in Cancun
Cancun is a paradise for water sports enthusiasts and an ideal spot for learning scuba diving. In addition, the area has abundant underwater attractions, including the Mesoamerican Barrier Reef, one of the largest coral reefs in the world.
This underwater world is also filled with tropical fish, eels, lobsters, and majestic eagle rays, among many more.
Popular diving spots include Isla Mujeres, the underwater MUSA museum, and nearby cenotes. In addition, there are several locations where beginners can learn scuba diving and obtain certification.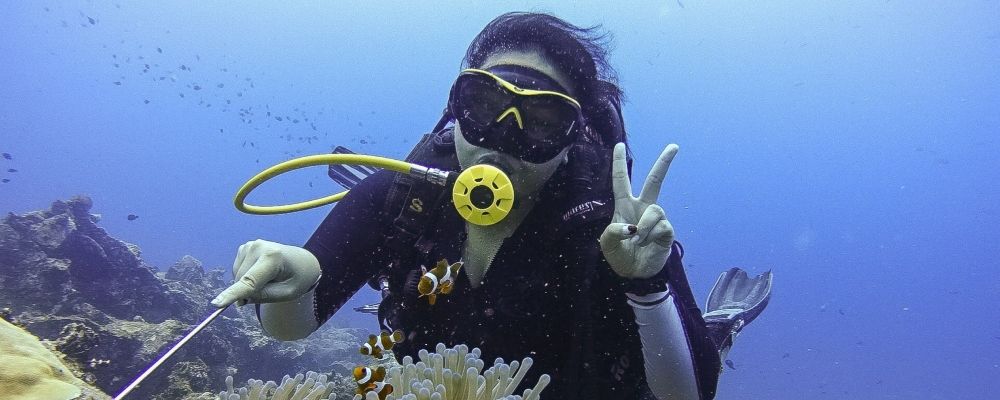 16. Explore the Beauty of Isla Mujeres: A Day Trip from Cancun
Isla Mujeres gets its name from the temple of Ixchel, the Maya goddess of fertility. This small island is just 20 minutes away from Cancun via ferry from the Hotel Zone.
You can witness breathtaking views of its rocky coast and panoramic bays at Isla Mujeres. It's one of the first places in Mexico where you can catch the sunrise.
We can say that this island is a peaceful fishing village, offering an escape from the city life of Cancun.
Here, visitors can see sea turtles hatching at the local turtle farm and conservation center, explore the island by renting a golf cart, visit its underwater attractions, go kayaking or snorkeling, visit the 19th-century ruins of Hacienda Mundaca, and so much more.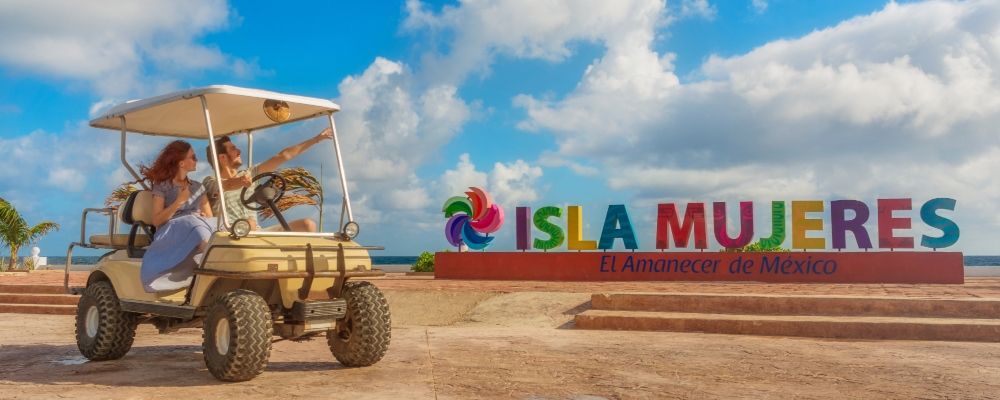 17. Journey to the Pink Lagoons of Las Coloradas
Las Coloradas is a series of pink lakes in a small fishing village of the same name. These are part of a natural reserve covering 150,000 acres and are home to various animals.
The vibrant pink color of the water results from a salt processing facility, one of the area's main industries, along with fishing. The pink hue comes from the presence of red plankton and shrimp.
Las Coloradas is a three-hour drive from Cancun by rental car. Visitors who spend the night in the area can find accommodation in Rio Lagartos, located 30 minutes away, and book flamingo tours from there.
Are you done dealing with taxis? Rent a car in Cancun for the best fare here.
18. Capture the Moment: A Selfie with the Cancun Welcome Sign
One no-miss activity is taking a picture with the colorful Cancun sign. Located on Playa Delfines, easily accessible by bus, the sign is a local landmark.
Once you're on Delfines, you can enjoy the white sand beach and the exceptional turquoise waters of the Caribbean. However, please be aware of the tide and warning as Delfines is known for its strong currents, so you might be careful while swimming.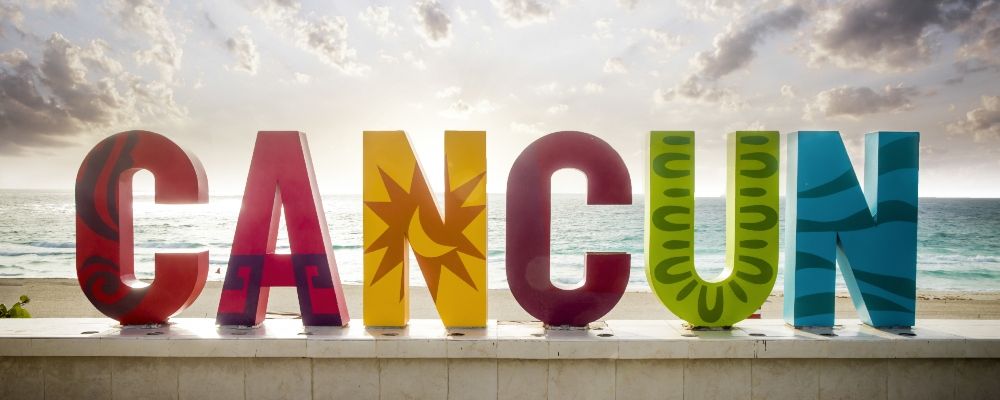 19. Raise a Glass: Drinking at Señor Frogs in Cancun
Señor Frogs is the typical spot for drinking in Cancun. You'll find a cheerful atmosphere where everyone is singing and dancing, and you can also enjoy a meal here.
The restaurant's insides are designed to be joyful, with sawdust on the floor and walls adorned with funny signs. Drinks are served in gigantic "yard" glasses (as you guessed it, they are one yard long).
For your information, don't come with small children, as it can be quite noisy and the crowd tends to party hard. Children above eight years old are allowed but must be escorted by an adult.
20. Off-Road Adventure: ATVing at Xplor Park in Cancun
Riding All Terrain Vehicles (ATVs) through the jungle is one of the popular activities in Cancun. Many companies offer these tours inside the jungle. One of the most popular for this is Xplor Park.
The ATV ride is included in this park; the entry fee is up to $120. You can spend a whole day at Xplor Park, enjoying cave swimming, rafting, and many more.
And don't worry, after enjoying this extreme adventure, you can eat a lunch buffet with unlimited drinks. Xplor Park is just one of the many popular adventure theme parks in Mexico, located south of Cancun, so feel free to explore the many parks Cancun has.
21. Experience the Gentle Giants: Swimming with Whale Sharks in Cancun
The southeast part of Mexico is one of the places where you experience a unique activity as swimming with whale sharks.
Not only because it's almost impossible for humans to interact without getting hurt by animals so big and because this magnificent species is unfortunately endangered.
Meaning activities that involve whale sharks must be done delicately. Adult whale sharks can reach up to 12 meters in length and weigh up to 20 tons, making them the largest known fish. Baby whale sharks are known to be playful and have been known to interact with swimmers. The best time to swim with the whale sharks is between June and September.
Tours leave from Cancun, Isla Mujeres, or Isla Holbox.
22. Join the Crowd: A Night of Lucha Libre Wrestling in Cancun
Lucha Libre (wrestling) is a unique and exciting cultural experience in Cancun. If you've ever seen the WWE, you'll know what these shows are about. If not, let me describe it to you.
Picture two fighters, one as the good guy and one as the bad one, who'll try to entertain a divided crowd through a combination of wrestling, and acrobatics to win the match.
Some wrestlers wear masks and are sometimes accompanied by little people and drag queens. Each fight lasts about three rounds and usually ends with someone being thrown out of the ring. Lucha Libre events are held at Arena Cancun every Tuesday, Friday, and Sunday night. A front-row seat costs around $12 USD, and beer and snacks are available. It's quite a show and a must-see for anyone interested in experiencing the unique culture of Mexico.
23. Witness the Miracle of Life: Sea Turtle Conservation in Cancun
The beaches near Cancun are some of the best places in the world to find sea turtles. Turtles lay their eggs on the beach from May to October, and the hatchlings make their way to the ocean between July and December.
The best place to visit sea turtles is a sanctuary called Tortugranja, a turtle farm and conservation center on Isla Mujeres. Green turtles, hawksbill, and loggerhead turtles are the most common species here. There you can visit turtles in every stage of development for a fee of $3 and interact with them under the guidance of professionals.
But this shelter has other sea creatures as well. Crabs, urchins, and conchs are the sea turtles' neighbors here. So it's a great opportunity to learn about sea turtle conservation and see these beautiful creatures up close.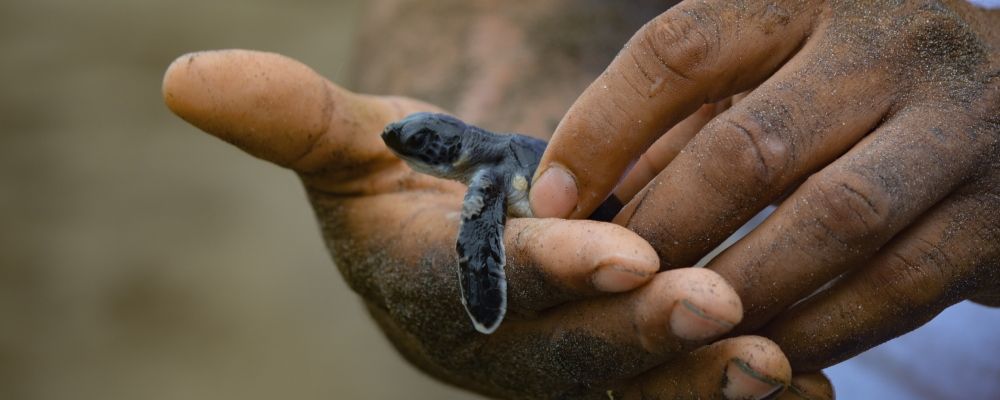 24. Journey Through Time: Maya Museum and San Miguelito Ruins Experience
The Museo Maya Cancun and San Miguelito Ruins are a must-visit destination for history buffs and culture enthusiasts visiting Cancun. With 80 hectares in the Hotel Zone, the museum (opened in 2012) and offers an in-depth look into the rich history and culture of the ancient Maya civilization.
On the other hand, visitors can explore the ruins of San Miguelito and discover ancient temples, pyramids, and family homes of the Mayans, set amidst the lush jungle. In addition, the museum has a vast collection of archeological relics from Chichen Itza and other Mayan sites around the Yucatan peninsula, including ancient skeletons, jade artifacts, and much more.
The museum is divided into three galleries showcasing different Mayan history and cultural elements.
The ticket for the museum is priced at about $5 and grants entry to the museum and the San Miguelito ruins. A visit to the Museo Maya Cancun and San Miguelito Ruins is an unmissable opportunity to gain a deeper understanding of the ancient Maya civilization.
25. Spotting Winged Wonders: Bird Watching on Isla Contoy
Isla Contoy is a must-visit destination for nature enthusiasts visiting Cancun. This National Park, located north of Isla Mujeres, is home to more than 100 birds and four sea turtles.
Here you can explore a tropical paradise with a bird-watching tour and spot some of the region's most beautiful and exotic birds.
Isla Contoy can be reached via an all-inclusive cruise at about $100 per person. To preserve the island's natural beauty, tourists must follow strict rules and maintain a clean and tidy environment, so please follow the tour guide's instructions thoroughly.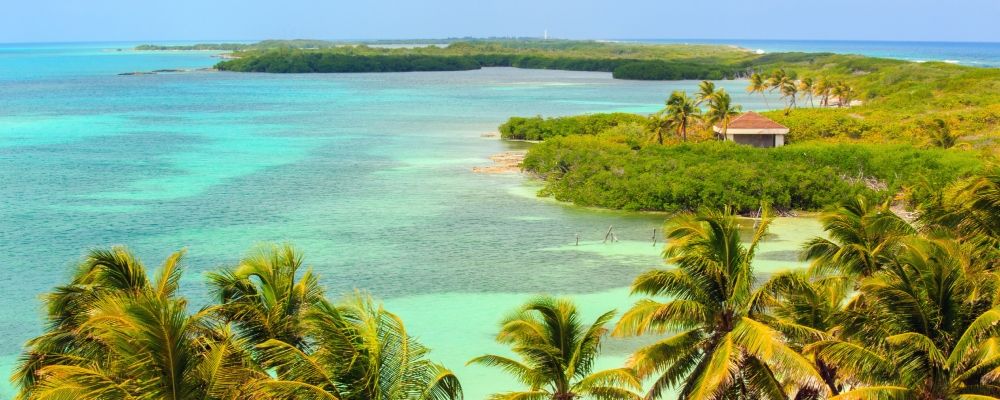 26. Discover the Beauty of Nichupte Lagoon: Kayaking Adventure
Kayaking on the Nichupte Lagoon is a peaceful way to explore the natural beauty of the remaining mangroves in the area. You can glide through nature and take in the lush vegetation as you watch for local wildlife, such as birds, fish, and crocodiles.
The crystal clear waters provide an ideal spot for observing diverse marine life.
With the instruction of an experienced guide, you can learn about the area's rich history, culture, and ecology while enjoying a fun and active outdoor activity.
Kayaking on the Nichupte Lagoon is a must-do for adventure seekers and anyone looking to escape the hustle and bustle of Cancun's hotel zone.
27. Uncover the secrets of the Mayan civilization at Tulum on a day excursion
As one of the largest cities built by the Mayans, Tulum offers a unique blend of history and relaxation. Explore the ancient walled city perched on the cliff overlooking the Caribbean sea, and take a dip in the crystal-clear waters of Tulum's renowned beaches.
From beach clubs to yoga retreats, Tulum has something for everyone. So don't miss out on this opportunity to discover one of Mexico's most fascinating historical sites.
Visiting Tulum? Book your next adventure here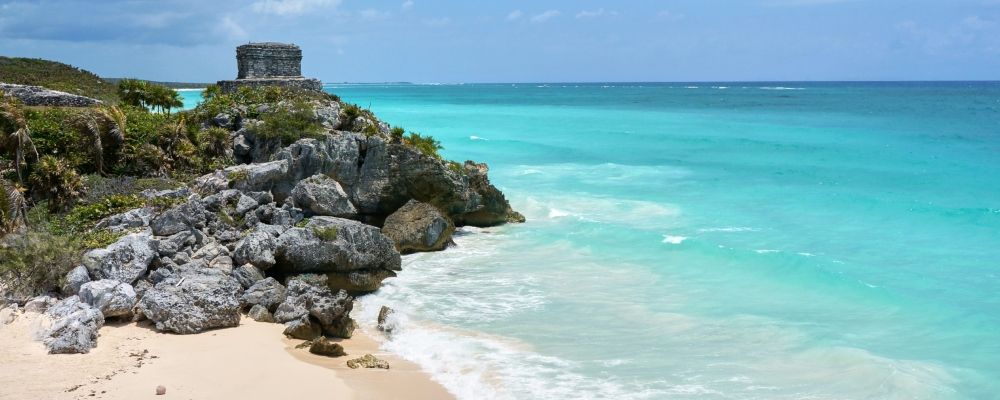 28. Indulge in a Gourmet Meal: Discovering Cancun's Top Restaurants
Treat yourself to a fancy dining experience in Cancun with the best local restaurants. From Casitas Cancun, Lorenzillo's, Porfirio's, and La Fonda Del Zancudo to Rosa Negra, you will find a wide range of options.
Rosa Negra is a must-visit, offering a waterfront location and authentic Latin American cuisine from Peru, Argentina, Colombia, Brazil, and Mexico. The ambiance is lively with entertainment like singers and dancers.
29. Looking for Cancun's Top Tacos
You'll find all the best tacos if you are ready to immerse yourself in Cancun Downtown, on Avenidas Tulum, and its surroundings.
Make sure to order some Tacos al Pastor, the classic Mexican taco that has pork meat featuring a pineapple slice on top. The pork is marinated in a combination of dried chilies, spices, and pineapple.
You can also try tacos with beef, chicken, shrimp, and many others!
30. Journey to the Past at El Meco: A Look into the Ruins
El Meco is a lesser-known set of ancient Maya ruins located just north of downtown Cancun. The site featured a 41-foot high pyramid and was an important part of the Mayan culture in the Yucatan Peninsula. To visit, take a rental car, Taxi, or collectivo bus on Avenida Lopez Portillo (also known as the Cancun-Puerto Juarez road) and look for the ruins at KM 27 on the left side of the road.
Ready to visit Cancun?
Cancun offers a wide variety of activities and attractions to suit all interests. So whether you're looking to relax on the beach, explore ancient ruins, or party the night away, Cancun has something for everyone. Cancun is a memorable vacation destination with its beautiful beaches, rich culture and history, and lively nightlife. Additionally, there are plenty of great dining options in Cancun, from local street food to gourmet restaurants.
We hope you are ready to hop on a shuttle, taxi, or rent a car to explore the most popular places in Cancun. Check our latest guide on How to get around Cancun, and you won't get lost!