COZUMEL FERRY INFORMATION
If you're planning a trip to the beautiful island of Cozumel from Playa del Carmen, taking the ferry is a popular and convenient option. Here is everything you need to know about ferry agencies' schedules.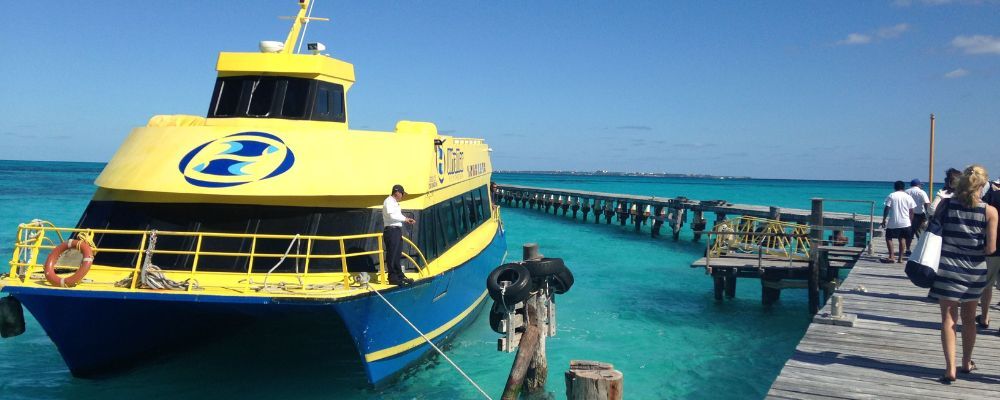 FERRY AGENCIES
Two agencies are in charge of offering ferry services at the pier from Playa del Carmen to Cozumel: Ultramar and Winjet. Both offer very comfortable facilities, and the prices of both ferry agencies are similar. So keep reading this guide and learn everything you need to know to go from Playa del Carmen to Cozumel by ferry.
Ultramar is one of the best-known ferry agencies to go from/to Cozumel, and their schedules depart from 6:00 to 23:00 hours. Generally, Ultramar ferry trips last approximately 45 minutes (not counting the transfer to the dock). The cost per person is up to 13 USD (adults).
Winjet is not as well known as Ultramar, so you will find fewer schedules and departures to go from Playa del Carmen to Cozumel. Their schedules start from 7:00 to 21:00 hours. Even when the duration is the same, the price for a ticket on Winjet is 12 USD (1 USD less than on Ultramar).
During the high season, schedules and prices may change, so we recommend you take precautions and get your Cozumel Ferry tickets in advance.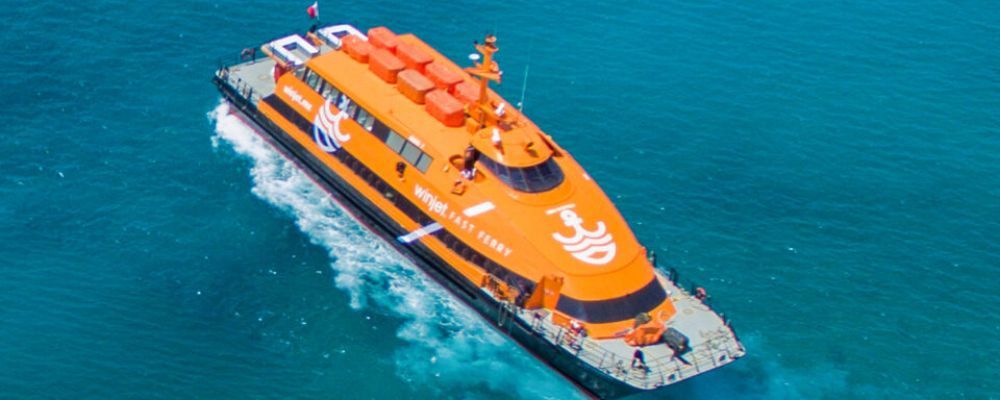 BUYING TICKETS
Getting tickets for the ferry to Cozumel is easy; you can book online or by arriving at the dock in Playa del Carmen.
However, it is advisable to get your tickets in advance. This will allow you to buy the schedule that best suits you. To buy in advance, you can do it on tour websites such as eTransfers.
The Cozumel ferry is very close to 5th Avenue in Playa del Carmen.
When you arrive at the pier and depart to Cozumel, you will arrive at the San Miguel Pier downtown Cozumel. Traveling by ferry is one of the most comfortable ways to get from Playa del Carmen to Cozumel. It is also quite economical, and you can enjoy the relaxed atmosphere in the open ferry area or take the trip in the air-conditioned lower part.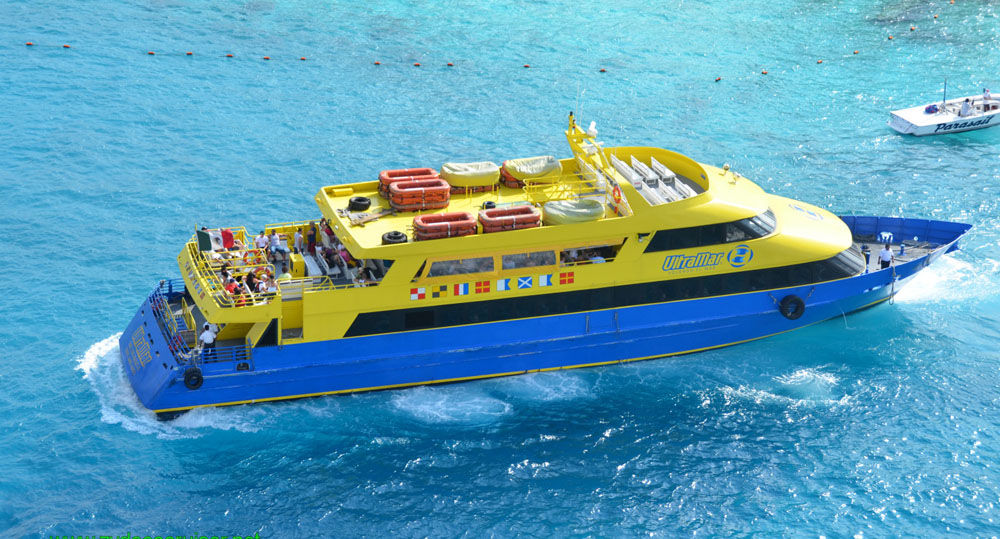 ARRIVING IN COZUMEL
When you arrive at the San Miguel ferry terminal in downtown Cozumel, you can take a cab, rent a car or take a private transportation service that will take you directly from the ferry to your destination. Near the terminal, you will also find one of the most popular agencies with electric scooter rentals to tour the island at your own pace.
Before your trip, be sure to check ferry schedules and prices. This will help you plan your itinerary much better.
Here we share an informative table about the service of Cozumel's two different ferry agencies.
Ferry Schedules and prices
| | | | |
| --- | --- | --- | --- |
| Ferry Agency | Departure Times | Duration | Ticket Price (One-way) |
| Ultramar | From 6:00 AM to 11:00 PM (every hour) | 45 minutes | $13 USD |
| Winjet | From 7:00 AM to 9:00 PM (every two hours) | 45 minutes | $12 USD |
Schedules may change during holidays or special events, so we recommend checking the ferry agencies' websites for updated information. Tickets can be booked at the ferry terminal or online through the ferry agencies' websites. Get your tickets in advance during peak seasons or holidays to avoid long waiting times on the deck.
DISTANCE FROM PLAYA DEL CARMEN TO COZUMEL
The distance from Playa del Carmen to Cozumel is approximately 18 kilometers, 45 minutes travel time on the ferry from the Playa del Carmen Pier to the Cozumel Pier.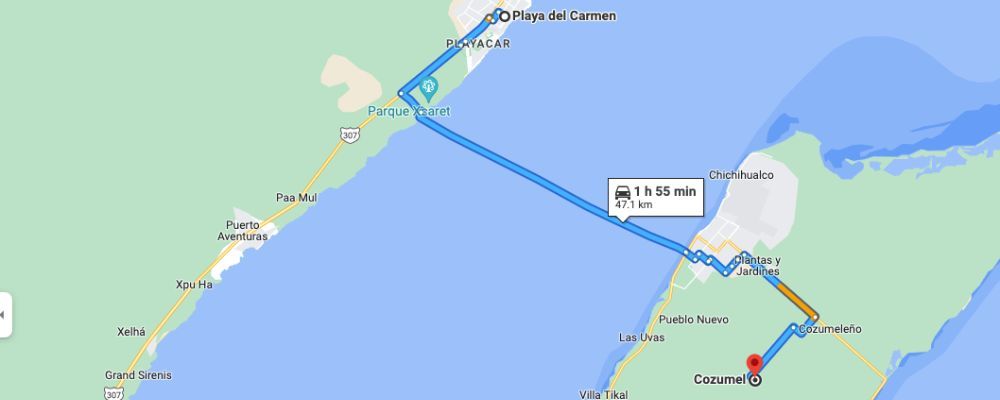 HOW TO GET FROM CANCUN TO COZUMEL BY FERRY?
If you arrive in Cancun and plan to travel to Cozumel, we recommend getting a shuttle service to take you from Cancun to Playa del Carmen (it is much faster than traveling by ferry or boat from Cancun to Cozumel). You can take a ferry to Cozumel when you get to Playa del Carmen. Buying your transfer from Cancun to Cozumel with the same agency is advisable. This will help you get to the port in time to board the ferry.
Getting to the ferry terminal in Playa del Carmen
The Ferry dock is located in downtown Playa del Carmen, just a short walk from the main tourist areas. Several public buses stop near the terminal, or you can take a taxi.
DON'T FORGET TO BRING THIS FOR YOUR TRIP TO COZUMEL.
If you plan to travel to Cozumel, you must have your passport or any other identity document ready. You should also carry cash (preferably exchanged into Mexican pesos if you travel from another country) to buy drinks or snacks when boarding the ferry. Something not to forget is a hat, cap, eco-friendly sunscreen, and sandals for the beach.
Other tips for your trip to Cozumel
Book your ferry pass in advance, especially if your trip will be in high season.

Arrive early at the pier to catch the ferry. This will prevent you from missing your trip.

If you are traveling in a group, stay close to the group.

Do not leave your belongings unattended. Preferably, carry small bags.

Sunscreen will be very necessary, as you will be in constant contact with the sun during the day, especially if you are traveling on the top of the ferry.

Travel early. This way you will enjoy your experience.