Home / blog / how-to-get-from-cancun-to-playa-del-carmen
Adventure
Beaches
Cenotes
Culture
Nightlife
How to get from Cancun Airport to Playa del Carmen
Playa del Carmen is a cultural destination with incredible natural attractions and fun guaranteed 24 hours a day. Don\'t miss any opportunity to enjoy all that Playa del Carmen has to offer and get to know the best options for getting around the city.

Manuel M.,
2022-01-03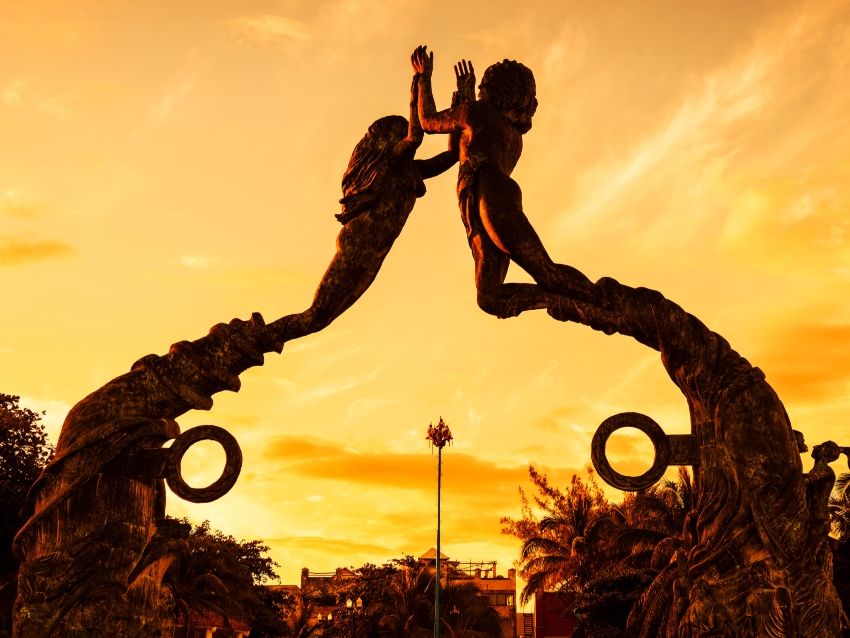 How do I get from Cancun Airport To Playa del Carmen (2023)
Playa del Carmen is known for its incredible natural attractions and delicious gastronomy. It also offers guaranteed fun 24 hours a day. There are many beautiful places to visit, like the hundreds of cenotes to explore around Playa del Carmen. You can also easily visit the Tulum ruins, and Coba ruins.
It was once a fishing community called Xaman Ha, but it is now known as the heart and soul of Riviera Maya.
It offers breathtaking scenery and stunning turquoise waters and beaches. It is a popular tourist destination, along with Cancun, and receives over 800 thousand travelers each year.
Enjoy all that Playa del Carmen offers and learn the best ways to get around. It doesn't matter if you are looking for an ADO bus or a car rental. It's easy to find the best transportation option that suits your needs and budget.
Private transportation from Cancun Airport in Mexico to Playa del Carmen
Private transportation is an option for those who want to travel comfortably to Playa del Carmen. Book your service ahead, and your vehicle will be ready for you upon arrival. Remember that a trip between Cancun Airport and Playa del Carmen will depend on each transfer agency, but on average, the cost is around USD $40 one-way.
Private transportation offers many benefits, including bilingual drivers, personal service 24 hours a day, travel insurance for all passengers, and direct transportation with no stops. Also, some offer amenities and even some stops at convenience stores before getting to your hotel.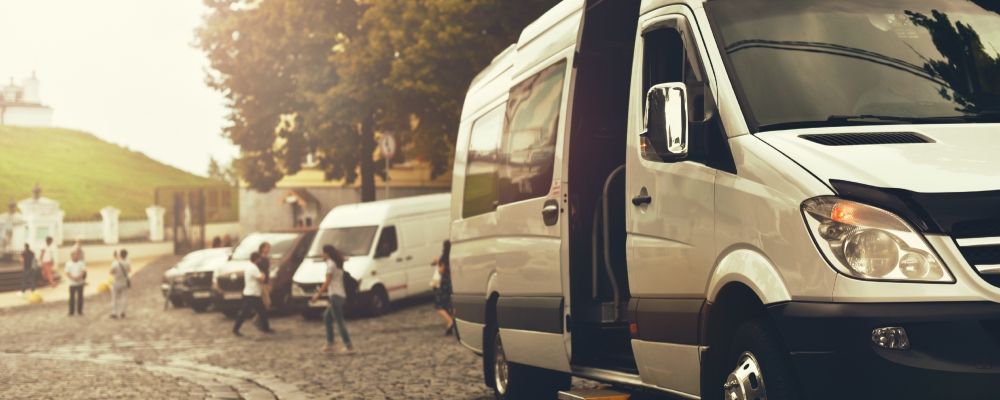 Car rental from Cancun Airport to Playa del Carmen
Renting a car allows you to move freely around Playa del Carmen or the whole Riviera Maya. Don't worry about the highway to Playa del Carmen; the road is in excellent condition, as the government recently decided to work on it. Maybe you can feel trapped because of the usual traffic, but it's nothing to worry about.
We suggest you book your car in advance, so you get on the road as soon as possible! The cost of renting a car in Playa del Carmen is around $24 USD, but that's just the average. Remember, this rate changes depending on the car model you choose and for how long you are renting it.
You should carefully review the requirements if you're considering renting a car. They can vary depending on the agency; most require a valid driver's license and credit card and to be at least 18 years old (others require being 21)
To have car Insurance is a law requirement in Mexico, so it's a good idea to check out which option is best suited for you; sometimes, car rental agencies can offer you their insurance, so you don't have to worry about it.
The most common insurance includes medical services, civil protection, and damages to third parties. But remember to check which services are included in the insurance, just in case you want to change it and have full coverage.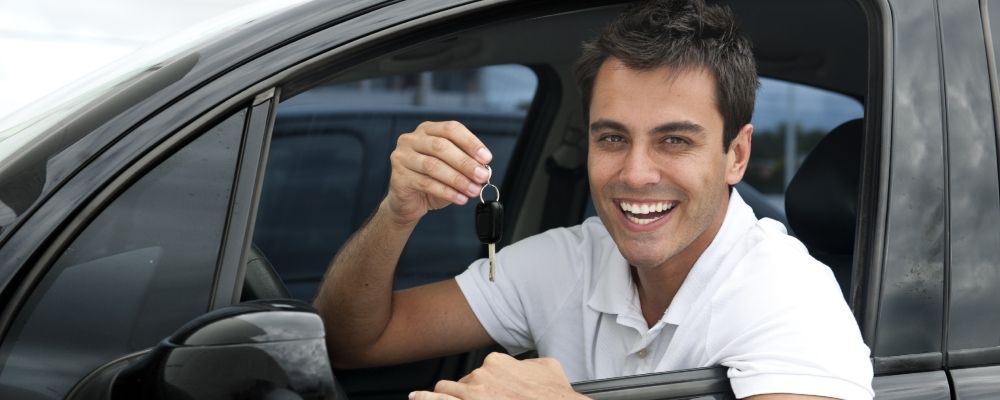 ADO Bus from Cancun Airport To Playa del Carmen
ADO buses are the most common and cheapest way to get to Playa del Carmen. However, this bus service can get you almost anywhere in the Riviera Maya, since they have bus terminals in Tulum and Merida.
You can get your tickets at airport terminals and choose between three bus categories (GL, Platinum, or Gold). They depart almost every 30 minutes.
ADO buses to Playa del Carmen cost around USD $8. You can also take them to Playa del Carmen's Fifth Avenue. In addition, ADO buses offer a variety of amenities, such as Wi-Fi, air conditioning, and numbered seats.
Transport collective from Cancun Airport in Mexico to Playa del Carmen
You can get to Playa del Carmen by shared transportation, which is cheaper and quicker. It is not as comfortable and secure. However, you share the vehicle with others following the same route.
We must highlight that you can not use collective transportation at the airport. You must go downtown first if you want to use it for a transfer. It costs approximately USD $9.
What to do in Playa del Carmen
Playa del Carmen has many attractions suitable for all ages. Don't expect to have any boring time during your stay. While some attractions are more well-known than others, they are all magical.
Beaches:
Playa del Carmen beaches are famous for their turquoise waters and white sand. Playa Mamitas and Playa Maroma are the most popular beaches. However, you can still explore virgin beaches with the help of locals.
Fifth Avenue:
Playa del Carmen's most famous attraction is Fifth Avenue. Fifth Avenue is a 5 km long street filled with restaurants and new stores. It is the perfect place to walk, take tons of pictures, and then finish your walk at Parque Los Fundadores to witness the amazing sunset.
Playa del Carmen is close to Xcaret or Xenses if you are looking for an adventure-like water park while vacationing. There are many attractions you can experience.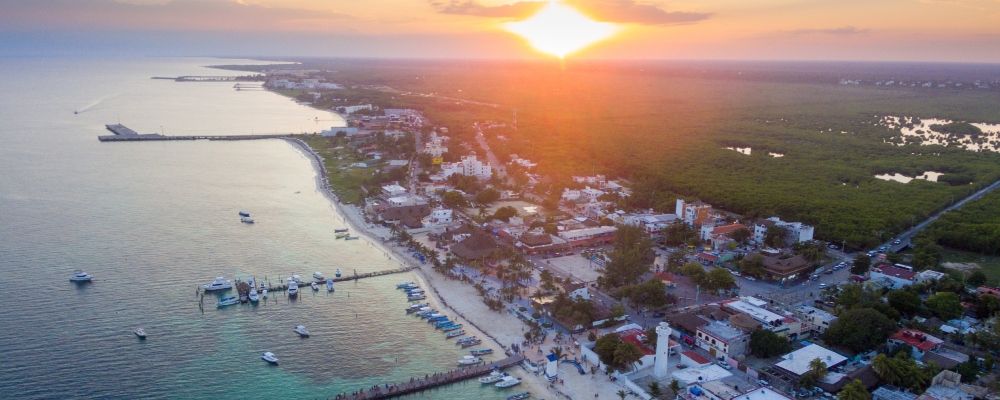 How far is Cancun Airport from Playa del Carmen?
Playa del Carmen can be found 55 km (34 Miles) from Cancun International Airport. It is accessible via Highway 307 (Chetumal-Cancun). The travel time is approximately 46 minutes.
Is there an airport in Playa del Carmen?/ Where is Playa del Carmen airport?
Playa del Carmen doesn't have an airport. However, Cancun International Airport, the largest airport in the region, is the closest to Playa del Carmen.
Is Playa del Carmen in Cancun?
Playa del Carmen is in the state of Quintana Roo, Mexico, on the Caribbean Sea. It is located approximately 75 miles (120.7 kilometers) south of Cancun and is part of the Riviera Maya, a stretch of the Caribbean coastline that includes several popular tourist destinations. While it is not located in Cancun, it is a popular tourist destination in its own right and is often visited by tourists staying there.

How do I get from Downtown Cancun to Playa del Carmen

A Colectivo (shared van) is the most economical option if you are going from Cancun to Playa del Carmen. The ADO bus station is directly across from Downtown Cancun's colectivo stop. Although prices aren't fixed for the Colectivo, it should only cost you approximately nine dollars, so this is an affordable option.
The ADO Bus runs from Cancun to Playa del Carmen more than 50 times per day, often multiple times per hour. The ticket is approximately 80 MXN (4 USD).
Finally, a taxi ride from Cancun to Playa del Carmen will cost around $40 to $100.
Can I take a colectivo from Cancun airport to Playa del Carmen?
At Cancun airport, there are no colectivos (shared vans that travel up and down the coast). The most similar service is a shared shuttle, similar to a Colectivo. Also, you can take an ADO bus to get to Playa del Carmen.