Home / blog / mexicos-secret-paradise-holbox-island-guide
Mexico's Secret Paradise - Holbox Island Guide
Is it worth traveling to Holbox Island in Mexico? The answer is yes. Isla Holbox Mexico is one of the best destinations to visit in the country. Discover here a complete guide to visit Holbox.

Christian,
2023-01-03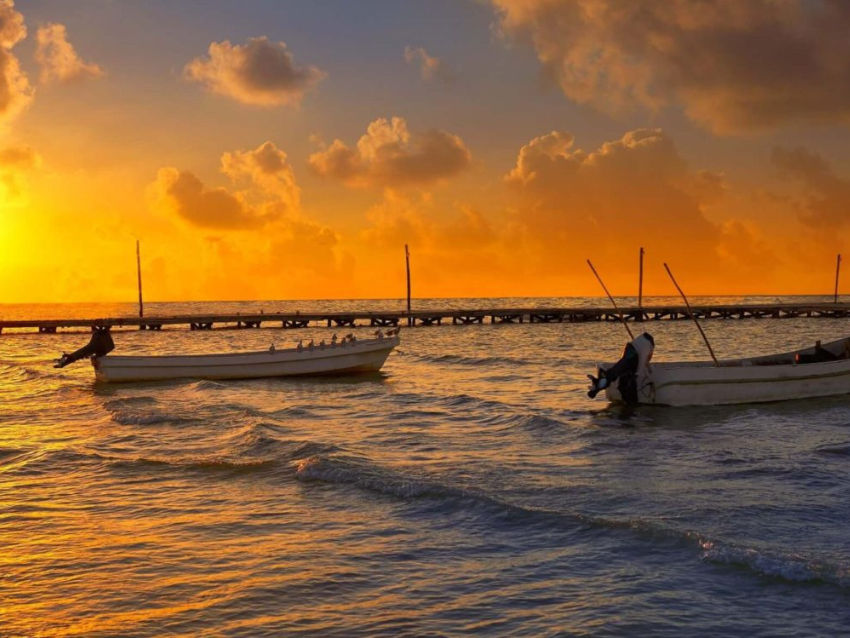 MEXICO'S SECRET PARADISE - GUIDE TO HOLBOX ISLAND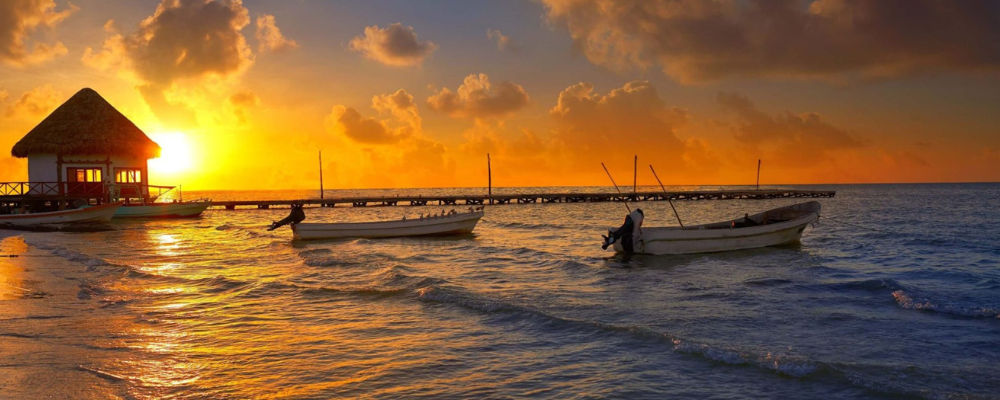 Isla Holbox is an island paradise located just off the northern coast of Mexico's Yucatan Peninsula. Free of cars and paved roads, it has miles and miles of pristine beaches with no urban development, making Isla Holbox the perfect destination to relax this 2023 and for years to come.
Although much of the island remains undeveloped, it has a nice little town with hotels, restaurants and other services, plus prices to suit all budgets.
Holbox Island has a great laid-back atmosphere thanks to its beautiful beaches with shimmering waters and warm sunlight. Holbox's Caribbean waters are home to an incredible variety of marine life, where whale sharks are popular.
On the streets you will find a multitude of incredible street art, plus fantastic local restaurants serving delicious Mexican food.
If you find yourself looking for something new in Mexico, you must include Isla Holbox on your list. The island is a great place to visit if you want a relaxing getaway to Mexico with the possibility of quiet, eco-friendly adventures. If this is exactly what you're looking for, don't miss our travel guide to Isla Holbox, Mexico!
HOLBOX ISLAND FREQUENTLY ASKED QUESTIONS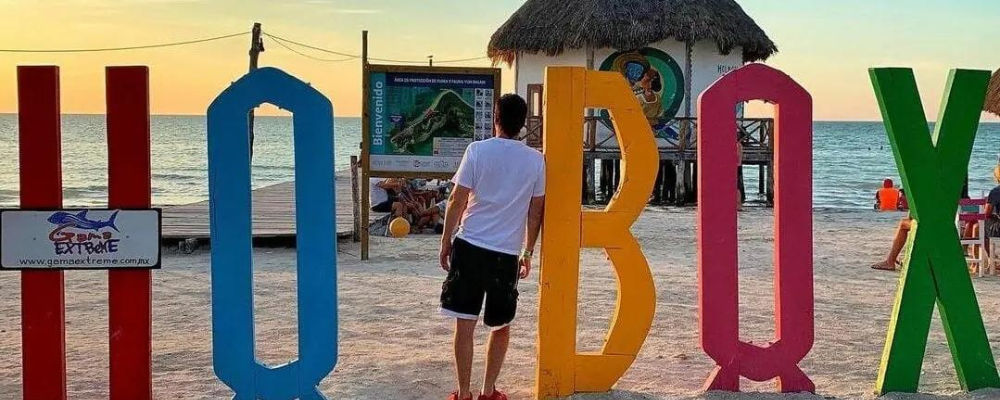 When does the Whale Shark season start in Holbox?
The whale shark season in Isla Holbox runs from mid-May to mid-September, with the peak of the season between late June and early July. You can observe whale sharks in Isla Holbox during the summer months on their annual migration around the Yucatan Peninsula.
How do you pronounce the word Holbox?
The name of the island "Holbox" is pronounced differently than expected, as the "x" takes on a "sch" sound. The correct way to pronounce it is "Hole-Bosch".
Are cars allowed on Holbox Island?
Isla Holbox is so small that there are no cars on it, except for a few work trucks. To travel on it you need to rent a bicycle or golf cart, or you can also walk if you prefer. Limitations on automobiles have been established in order to protect the island's natural habitat.
Nowadays the closest thing to a car you can find in Holbox are some all-terrain vehicles.
WHY VISIT HOLBOX ISLAND MEXICO?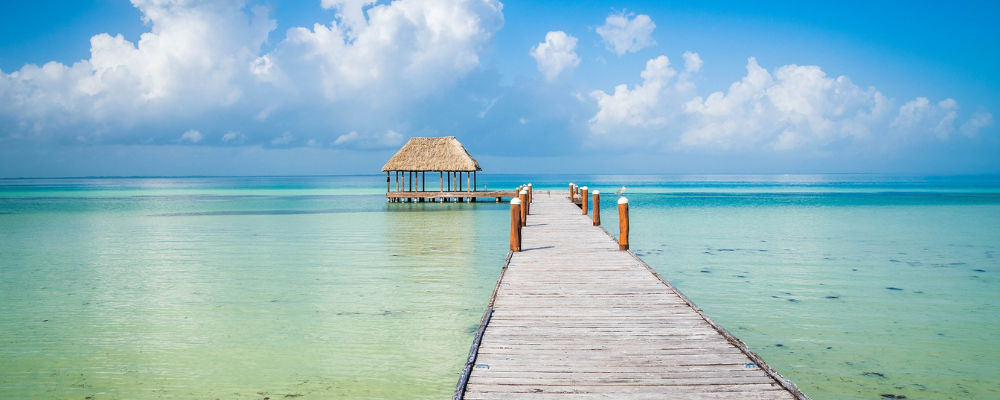 Although the breathtaking scenery and the relaxed lifestyle of the island are enough reasons to visit Isla Holbox, one of its main attractions is that it is a destination out of the ordinary. You will find almost no paved roads on the island, so you will have to pass through some dusty, nature-surrounded roads when you are on your bike or golf cart. In addition, the island has a charming small-town feel to it, as its population is just over a thousand people.
It is evident that much of Mexico's fantastic coastline has developed quite a bit in recent years, so many places feel somewhat crowded by the large number of tourists that come to visit each year. Holbox Island is different, as it remains largely undeveloped. In Holbox you will find amazing beaches, great underwater life, beautiful street art, plus an excellent friendly atmosphere. The perfect vacation destination!
HOW TO GET TO ISLA HOLBOX MEXICO?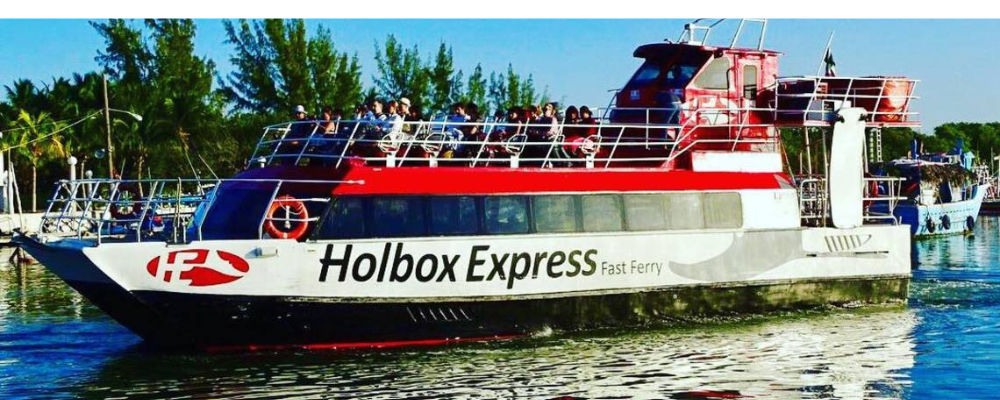 To get to Holbox Island there are only 2 options, take the 15 minute ferry from Chiquilá, or take a flight to Holbox. If your idea was to rent a car in Cancun, you should know that you will not be able to drive to Holbox, but you can drive to the town of Chiquilá to take the ferry to Holbox from there.
Don't worry about the ferry, the trip is smoother than you think. Before you travel be sure to check out this guide on how to get to Isla Holbox, among other travel details.
GETTING TO HOLBOX ISLAND FAST AND EASY
Looking to get to Holbox fast and easy? The solution is to book a Cancun Private Transportation service, this way you will have a driver waiting for you from Cancun Airport or from your hotel in Cancun, to arrive on time to your ferry to Holbox. Don't forget to book online in advance to get better organized and get the cheapest rates.
FERRY TO HOLBOX ISLAND FROM CHIQUILA
The ferry to Isla Holbox from Chiquilá is faster than you think, taking only 15 minutes to get there. Currently two ferry companies in Holbox operate daily from Chiquila and back. Both ferry trips are the same price. The service is the same, but at different times.
Both ferries leave daily, starting at 5 am and departing every 30 minutes, one ferry leaves on the hour and the other ferry leaves on the half hour. The last ferry leaves at 20:30 hrs.
To catch the ferry simply show up at the Chiquila pier and ask for the next available ferry to Holbox. Prices for ferry tickets to Holbox are:
Adults and children over 4 feet: $220 MXN.
Children under 4 feet: $180 MXN
Children under 2 years old: Free
TRAVEL TO HOLBOX ISLAND BY CAR
A good idea is to rent a car and drive to Chiquila to take the ferry to Holbox. Rental cars in Mexico are relatively inexpensive. You usually pay $30 USD per day from Cancun airport.
Cancun to Holbox from Chiquila
Toll road 145 km | 1 hour 55 minutes
Playa del Carmen to Holbox from Chiquila
Toll road 123 km | 1 hour 45 minutes
Tulum to Holbox from Chiquila
Toll road 186 km | 2 hours 30 minutes
Parking at Chiquila Holbox Ferry
Several companies offer parking right in front of the Holbox ferry. Rates are around 100 MXN per day.
We recommend you not to leave anything in the car. Take all valuables and leave the items you don't have with you. Only take what you need to Holbox.
TRAVEL TO HOLBOX ISLAND BY PUBLIC BUS
The cheapest way to get to Holbox is by public bus. Although you should know that this is usually also the longest way, taking more than 3 hours. The local bus company ADO has routes to Holbox at affordable prices.
You can find ADO buses to Holbox from Cancun, Playa del Carmen, Tulum, Merida, and more. Prices are usually cheaper when booking in person.
TRAVEL TO HOLBOX ISLAND BY SHARED BUS
A less advisable way to travel is by shared bus. You usually have to wait for all the passengers to arrive or for them to pick up all the guests from their hotels. You can find shuttle buses from Cancun and Playa del Carmen for $25-$40 pesos per person.
FLIGHTS TO HOLBOX ISLAND
If you are on a budget, then you can consider taking a flight to Holbox. There are no shared flights, so you will have to charter a private plane. To do this, you need to coordinate flights in advance, these can depart from Cancun, Playa del Carmen, Cozumel or Merida. The cost of flights start at $470 USD per plane and increase depending on the place of departure.
SWIM WITH WHALE SHARKS IN HOLBOX ISLAND MEXICO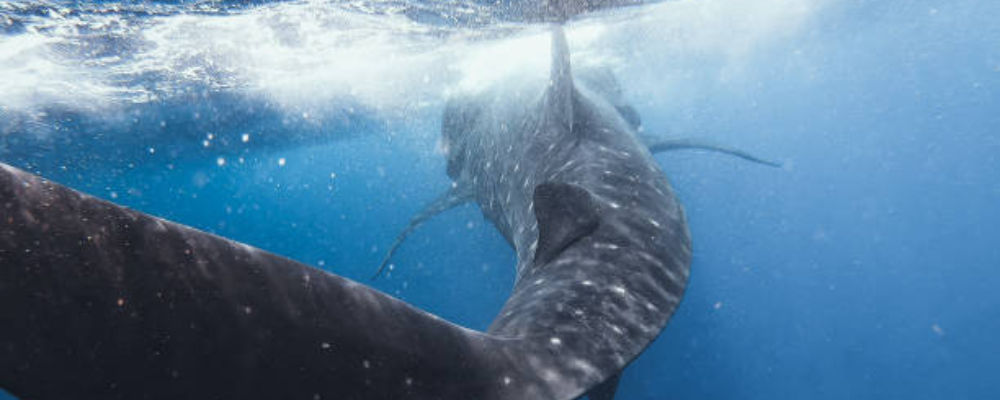 One of the best things to do in Holbox Island is to swim with whale sharks. These huge creatures are majestic underwater as they swim peacefully. You are sure to leave amazed having seen them up close in their natural environment.
Whale sharks can reach up to 40 feet long and weigh up to 30,000 pounds. These gentle giants are not dangerous, so there is no need to panic. They are larger than white sharks, and they have no teeth, so they eat large amounts of plankton.
WHALE SHARK SEASON HOLBOX ISLAND
Holbox is undoubtedly one of the best places in the world to swim with whale sharks and is one of the things that most characterizes the island. However, you will only be able to see them during their season and not out of season. Whale sharks can only be seen in this part of Mexico during their migration when the seas are abundant in plankton. If you want to see these amazing creatures in Holbox you will have to do it in summer.
Whale Shark Season in Holbox: June to September
Average price: From 120 USD.
TOP 10 THINGS TO DO ON HOLBOX ISLAND
Isla Holbox in Mexico is truly a beautiful and relaxing destination to visit. It is full of outdoor activities that will make you experience nature at its fullest.
To help you organize your trip to this amazing island, we have listed the favorite activities of travelers who have visited Holbox. From swimming in cenotes, to exploring the colorful streets of the island and enjoying the sun with your favorite cocktail, discover everything you can do in Holbox!
1.TAKE A WALK ON THE ENDLESS SANDY BEACH OF THE CLOUDS
One thing you can't miss in Holbox is a stroll along the endless sandy beach of Las Nubes. From a distance, this sandbank emerges at low tide, which is when you can walk along it while gazing at the glorious turquoise waters of the Caribbean.
This is a magical and unparalleled experience with absolutely breathtaking views. When visiting this beach be sure to get back to dry land before the high tide comes in and covers the sandbar.
On the way back you will find many restaurants and bars to eat and have a cocktail while watching the glorious sunset over the sea.
2. TAKE A NAP IN THE HAMMOCKS OF HOLBOX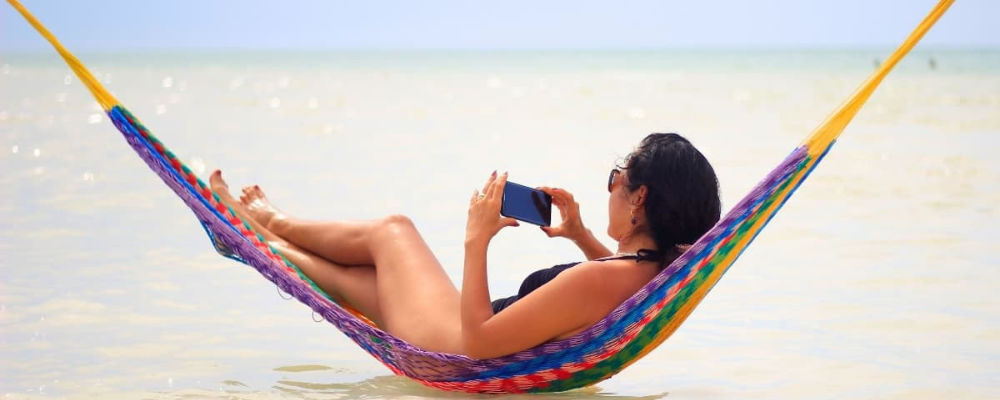 On most of Holbox's beaches you will find hammocks hanging among gently swaying palm trees, which are perfect for taking a well-deserved siesta.
These hammocks are ideal for those who want to spend the afternoon snoozing or take a memorable vacation photo. Some favorite places to rest in the famous Holbox Hammocks are:
3. KITESURF ON NORTH COAST OF HOLBOX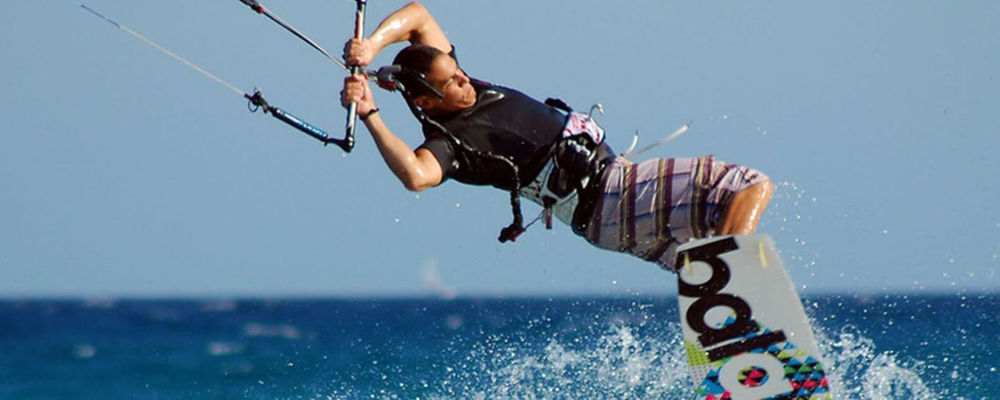 Holbox has constant winds, making it one of the best places in Mexico for kitesurfing and other wind-related water sports. Even if you don't want to practice any sport it is fun to relax on the beach and watch the kites and surfers.
One of the most popular spots for this sport is the Las Nubes sandbar. This spot is just past Isla Punta Mosquito. Here the beach opens up to a stretch of virgin sand so long that you won't be able to see the end.
4. SWIM IN CENOTES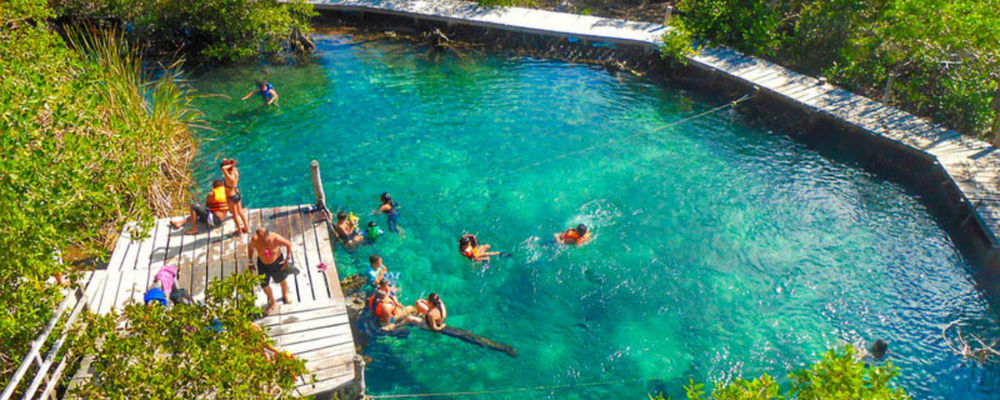 A very popular activity in Holbox is swimming in the Yalahau cenote, which is located on the mainland in the Yum Balam Natural Reserve. You will have to take a half hour boat ride to get there. On the way you may see dolphins swimming if you are lucky.
The cenote is hidden in a mangrove forest, and has crystal clear water ideal for swimming. It really is an enchanting setting, which makes a dip in the cenote a unique experience. After drying off in the warm sun, you can explore the rest of the wonderful natural sights that the nature reserve has to offer.
Holbox tours with a stop at the Yalahau cenote:
Holbox Eco Classic Tour | 2-3 hours $40
Tour Isla Holbox Private | 3.5 hours $130
5. HOLBOX BOAT TOUR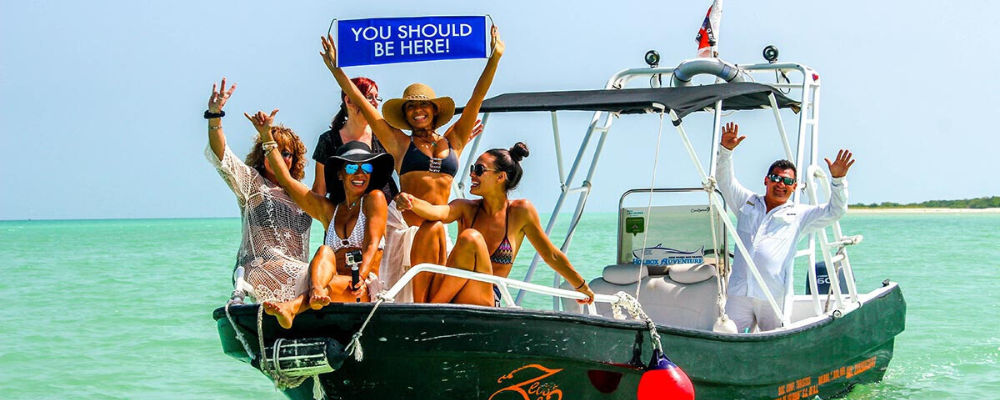 Isla Holbox has beautiful beaches, dazzling landscapes and an abundance of incredible wildlife. An excellent way to explore its attractions is aboard a boat tour around the island.
A Holbox boat tour will allow you to enjoy the beautiful ocean views. Isla Holbox looks fabulous with its beautiful palm trees towering over its sandy beaches.
If you want to swim in its inviting waters, the boat tour also takes you to a couple of different islands near Holbox Island. You can visit Isla Pajaros for all the amazing brightly colored birds.
Suggested Holbox boat tours:
Private Holbox Island Tour | 3.5 hours $130
Private Tour Isla Holbox | 3.5-4 hours $225
6. KAYAKING THROUGH THE MANGROVES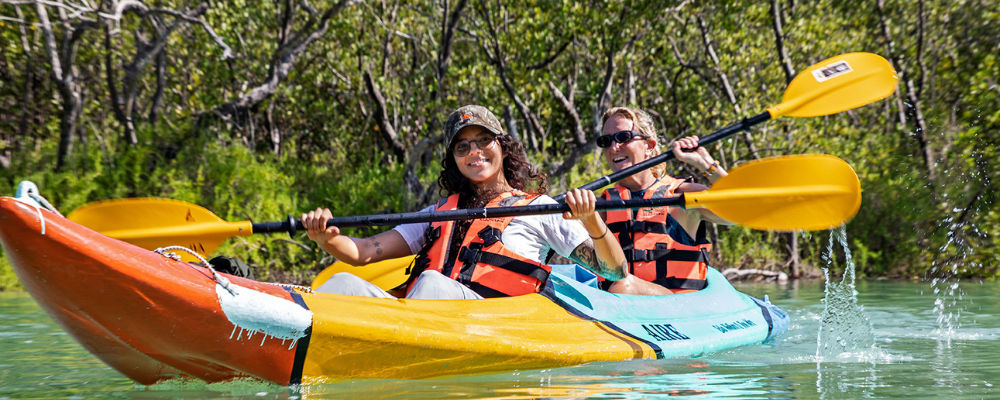 There is no better way to explore the magnificent mangroves of Holbox than by kayak, which will allow you to immerse yourself in the abundant nature and see the wildlife. You will see many different types of birds and may even encounter crocodiles.
A leisurely paddle through the mangroves is a great way to spend an afternoon.The guide will lead you and point out wildlife along the way.
7. EXPERIENCE BIOLUMINESCENCE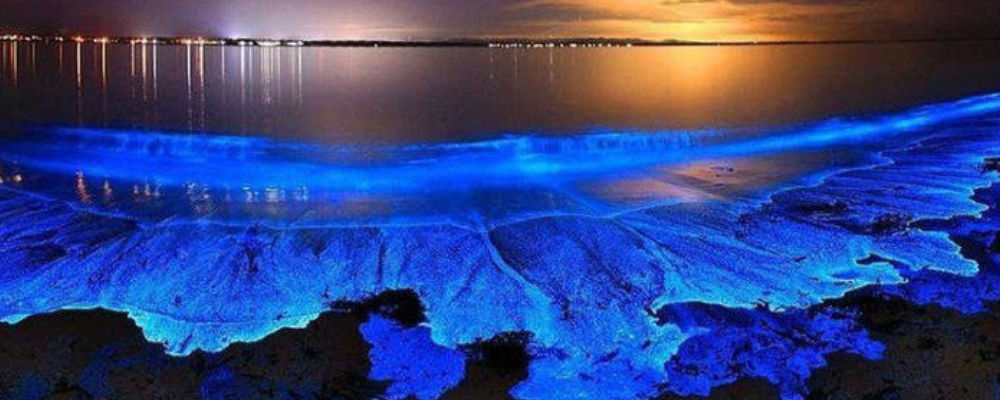 Don't miss the incredible phenomenon of bioluminescence in Holbox, which illuminates the waters around the island.
During the dark nights, on some beaches of Holbox Island, you will see the water glowing with blue lights, which are microscopic plankton glowing brightly, a magical sight not to be missed!
To best see the bioluminescence in Holbox, the night should be as dark as possible and preferably when there is a new moon.
Remember to bring your swimsuit to swim among the little stars that shine around you. Leave the camera behind and live the moment here in Isla Holbox.
Bioluminescence Tour in Holbox:
8. STREET ART IN HOLBOX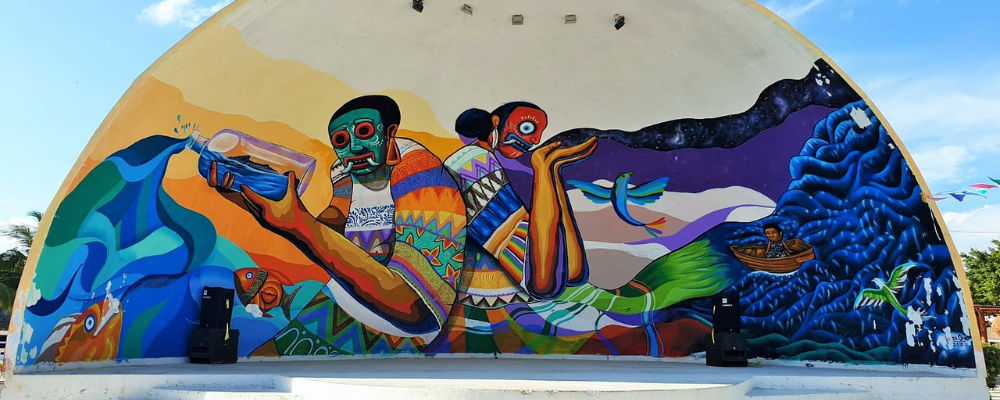 Holbox Island is also known for its fantastic street art that adorns every corner. Find beautiful murals, monuments and artistic creations that illuminate the town with their vivid colors. Much of this art gives Holbox a unique feel and look.
Stroll around town and admire each of the incredible pieces; if possible, return home with a couple of pieces of local art as souvenirs or to decorate your home.
9. RENT A BIKE OR A GOLF CART TO EXPLORE THE ISLAND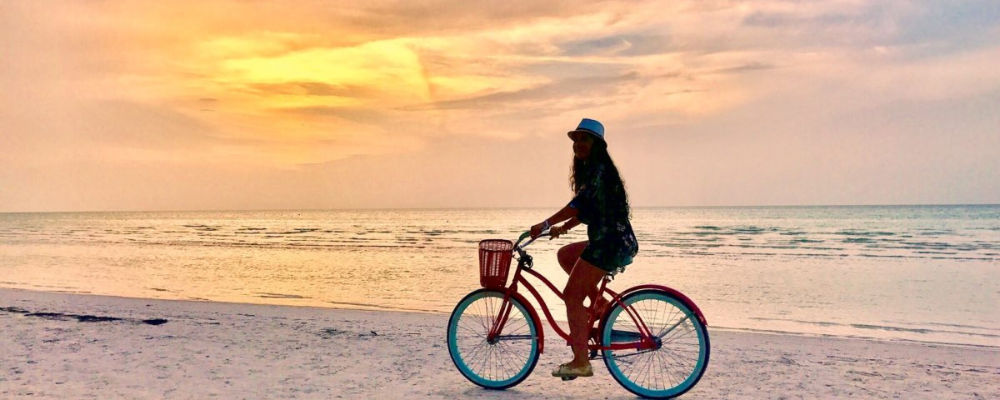 There are no cars available on the island, so the only option for exploring is to take a golf cart cab or rent one. You can also rent a bicycle to explore Holbox.
It is practically impossible to get lost on the island, as it is quite small. There is nothing like riding a bike along the beach, it is a dream to ride along the waves crashing on the shore on the fine white sand. On the other hand, golf carts are a very fun way to travel and one of the fastest ways to get from point A to point B in Holbox Island.
Bicycle Rental Price: $20-30 MXN/hour | $50-200 MXN/24 hrs
Golf Cart Rental Price: $150 MXN/hour | $1000 MXN/24 hrs
If you rent for more than one day we recommend that you try to negotiate a better deal for more time. The best deals can be found on one week rentals, and there is a wide variety of places to rent on the island, choose the one that gives you the best price.
10. ENJOY A DAY AT A BEACH CLUB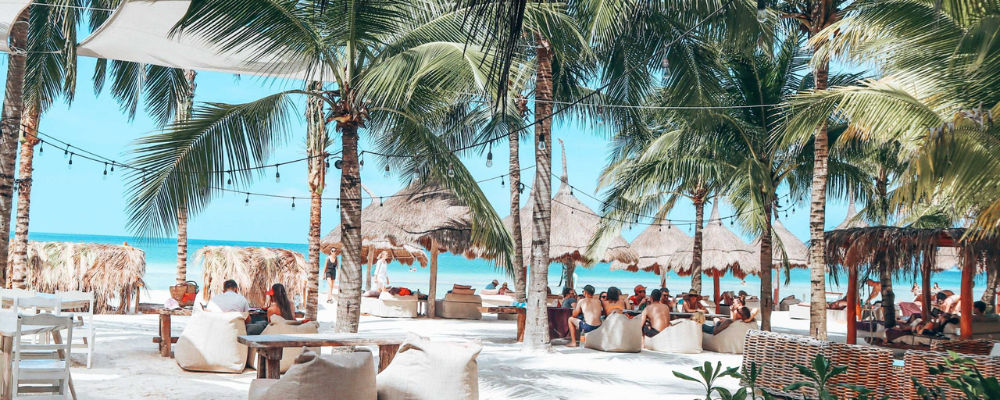 After days full of activities, you probably want to relax and unwind and what better way to do that than at a beach club sipping your favorite cocktail?
Isla Holbox is an island paradise with many excellent bars and restaurants near the coast. Most offer fantastic ocean views. There is nothing like hanging out at a beach club and enjoying a refreshing cocktail.
Find delicious cocktails at El Velero Beach Club, which offers breathtaking views during sunsets.
Hours: Monday to Sunday: 7:30 a.m. to 8:00 p.m.
WHERE TO STAY IN HOLBOX ISLAND?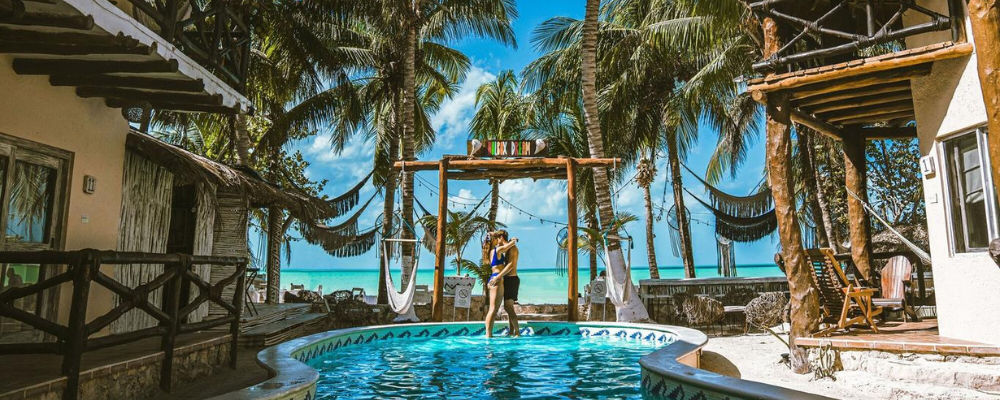 For the size of this destination there is no better place to stay than anywhere else. Isla Holbox is small, so you can walk almost anywhere in just 15 minutes. Here are some hotels recommended by travelers:
Luxury Hotels +250 USD
Mid Range Hotels 100- 200 USD
Hotels for Budget less than 75 USD
BEST RESTAURANTS IN HOLBOX ISLAND
Isla Holbox has fantastic restaurants. Find here some of the favorites of visitors.
ROSA MEXICANO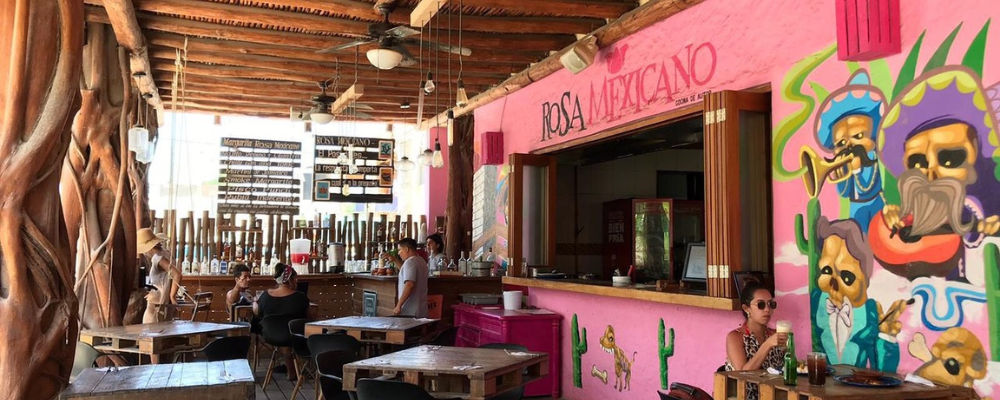 Rosa Mexicano is a wonderful, centrally located, open-air restaurant that serves delicious food, ideal for breakfast, lunch or dinner. Although the menu features mostly traditional Mexican dishes, it also has a modern twist and an extensive cocktail menu.
When visiting, we recommend getting a seat outside on the swings. It's a great place to enjoy a drink and hang out.
Hours: Monday to Sunday | 20:30 to 22:30 hrs
LOS PELEONES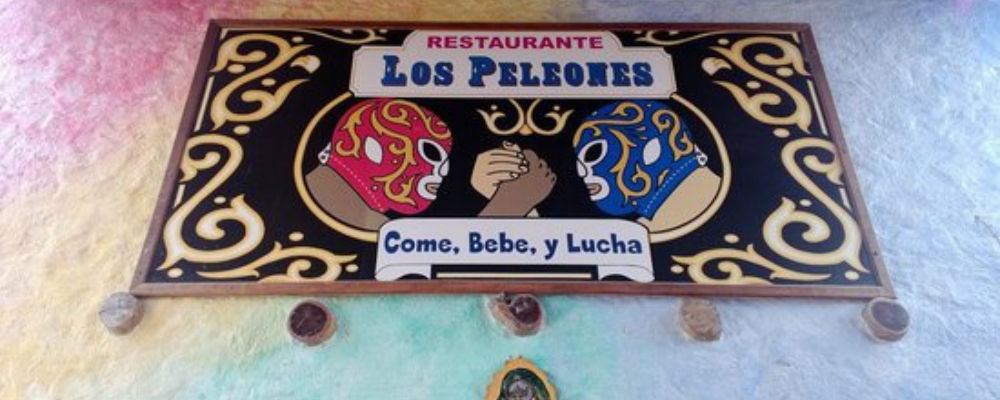 Los Peleones is a very nice and cozy restaurant located in the center of the city and has a great atmosphere that makes you feel at home. The food is tasty and fresh, and the menu offers everything from traditional Mexican dishes from all over the country to authentic Italian pasta dishes and Japanese Peruvian fusion. When you visit, don't forget to leave room for their delicious desserts, such as the chocolate cake.
Schedule: Monday to Sunday:16:30 to 23:30 hrs.
EL VELERO BEACH CLUB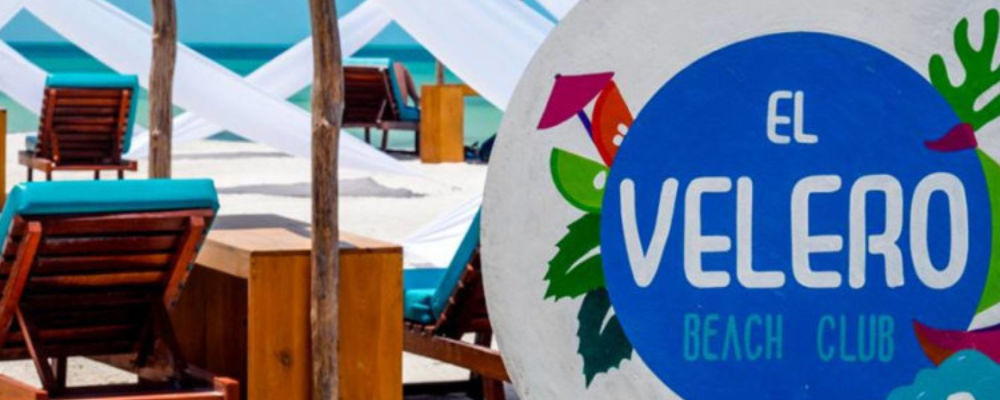 El Velero Beach Club is located in the Hotel Puerto Holbox, that is, on a beach. This restaurant is perfect for watching the sunset while enjoying a delicious meal and sipping a refreshing cocktail, a lovely experience!
It has a very relaxed atmosphere in its beach club, plus its menu has a wide variety of different dishes to try. Enjoy breakfast and lunch at the beach club with the best company.
Opening hours: Monday to Sunday: 7:30. to 20:00 hrs.
MORE PLACES IN MEXICO TO VISIT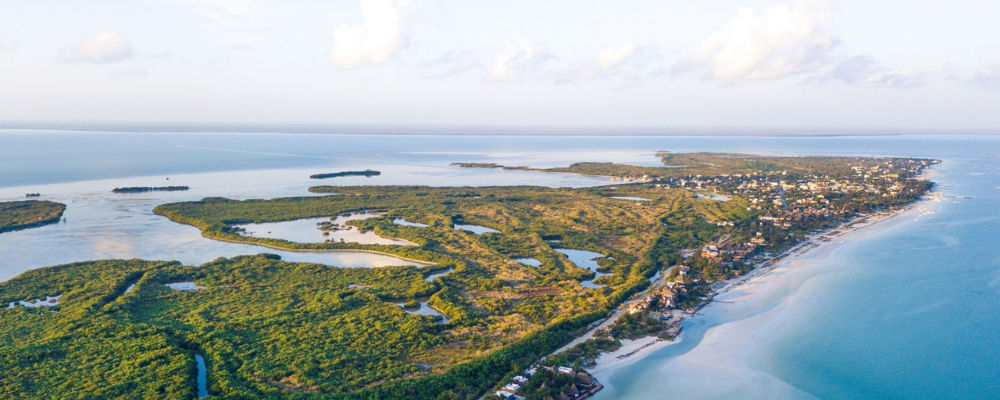 If you are planning a longer vacation to explore Mexico, there are many amazing places near Holbox to visit. Be sure to check out some of our other articles on Mexico's most wonderful destinations near the Caribbean.