VISIT CENOTE DOS OJOS IN TULUM 2023
Discover the magic of swimming in Dos Ojos Cenote, located between Tulum and Playa del Carmen, add it to your list of places to visit on your next trip!
Cenote Dos Ojos in Tulum is incredibly beautiful, so much so, that it has been featured in several documentaries and movies.
With vibrant blue water, incredible rock formations, and plenty for divers to explore, make this cenote one of the most popular near Tulum.
WHAT IS A CENOTE?
The cenotes are centuries-old natural sinkholes; these limestone caves collapse to reveal a kind of natural pool, which fills with rainwater. This water flows through the subway rivers that connect these natural sinkholes.
The word cenote comes from the Mayan word "dzonot", which means well. There are 4 types of cenotes:
Open Cenotes: These are open natural pools, which can be more or less deep. Some of these cenotes are connected to a subway river passage. Some examples of open cenotes in Cancun are: Cenote Cristal, Cenote Escondido, Cenote Zacil-Ha, and Cenote Carwash.

Semi-Open Cenotes: These have some parts exposed and other portions partially hidden by a cave. Examples: Gran Cenote y Cenote Calavera.

Cenote Cave: You can access them through a ground level entrance. Once inside, it opens to a subway pool with shallow and deep areas. Examples: Dos Ojos Cenote.

Subway Cenotes: This is the most difficult to access. Only experienced divers can do it. Example: Cenote Cementerio de Mascotas.
Cenotes have great cultural and religious significance for the ancient Maya, who believed that they were passageways to the underworld.
When visiting a cenote, do not forget to be responsible and do not dirty them. Always take your garbage with you and apply only biodegradable sunscreen before swimming in them.
It is recommended to have travel insurance before traveling to Mexico, since unexpected things can happen anywhere in the world.
INTRODUCTION TO CENOTE DOS OJOS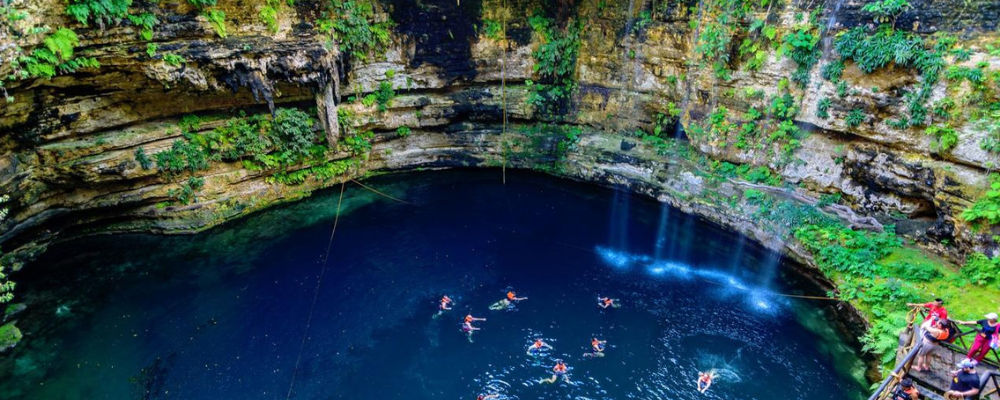 Cenote Dos Ojos is a system formed by two different cenotes, which are connected by a 400 meter long passageway. It is part of one of the largest underwater cave systems in the Yucatán Peninsula. The cenote holds the record for the deepest underwater passageway, which is 118 meters deep. Cenote Dos Ojos has a maximum depth of 10 meters.
The water is blue and crystal clear; its temperature is pleasant, between a comfortable 24-25 °C (70 degrees Fahrenheit). Most visitors spend most of their time in the main cenote, as the second one is darker and it is common to see bats in it. If you really like bats, there is a cave called Bat Cave that you can visit with the help of a guide.
Both cenotes have beautiful stalactites and stalagmites, which you should avoid touching, as they are quite fragile. In the cenotes you will find shallow areas, so it is a good option for families with children.
FACILITIES IN CENOTE DOS OJOS, TULUM
Dos Ojos Park, where Cenote Dos Ojos is located, has excellent facilities.
Restrooms and changing rooms, as well as lockers for rent.

A large wooden deck area at the main cenote is a great entry point. There are stairs down to the water in both cenotes.

Life jackets are included in the entrance fee. If you want to rent snorkeling equipment at Cenote Dos Ojos, it has an extra cost, which must be paid in advance at the ticket booth. The cost of the rental (mask, snorkel, and fins) is around $200 MXN.

You can exchange your ticket for a guided snorkeling or diving excursion.

Lifeguards are on duty. Parking is free and there is a restaurant on site.

You can get massages, as well as covered picnic areas for eating.
CENOTE DOS OJOS: BASIC INFORMATION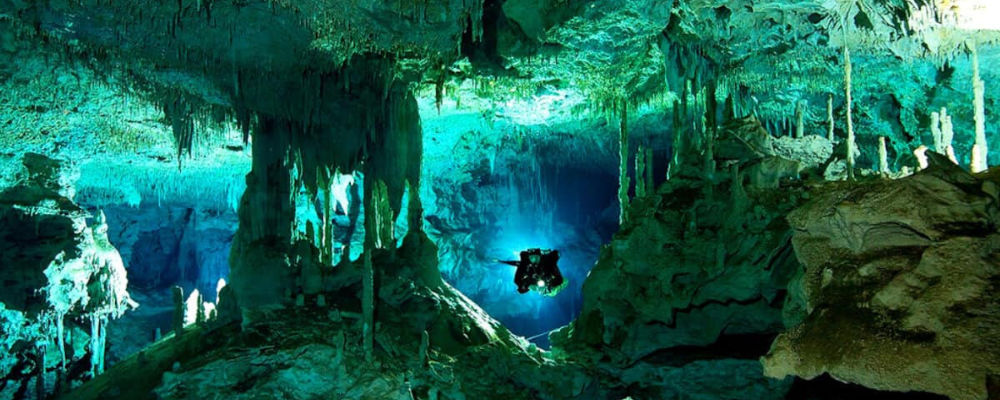 Cenote Dos Ojos Entrance Fee
The entrance fee to Cenote Dos Ojos is $350 MXN (21 USD). Only cash is accepted.
Where is Cenote Dos Ojos located?
Cenote Dos Ojos is located 22 km north of Tulum and 50 km south of Playa del Carmen. That is, about 20 minutes by car. The cenote is part of a place called Dos Ojos Park, where you can also find other cenotes such as: Cenote Nicte Há, Cenote Jaguar, Cenote El Pit, Cenote Los Monos.
When visiting Cenote Dos Ojos you can also take advantage and visit Xel-Ha, which is only 1 km (0.6 miles) to the south.
Cenote Dos Ojos Schedule
Cenote Dos Ojos is open from 9:00 to 17:00 hrs.
What is the best time to visit Cenote Dos Ojos?
If you want to avoid the crowds, it is recommended to go early in the morning, before 9:30 AM.
BEST TOURS IN CENOTE DOS OJOS
If you visit the Dos Ojos cenote in Tulum with a tour, get to know some of the most popular ones:
Dos Ojos & Casa Cenote Adventure. This is a family friendly tour, where you can snorkel or dive with a guide at Casa Cenote and Cenote Dos Ojos.
Private Tour to Cenote Dos Ojos with Mayan Lunch. If you prefer privacy and comfort, this private tour to Cenote Dos Ojos is for you. Lunch at a local Mayan restaurant. Hotel pick up is included from Tulum and Playa del Carmen.
2 Dives at Dos Ojos Cenote. A 2 tank dive experience for certified divers who wish to discover the tunnels and caves of the Dos Ojos cenotes. Tanks, weights, and flashlights included. The tour departs from Tulum.
Private Dream Underground World. Explore the Sac Actun system, where you can swim and snorkel in the subway river and discover the rock formations of this unique ecosystem. Snacks, drinks, and snorkeling equipment are included, as well as hotel pick up and drop off from Riviera Maya.
If you want to visit more than one cenote, we recommend you to take this Tulum Cenotes Tour.
HOW TO GET TO CENOTE DOS OJOS?
Cenote Dos Ojos is located within the Dos Ojos Cenote Park, which also includes Cenote Nicte Há, Cenote The Pit, among others. There are several transportation options to get to Dos Ojos Cenote, as shown below.
Colectivo to Cenote Dos Ojos
The colectivos are usually the best way to get around the Riviera Maya. If you want to get to Cenote Dos Ojos by colectivo, you will have to take it on highway 307 heading north from Tulum, towards Playa del Carmen. There is no fixed schedule, but they run every few minutes. The colectivo will drop you off at the entrance of Dos Ojos Park. The price is approximately $40 MXN from Tulum Pueblo.
Book a Private Transportation for a day
If you want to visit several cenotes and other attractions in one day, it is advisable to hire a Transportation from Tulum to Dos Ojos Cenote service to optimize your time.
When you book a Private Transfer service, you can plan your own itinerary without having to worry about how to get from one place to another. Parking fees and insurance are covered by most companies.
Taxi to Dos Ojos Cenote
The ride from Tulum Pueblo to Dos Ojos Park is about 20 minutes, so a Taxi should not cost more than $200 MXN. In case you are staying at Tulum beach, you will be a little farther, so you will have to add $100 MXN more to your budget.
Taxis will drop you off at the entrance of the park, but if you don't want to walk you can ask the driver to wait for you to buy the entrance fee and take you to the cenote, which is more than 1 km away.
Rent a car in Tulum, Playa del Carmen or Cancun
Renting a car means more freedom, plus it will save you a lot of time and hassle, so take advantage and take a road trip through the Riviera Maya!
Besides, renting a car in Mexico is cheaper than you think if you do it with the right company.
PROS AND CONS OF THE CENOTE DOS OJOS IN THE RIVIERA MAYA
Advantages of Cenote Dos Ojos
Cenote Dos Ojos is one of the most fascinating cenotes in Mexico.
It is located near the Nicte-Há cenote, so you can visit both in one day.
It is ideal for snorkeling and diving.
Disadvantages of Cenote Dos Ojos
The entrance fee to Cenote Dos Ojos can be high.
It is one of the most popular cenotes, so it tends to have crowds.
WHAT TO BRING WHEN VISITING CENOTE DOS OJOS?
Know the essential items to bring with you when visiting Cenote Dos Ojos.
Swimsuit: This is an essential item to pack with you when visiting a cenote.
Biodegradable sunscreen: Sunscreen is not allowed at Cenote Dos Ojos. If you need to use it, only 100% biodegradable sunscreen is allowed to avoid damaging the ecosystem.
Snorkel mask or goggles: At Cenote Dos Ojos you can rent equipment.
Water bottle: Bring a refillable water bottle to reduce plastic consumption.
FAQ'S: CENOTE DOS OJOS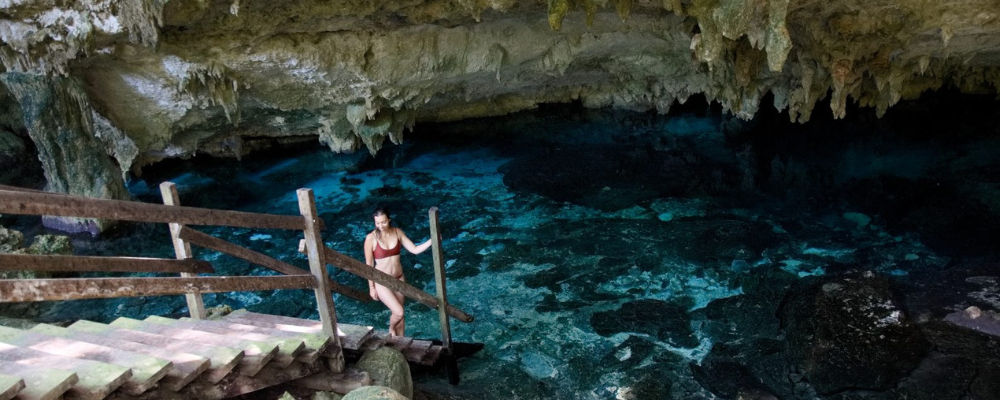 How much does it cost to visit Cenote Dos Ojos in 2023?
The average price of Cenote Dos Ojos is 350 MXN (18 USD).
How to get from Tulum to Cenote Dos Ojos?
There are several options to get from Tulum to Cenote Dos Ojos. Either from a cab, private transportation, or rent a car with driver for a day.
Can the cenotes be visited without an excursion?
The answer is yes. Almost all the cenotes in the Yucatán Peninsula can easily be visited on your own. Only in some cases, a cenote can only be visited with a guide.
What is the best excursion to Cenote Dos Ojos?
Aventura 2 Cenotes from Tulum is a recommended excursion, it will take you to two of the most beautiful cenotes in the Yucatán Peninsula in 5 hours. This tour is ideal for both snorkelers and certified divers. The tour includes a light lunch, drinks, and video equipment. Fees are already included in the price, and you will be accompanied by a guide and a divemaster.
What is the schedule for Cenote Dos Ojos?
Cenote Dos Ojos is open from Monday to Sunday from 9:00 to 17:00 hrs.
Where is Cenote Dos Ojos located?
Dos Ojos Cenote is located between Playa del Carmen and Tulum, specifically in Dos Ojos Park, 13 miles north of Tulum.