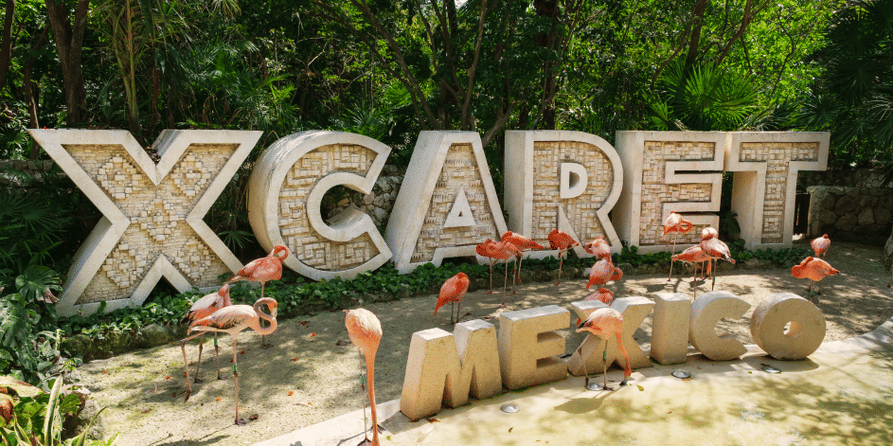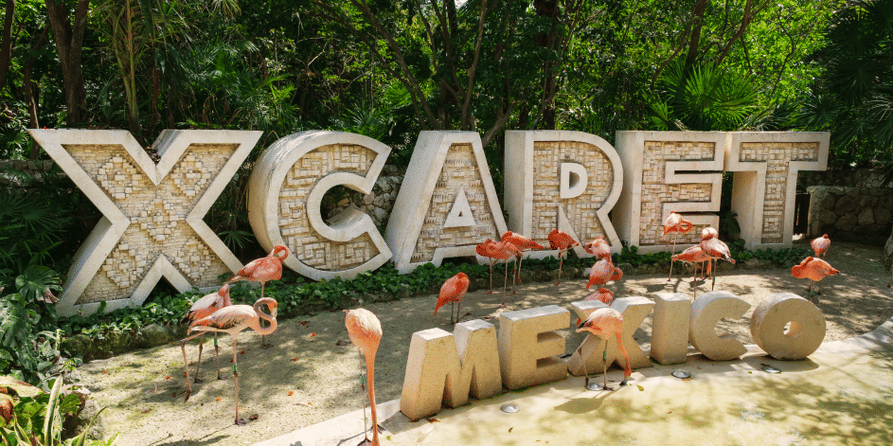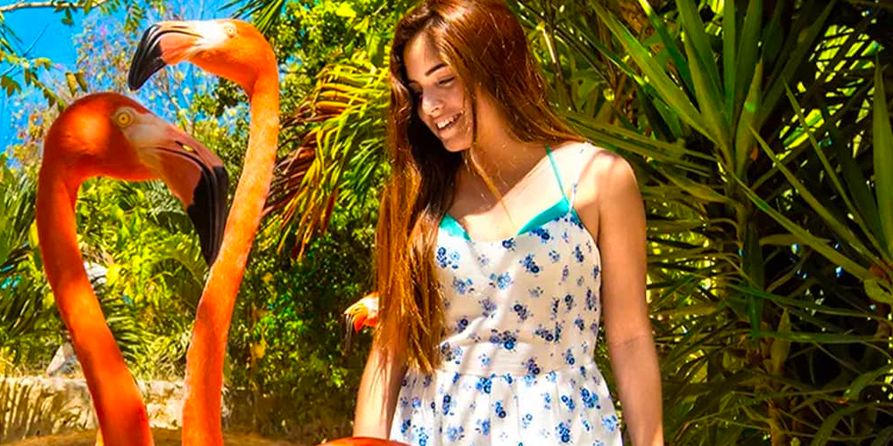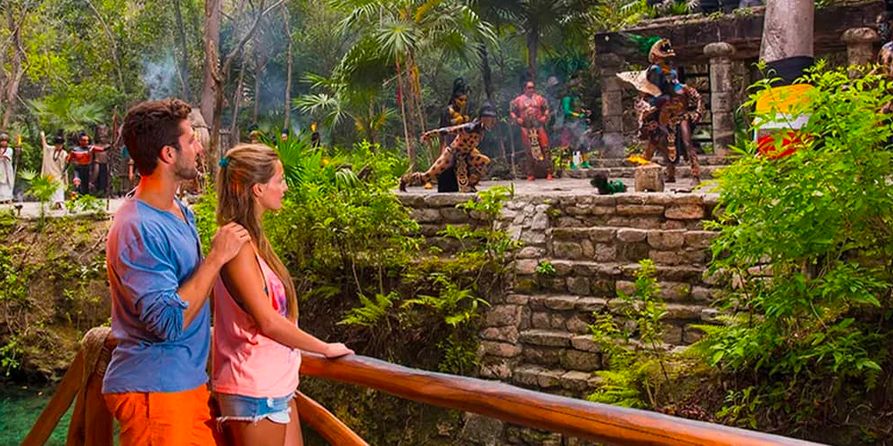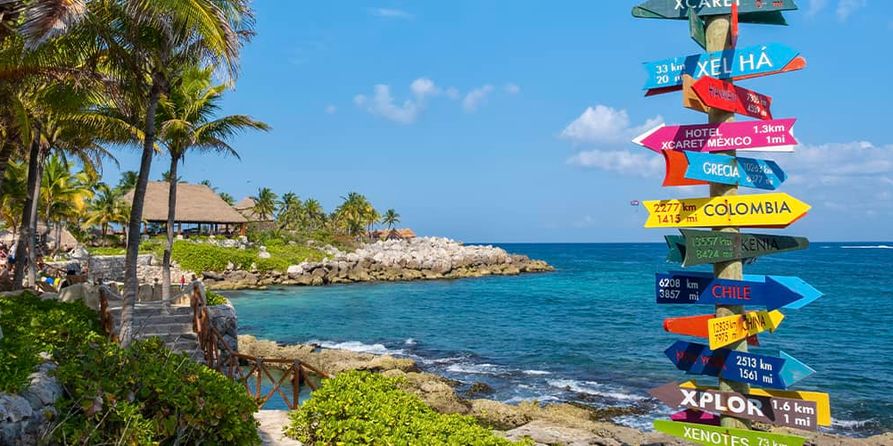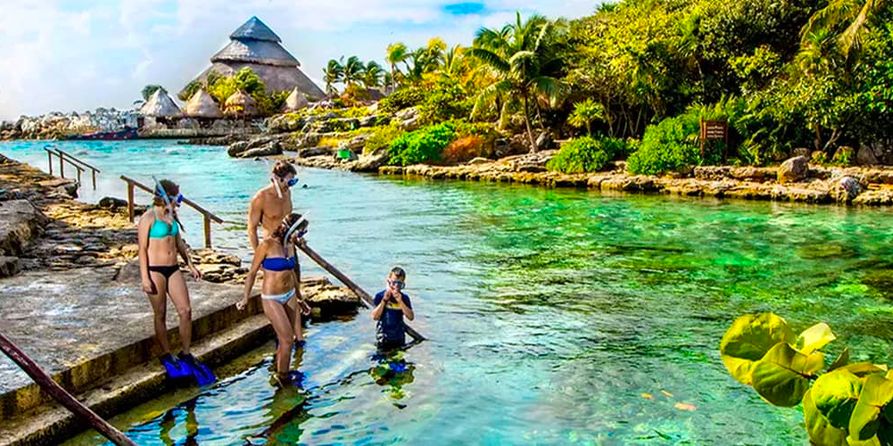 Overview
Enjoy an adventure in contact with nature with the Xcaret Tour
Discover the vestiges of the Mayan civilization and be amazed by their dances, food, and culture in Xcaret Mexico Espectacular, with more than 300 artists on stage.
Travel through the subway river, the jungle, the Caribbean Sea, and 50+ attractions of nature and culture to enjoy with family, friends, or as a couple in Xcaret.
With Xcaret Plus, you will enjoy the most exquisite dishes from any of the buffet restaurants included in the park. You will also have exclusive access to the Plus Area, where you will find dressing rooms, lockers, private bathrooms, and use the appropriate equipment to practice snorkeling in the Underground River.
Upgrade with Xcaret Plus and enjoy the following benefits:

Access to the Plus Area (dressing rooms, bathrooms, and private lockers).
One buffet meal, including one beer, coffee, and unlimited fresh water during your consumption at the restaurant of your choice.
Use of snorkeling equipment (MXN 100/ USD 10 refundable deposit required).
About this activity
Tours in three underground rivers (includes security bag during the tour).
Access to the beach, the cove and natural pools.
Visits to the Coral Reef Aquarium, the Butterfly Park and Aviary
Equestrian Show, Papantla Flyers and Pre-Hispanic Dances
Xcaret Mexico Spectacular Presentation
Life jackets and floating tires
Lounge chairs, hammocks and rest areas
Other services (WiFi, ATMs and shops)
Experience
---
Full description
Enjoy the best outdoor activities surrounded by nature at Xcaret, the largest eco-park in Mexico! Learn about Mayan traditions and immerse yourself in a wonderful subway world with incredible views.
---
Includes
Skip the ticket line
Tours in three underground rivers (includes security bag during the tour).
Access to the beach, the cove and natural pools.
Path of the Rainforest
Visits to the Coral Reef Aquarium, the Butterfly Park and Aviary
Kids World
Equestrian Show, Papantla Flyers and Pre-Hispanic Dances
Xcaret Mexico Spectacular Presentation
Life jackets and floating tires
Lounge chairs, hammocks and rest areas
Free Parking
Other services (WiFi, ATMs and shops)
Important information
What to bring
You must bring your proof of purchase printed
Wear comfortable beach clothes, a bathing suit. Bring a towel and an extra change
Your sunscreen and suntan lotion should only contain titanium oxide and zinc oxide for use in the Park. In case of not meeting this requirement, at the entrance there is a module where you can exchange your sunscreen for a chemical-free sample; your sunscreen will be returned to you upon departure
Bring cash or a card to buy souvenirs, carry out an Optional Activity or acquire the photos of your visit
Know before you go
Children under 4 years old are free. From 5 to 11 years old they pay half of the adult ticket (in both cases it is essential to present identification at the ticket office of the Parks)
Children over 1.40 m but under 12 years old, must also present identification to prove their age.
Use of snorkel equipment (requires a refundable deposit of $ 100 MXN / $ 10 USD)
Reservations canceled more than two days before the arrival date are subject to a 10% charge for administrative expenses. From 2 to 0 days before the arrival date, or in case of non-arrival, they will not be refundable
It is not possible to change the date on the same day of your visit