Tourist attractions in Cancun 2023
In the beautiful Quintana Roo, there is a place that stands out from most of the awesome spots on the Yucatan Peninsula: Cancun.
This paradise has evolved through the years at a fantastic speed.
Just 30 years ago, this Mexican coast town was only visited by people who wanted to get away from their work and explore the vast jungle that only Mexico's southeast coast has. But in years to come, this place would transform into the second most visited place in the country.
And it's simple to know why: The massive investment in hotels.
Many people just needed to look at the stunning views in Cancun to realize that, if well planned, this place could be a big hit among fellow Mexicans and catch the world's eye.
And now we can confirm that this place has evolved so much that it's considered one of the most important cities all over the country (and maybe the most important in the Riviera Maya).
Just last year, Cancun was visited by an estimated 30 million people from all over the world, making it the second most visited city in Mexico, just behind the capital (Mexico City).
But why would so many people visit this paradise?
Simple, Cancun has some of the best attractions in Latin America; it's not just a jungle with incredible white sand beaches anymore.
Of course, water-based activities like visiting the amazing cenotes (underwater sinkholes filled with water) at the famous Ruta de los Cenotes, snorkeling in the Cancun Underwater Museum, or swimming with dolphins are still the most famous ones. Still, this place has much more to offer!
So let's get on and see the best places to visit in Cancun.
Cancun sign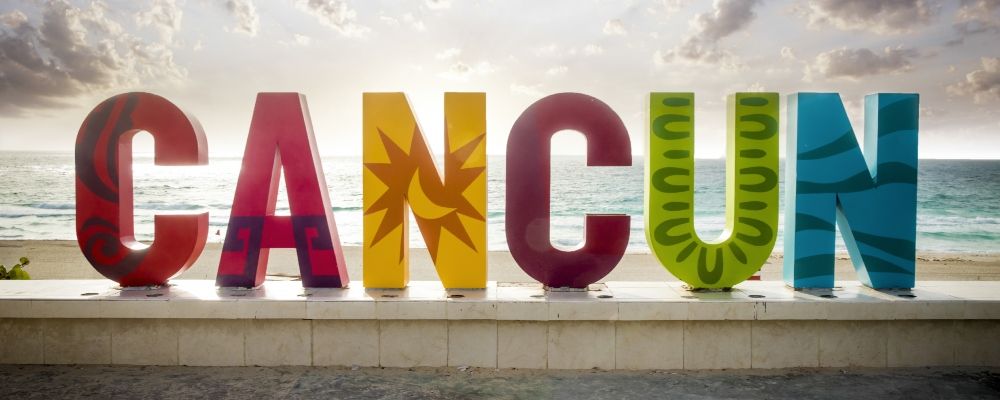 One of the most notable places to visit is the well-known Cancun sign. This fantastic spot is located at Kukulcan Boulevard in the hotel zone, and you don't have to pay to get pictures with it.
The only downside is that you'll have to wait to get a picture since many visitors love to visit this place.
Cancun Bike road
Time in a while, we suggest you get off your bus or taxi and instead live hop on a bike and pedal into the excellent Cancun Bike road. From the beginning of the hotel zone, you can begin your journey to the major hotels in Cancun.
On the way, you can enjoy the marvelous views of Nichupté Lagoon, a water body home to many unique animals like crocodiles!
Interactive Aquarium Cancun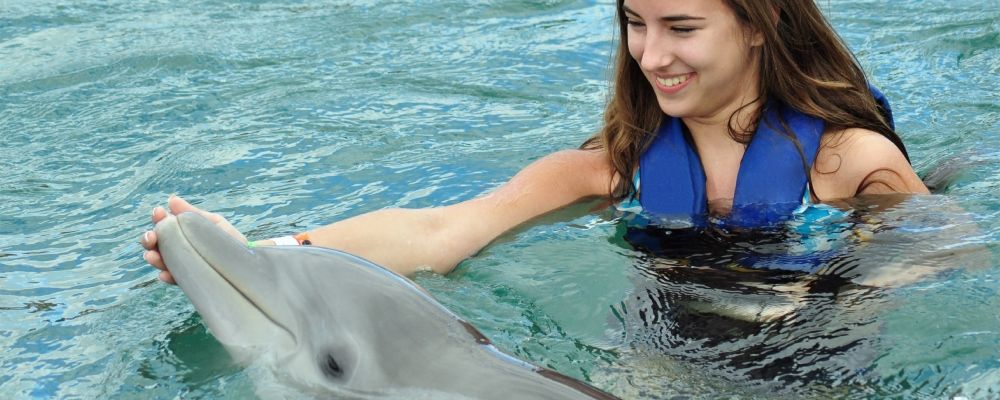 Of course, a coastal city wouldn't be complete without its aquarium! This shocking touristic place is known for having stunning marine creatures and an interactive area where you can learn more about the marine life in Cancun. You could even have the opportunity to swim alongside rays and different types of fish!
Also, it has its own Delphine show, so don't forget to check it out!
Visit Mercado 28
This flea market is one of the most iconic places you can visit in the whole state. You can see how many people try to negotiate better deals for every product. Another great amenity this market has is that local restaurants offer their food at a lower price than hotel restaurants have, and it tastes as good.
If you are coming by car, don't worry, there are plenty of parking lots nearby for you to leave your vehicle.
Cancun planetarium
Ka Yok is one of the most modern planetariums in the southeast of Mexico. This place offers multiple functions during the week and costs around 10 USD. Although THis planetarium has multiple archives available for you, one of the many amenities is that you could rent the place for groups of up to ten people for 30 USD.
Ready to explore the universe?
Visit the Mayan Museum and the San Miguelito Mayan Ruins
Many may think Cancun is just a place for partying but forget that it was home to one of the most advanced societies humanity has ever witnessed: the Mayan culture.
At this museum, you can learn more about the Mayan history and look closely at how they lived when they were the most influential group in the south of Mexico. You can also learn about Mexican history and discover one of the best restored archaeological sites in Mexico.
The Nichupte Lagoon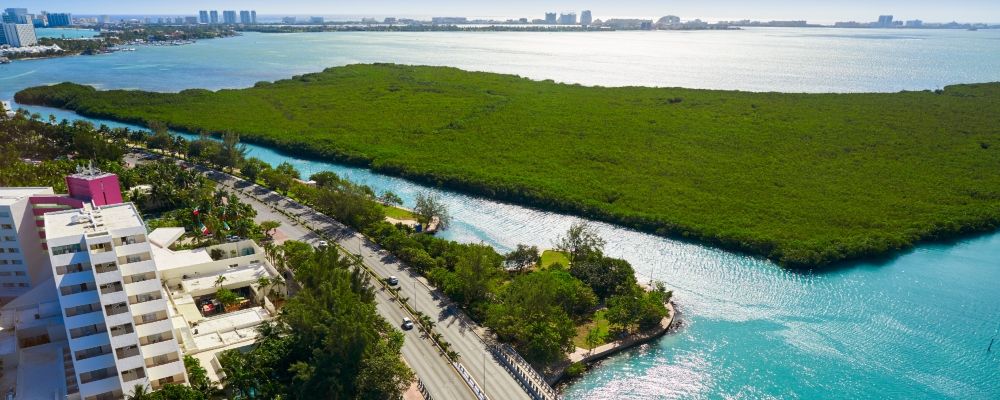 The Nichupte Lagoon is one of the most iconic places in Cancun; this fantastic body of water contrasts perfectly with the sapphire color of the pacific ocean. Its green color makes you think about all the wildlife that lives peacefully among the many mangroves nearby.
If you want to visit, you can book a kayak or even a fishing tour to take a closer look at the wonderful wildlife!
Las Palapas park
Las Palapas is one of the most well-known parks in Cancun since its one of the most visited places by locals. During the weekend, you can see multiple live music events for free. Also, you can find various places to eat tacos, tortas, and even empanadas.
Puerto Cancun mall
One of the most important malls in Cancun is Mariana Town Center Puerto Cancun. This place is near the beach and is perfect for tourists. It is well known among visitors because of its harbor. In front of this mall, you usually can see multiple boats and yachts parked in its Lagoon.
Besides going shopping here, you can climb in the plaza and even go on ziplining.
The amazing beaches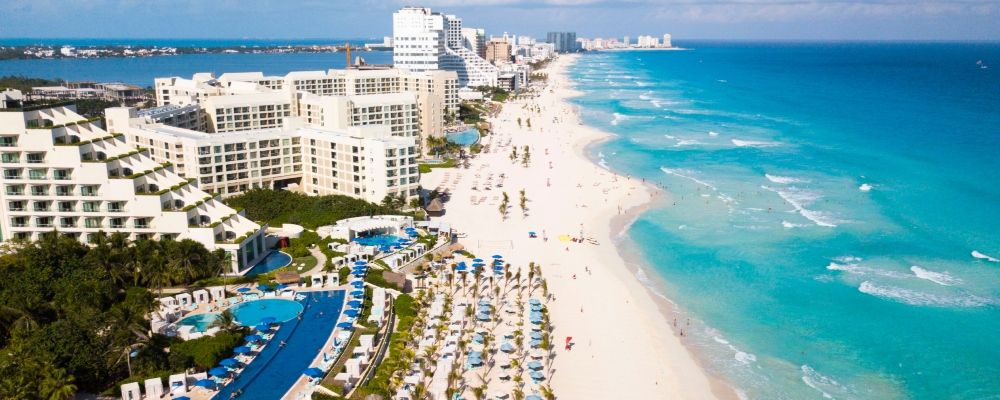 Of course, it's impossible to list the best tourist spots in Cancun without mentioning the beautiful beaches. One of the most visited beaches in Cancun is called Playa Delfines.
Here you rent many amenities from the hotels (like beds or beach umbrellas), and you'll probably be able to take on an impossible task: be part of a team in the many beach volleyball matches that occur here.
What is even better is that beaches are where most of the tours depart, so if you are looking for any fishing excursions, or wanna meet baby sea turtles, or even want to join other travelers and go snorkeling in the Caribbean sea, you just have to go to the beach!
Are you ready to visit Cancun?
Cancun is a fantastic place to visit. But this city has way more to offer than Its amazing beaches and nightlife. Here, you can find a perfect balance between partying and a relaxing atmosphere.
For example, you can see what the ancient Mayan culture left behind: tons of Mayan ruins still standing today. This makes Cancun an even more exciting spot to visit for partygoers and anyone interested in ancient cultures and human history.
Cancun also has many natural wonders; the fantastic Nichupte Lagoon is one of the region's most known bodies of water; home to many mangroves, crocodiles, and multiple birds and wildlife; this Lagoon is as iconic as the pacific ocean.
And we wouldn't be talking about a Mexican city without its iconic Mercado and the amazing restaurants that offer their food there.
Undoubtedly, Cancun is more than just its beaches; it has culture and nature, making it a great place to visit for your holidays. So get ready to live multiple adventures when you finally visit the best city in the Caribbean!