Home / blog / cancun-transportation-to-hotel-zone
Adventure
Beaches
Cenotes
Gastronomy
Nightlife
How to get from Cancun Airport to Hotel Zone
Cancun is a unique destination with thousands of tourist attractions and beautiful beaches on the Caribbean Sea. Start planning your trip and find out how to get around the city without any difficulties or inconveniences. 

Manuel M.,
2022-01-03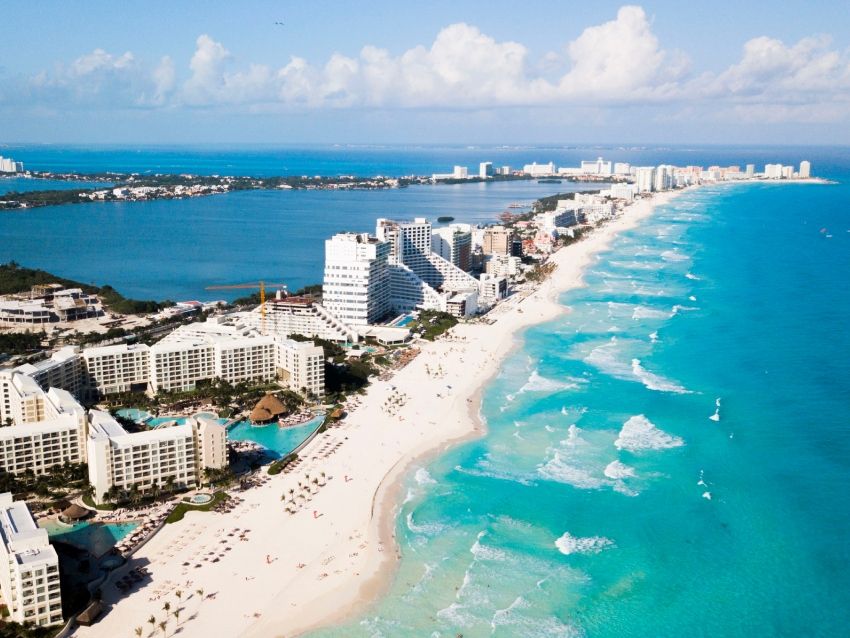 How to get from Cancun Airport to Hotel Zone
It doesn't matter if it's your first time visiting Cancun or if you are a regular. You'll always wonder what the best option is to get to your hotel (or wherever you are staying). Could getting a ride in a Taxi be a good option? Are shared shuttles even a good idea? Or should you just hop on an ADO bus instead?
But, if you plan your trip, you'll find out how to get around from the Cancun Airport to the hotel zone (or even downtown Cancun) without any difficulties or inconveniences.
Remember to choose wisely where you are staying, since Cancun is a unique destination with thousands of tourist attractions and beautiful beaches on the Caribbean Sea, it has many areas for vacation.
And the most known one to visit is the Hotel Zone. So let's answer the question of How to get from Cancun International Airport to the Hotel Zone?
PRICE FOR 7 PASSENGERS
| | | | | |
| --- | --- | --- | --- | --- |
| METHOD | PRICE | DURATION | AVAILABILITY | |
| Airport Cancun Transportation | $24 | 30 min | 24/7 | |
| Taxi | $32 | 40-50 min | 24/7 | |
| Bus | $10 | 50-60 min | 00:30–23:45 | |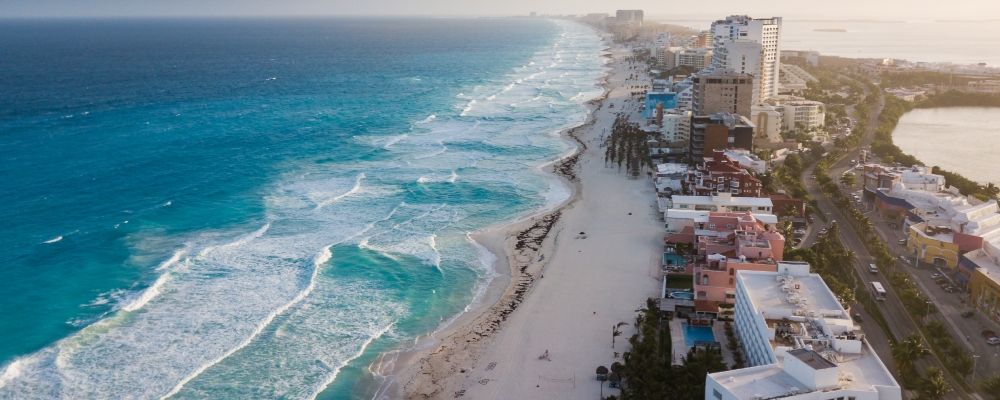 Booking a private transfer service from Cancun airport to Hotel Zone
When you arrive in Cancun, you'll probably have tons of Transfer options and ask yourself which is the best for you. Truth be told, it depends on your budget, where you are going, and of course, if you are going solo or coming with a big group.
We encourage you to choose a transfer service before traveling to Cancun. Booking in advance can be cheaper in many cases, especially if you are planning to visit during the high season (when prices tend to increase and there is lower availability).
If you want to go to your hotel without having to deal with taxi fares or even tight bus schedules, we suggest booking a private transfer. This service has drivers that know how to speak English (so communication won't be an issue), and they'll help you with your luggage! And don't worry, all the vehicles are air-conditioned.
Many companies offer different kinds of vehicles (just in case you feel like having a deluxe trip to your hotel), so check their websites for ordering this premier service. Just remember, this type of transportation is limited by how many people fit in the vehicle. Most luxury service cars can include a maximum of five passengers.
If you are coming with a big group, don't hesitate to book a shuttle service exclusively for you and your party. But remember, most of them can only fit 16 people per vehicle.
Of course, when we are talking about private transfers, we must also talk about the Cancun Airport Taxi. This service can only carry a maximum of four passengers. And remember, these are standard-size cars, so consider if you or your group have a lot of luggage to carry.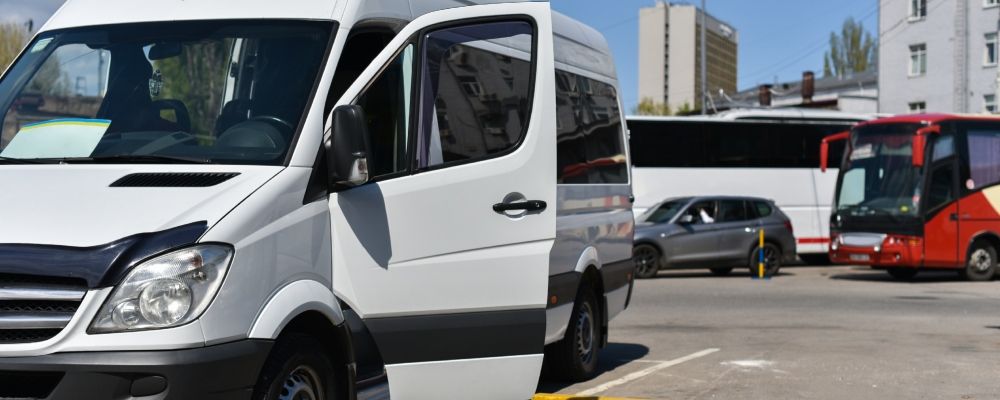 Car Rental from Cancun Airport to Hotel Zone
If you want to enjoy your adventure with the freedom a car can give you, don't hesitate and check out the Rental car options in Cancun. There are many agencies for you to choose from.
This option is one of the favorite ways to experience Cancun for many travelers since it will cut your travel time to your hotel, and you can easily visit many more places in the city. Or, if you feel more adventurous, you can even get to Yucatán (a neighboring state) and see the fantastic archeological site of Chichen Itza, the pink lagoon, and many more amazing sites.
Once again, we recommend you book your vehicle before traveling. It's way easier to get your car after you land at the Cancun Airport if you book in advance.
Another pro-tip for you is to ensure that car insurance is included in your reservation. Remember, not all agencies offer them online, and you may have to pay it once you arrive in Cancun and pay it at the agency's counter.
When selecting your insurance, we suggest It gets full coverage in case any major event occurs.
There are plenty of car rental agencies at the airport, both international and Mexican ones, like City Car Rental. The price is around USD $14 per day (a regular fare among agencies), but check each expense on the agency. Of course, depending on which vehicle you choose, it could be cheaper or pricey.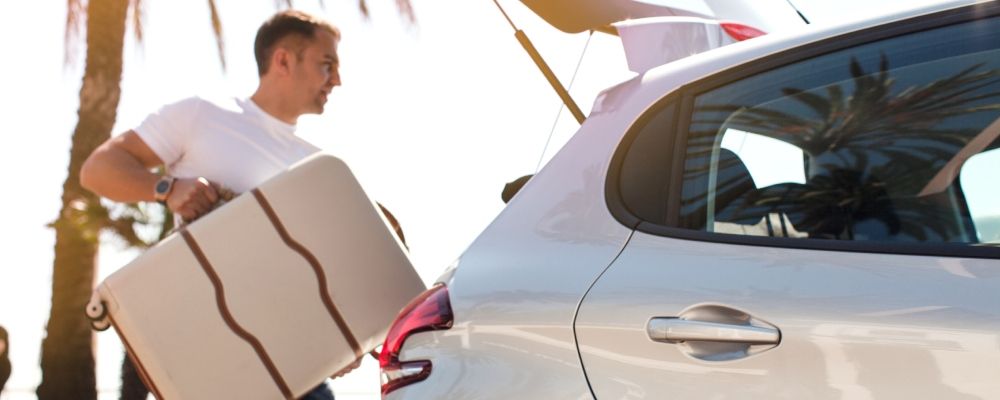 ADO Buses from Cancun Airport to Hotel Zone
ADO buses are the cheapest way to get to the hotel zone from the airport. You can buy your ticket and take the bus to the different terminals. However, it is also possible to get your tickets online, and the price goes around USD $4 for a one-way trip to the ADO bus station.
But be aware that these buses only go to their particular stop (another ADO bus station); if you want to get to a specific place, you must take a taxi or public bus to your destination.
ADO has different categories of buses to select from, either Gold, Platinum, or GL, depending on your travel style and budget.
Taxi Fares from Cancun International Airport to Cancun's Hotel Zone
CANCUN AIRPORT TAXI PRICES
DAY TIME: 05:00–24:00 HRS
NIGHT TIME: 00:00–05:00 HRS
DURATION: 30 min
CANCUN AIRPORT TO HOTEL ZONE
Price $30 USD
Duration 30 min
CANCUN AIRPORT TO PLAYA DEL CARMEN
Price $45 USD
Duration 60 min
CANCUN AIRPORT TO TULUM
Price $69 USD
Duration 2 HOURS
Cancun Hotel Zone Map & FAQ's
How far is Cancun Airport from the Hotel Zone?
The hotel zone is close to the Cancun International Airport, just 27.4 kilometers (17.20 Mil) far away through Highway 307 (Cancun to Tulum)
Information about Cancun International Airport
Cancun International Airport (CUN) is one of the most important airports in Mexico and the second most visited after Mexico City airport. The Cancun International Airport has four terminals for both domestic and international flights and an FBO terminal.
Cancun International Airport Information Sheet
| | |
| --- | --- |
| Name | Cancun International Airport |
| IATA Code | CUN |
| ICAO Code | MMUN |
| Address | Cancun – Chetumal Km 22, 77565 Cancún, Q.R. |
| Phone | +52 55 5284 0400 |
Ready to visit Cancun?
Cancun is a unique destination that every year gets millions of travelers looking for adventures and relaxation on the beautiful beaches of the Caribbean Sea every day. This paradise, located in the state of Quintana Roo, Mexico, belongs to the municipality of Benito Juárez. Due to its favorable location and tropical weather the whole year, it is one of the most visited destinations in Mexico. Just in 2022, the Mexican government reported that an estimated 4.2 million international guests arrived at the Cancun International Airport, surpassing pre-pandemic numbers.
This multicultural city is home to more than 750 hundred people, and it's commonly known for its two most visited zones: the Hotel Zone and Downtown.
There you can find different activities for everyone who wants a tropical adventure. Get to know the most popular ones and how to get there without difficulties or inconvenience.
What to do in Cancun?
You will never get bored in Cancun. Either the breathtaking beaches, the Mayan ruins, or the different malls or parks will keep you occupied. Mercado 28, a flea market full of handcrafted items and local dishes at low prices, is among the most famous attractions.
Another unmissable place to visit is the Scenic Tower (Torre Escénica), has 80 meters high and offers an incredible view of the city, you can easily find it since it is located in front of Cancun's theater.
Alternatively, shopping at Cancun's malls offers an unparalleled experience with various brands and activities. One of the most renowned is La Isla Mall, which boasts a Wheel of Fortune and a lagoon where visitors can rent boats to take in the sights.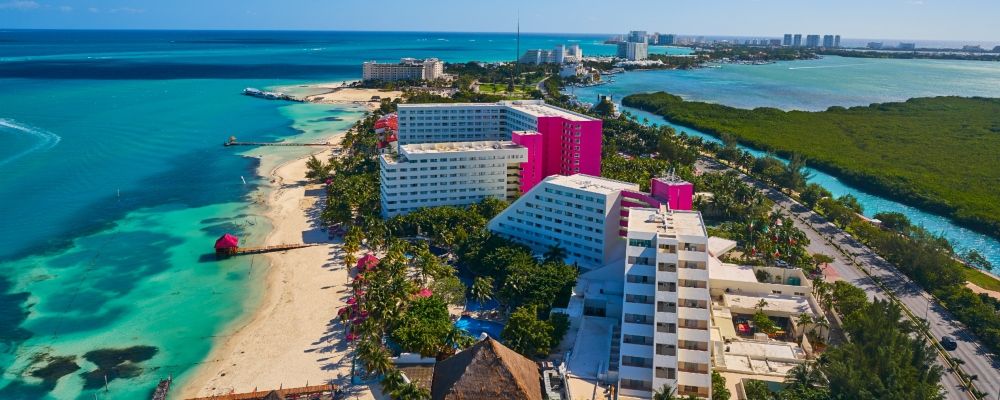 Discover the best activities to do in the Cancun's Hotel Zone.