Home / blog / discover-what-a-catamaran-in-cancun-has-for-you
Discover what a Catamaran Cancun has for you
If you are looking for an aquatic adventure traveling from one paradise to another, then a Cancun to Isla Mujeres Catamaran is ideal for you. Discover here some reasons why you can\'t miss out on a Cancun Catamaran.

Christian,
2023-02-14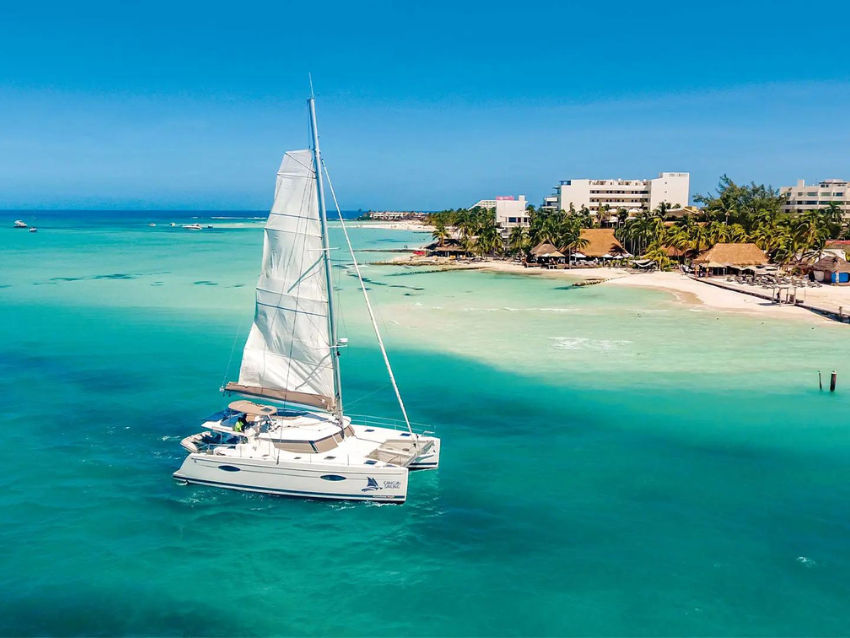 Enjoy a Catamaran Cancun
There is nothing like enjoying the white beaches and crystal clear waters of Cancun; without a doubt, this is a unique experience, even if it is not the first time you have traveled to this beautiful Caribbean destination. Therefore, for many travelers sailing in the Caribbean Sea in intrepid boats or a catamaran is one of their favorite activities since it is full of adrenaline, speed, and above all, spectacular views.
If you want to tour the turquoise waters of the Mexican Caribbean, dare to discover in this post all that a catamaran to Isla Mujeres from Cancun has for you. Venture out to
What is a Cancun Catamaran?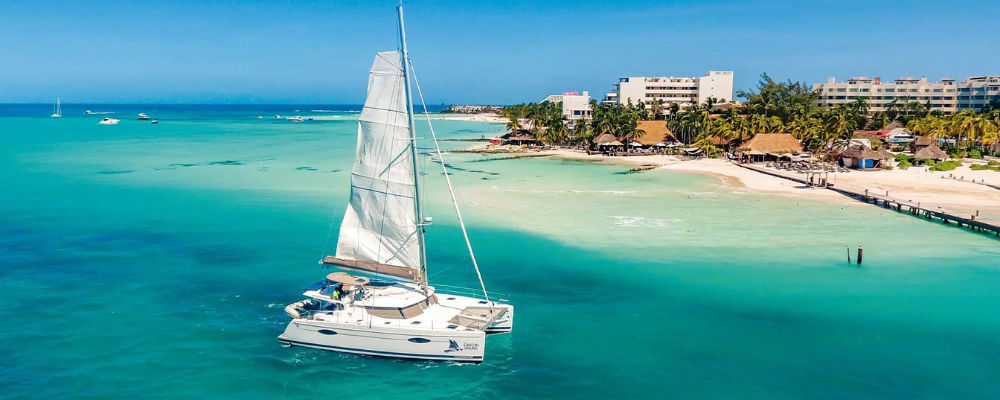 A catamaran is a sport sailing and motor boat, which is distinguished by having two hulls joined by a structure. Catamarans are usually used for leisure, transportation, or sport. A catamaran in Cancun will allow you to have an exciting maritime excursion from Cancun to Isla Mujeres.
You can't miss sailing the crystal clear waters of the Caribbean Sea aboard a private catamaran, where the captain will take you to Isla Mujeres and other fantastic places near the bay. If you are heading to the coast of Mexico to experience all the water activities in Cancun, you have come to the right place, as one of the most popular activities is a catamaran trip from Cancun to Isla Mujeres.
This activity has the support of guides that will accompany you throughout your trip, where you can admire the beautiful scenery and visit different reefs to practice scuba diving and snorkeling, one of the most sought-after activities in Cancun and its surroundings. Usually, the catamarans offer food on board while you sail. You can also practice fast activities, relax on beautiful beaches and even go shopping.
What does a Cancun Catamaran Tour include?
Usually, a Cancun to Isla Mujeres Catamaran Tour is one of the most complete experiences you can have during your vacations in the Caribbean since it includes activities you can do with friends, family, or couples, regardless of age or if they are swimming experts. Among the most common activities offered in this excursion are:
Catamaran tour in the Caribbean waters departing from Cancun.
Visit the Cancun Underwater Museum, where you will have the opportunity to snorkel and admire the marine world and its spectacular species.
Free time in Isla Mujeres so you can explore and go shopping.
Visit beach clubs where you can enjoy a delicious buffet lunch and open bar and use the facilities to spend a relaxing and unforgettable afternoon.
What is the price of a Cancun Catamaran?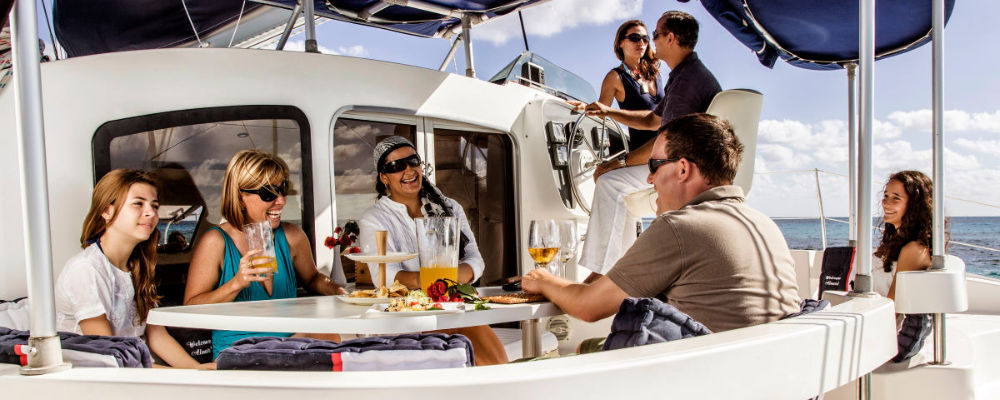 The prices of a Cancun to Isla Mujeres Catamaran excursion may vary depending on the company you choose to travel with and the number of people on the catamaran. You can find prices for a basic Cancun Catamaran package from $1,449 MXN per adult and up. However, if you want a more exclusive and luxurious experience, prices can reach up to $3,129 MXN per adult.
Many companies offer incredible discounts when you book in advance or if you are traveling with small children. Always compare prices and look for the best discounts and promotions to save on your travel budget.
Recommendations to enjoy a Cancun Catamaran Cruise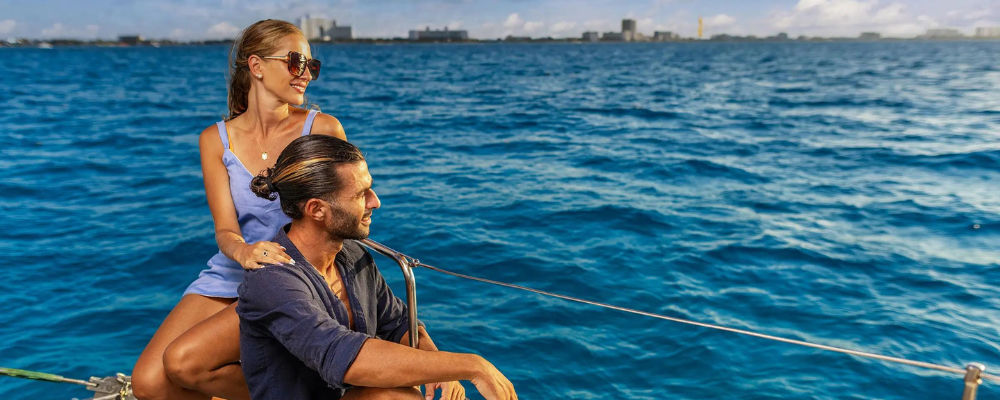 In order for you to enjoy your Cancun to Isla Mujeres Catamaran tour to the fullest, we share with you some recommendations:
Try to arrive punctually at the boarding point. Preferably passengers should arrive 30 minutes before the departure time of the catamaran.
To arrive on time and without worries, booking a Cancun Private Transportation to pick you up from your hotel and take you directly to the pier is recommended.
Please note that you will have to pay a dockage tax per person at check-in, so we recommend you bring some cash.
For safety reasons, the minimum age to enter the catamaran is 8 years old; children must always be under adult supervision.
Remember to bring some money for shopping in Isla Mujeres, where you can find the best souvenirs and a great variety of stores.
Don't forget to use biodegradable sunscreen, which helps not to alter the natural ecosystem of the sea when snorkeling.
You may also be interested in Top 5 best things to do in Isla Mujeres.