Discover Xenses Park in Cancun
Vacations are all about trying new things and having exciting adventures; therefore, the Riviera Maya offers many places to explore, including its famous adventure parks, which are a fundamental stop when visiting this paradise. Xenses Park is one of the many adventure parks in the Riviera Maya; it offers an incredible experience for all kinds of visitors. In this post, learn more about this unique site and why it is one of the favorite places for travelers visiting the Riviera Maya.
What is Xenses?
Xcaret Group has several famous adventure parks, among them Xenses, which is one of the most enigmatic and difficult to explain. In a few words, this park challenges the 5 senses of those who visit it, all through sensory deceptions and non-stop optical illusions. So before visiting Xenses, you should know that everything seems different from what it looks.
This is a high-end adventure park, which is filled with hands-on interactive exhibits as well as sensory-themed activities. It's also perfect for taking lots of pictures.
The park is centered around a giant pinwheel, where you'll find two paths to explore: Feeling Path and Doing Path.
The main activity of Route of Feeling is the Xensatorium, where you will feel your way through various habitats in complete darkness. On the other hand, the park's Route of Doing features more adventurous activities, such as mind-blowing cityscapes, a high-speed water slide, a horizontal zip line, and more.
Around the pinwheel, visitors can explore rooms with fun pictures, a hall of mirrors, upside-down rooms, and many imaginary scenarios. Xenses is unlike any other adventure park thanks to its unique experiences that play with your mind.
Where is Xenses?
Xenses Cancun Park is located in the Riviera Maya, Mexico. The park is located in the same place as Xcaret and Xplor parks.
If you plan to Rent a Car in Cancun or hire a Cancun Private Transportation service to get to Xenses Park, you should know that the approximate driving times from nearby destinations are:
Cancun to Xenses: 1 hour and 15 minutes.
Playa del Carmen to Xenses: 15 minutes.
Tulum to Xenses: 45 minutes.
Xenses Park Address: Chetumal- Puerto Juarez Highway, km 282 MZA 021 Lote 062 Colonia Xcaret, 77710 Playa del Carmen, Q.R.
Why visit Xenses?
If you are looking for a unique theme park experience during your Riviera Maya vacation, Xenses is the answer.
This outdoor adventure park has a wide variety of quiet activities, perfect for those looking for something more relaxed and with less adrenaline.
At Xenses, you will find many quirky, fun, and colorful pictures that will play with your mind to challenge your senses. If you want to add a little more adrenaline to your visit, Xenses also has some adventure activities.
One of the advantages of Xenses Park is that it is the least expensive of Grupo Xcaret's parks, making it ideal for travelers on a budget. It is also an excellent option for those with limited time since it only requires a partial day to visit most of the park, unlike other parks.
Quick Summary of Xenses Activities
Find here a quick summary of the activities you can enjoy in Xenses.
Route of Sense
In the Route of Sense, you can give your sight a rest and trust all your other senses, which will guide you in activities that will test your body and mind. Discover how the sense of logic is more necessary than sight.
Path of Dwarves and Giants
Xensatorium
Labyrinth of Underground Arteries
The Eden
Xytric Garden
Route of Doing
In the Route of Doing, you will lose the perception of reality, stability, and balance through activities without much coherence but totally real.
Heartbeat
Village
Slide
Bird Flight
Riolajante
Lodorama
Xenses Tickets
The admission ticket to Xenses includes only the entrance to the park and the activities (food is not included). The average prices of Xenses Park are as follows:
Adult Ticket Price: 70 USD

Children Ticket Price (5 to 11 years old): 35 USD
How to book tickets for Xenses?
To safely book your tickets for Xenses, buy them through the official website of the park. There you will find some automatic discounts and seasonal promotions.
Once you finalize the purchase of your tickets, you will receive a confirmation email with your tickets. Remember to print your tickets and show them on the day of your visit.
Xenses Park Map
Below is a map of Xenses Mexico Park to help you find your way around during your visit. The park is centered around a giant pinwheel, which serves as the starting point, and the central axis has services and amenities, such as the gift store, restrooms, changing rooms, and restaurant. The different spokes of the pinwheel will take you to the Route of Feeling and the Route of Doing.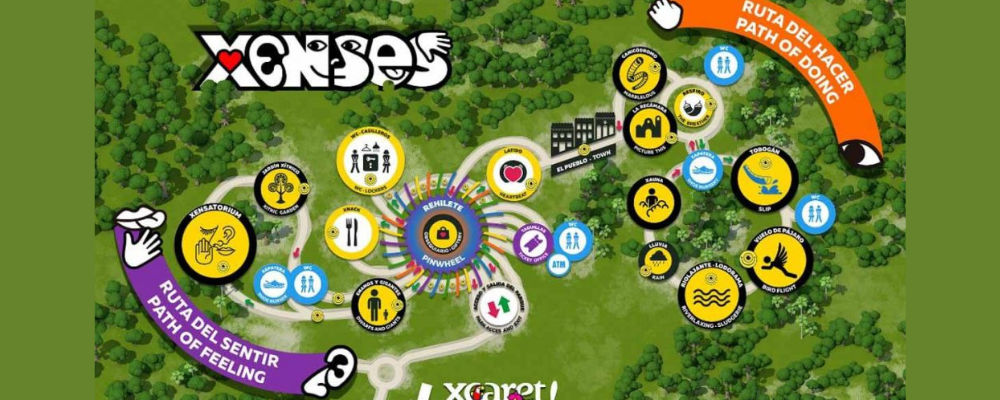 Live crazy moments challenging your senses and capture incredible images with all the optical illusions and visual effects you will find in Xenses. You can't miss it!
Learn more about Xcaret Group parks: Complete Guide to Visit Xcaret 2023.