Home / blog / which-is-better-cancun-playa-tulum-cozumel
Adventure
Beaches
Cenotes
Culture
Nightlife
Cancun, Playa del Carmen, Cozumel, or Tulum? Where should you go?
We settled the debate. Click here to know which one of these is the best place for you: Cancun, Playa del Carmen, Cozumel or Tulum?

Christian,
2023-01-18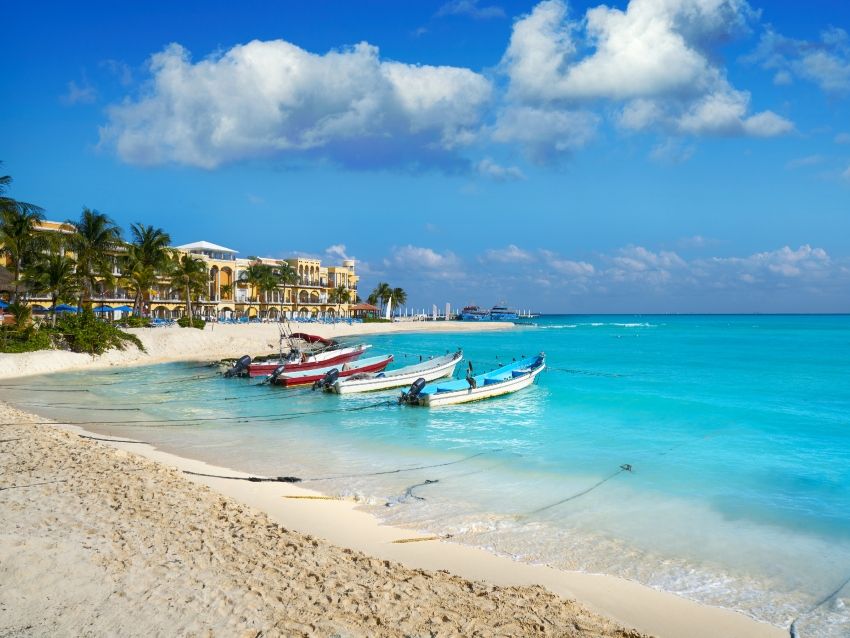 The ultimate showdown: Cancun, Playa del Carmen, Cozumel, or Tulum? Where should you go?
For many years, visitors worldwide have gone through this question: where should you go for your Mexican Caribbean vacation holiday? Is Cancun worth it? Tulum is far away; what's its fuzz about? What's the difference between Cozumel and Isla Mujeres?
But don't worry, because we will answer each of these questions.
First of all, you should know that all of these places are in the beautiful paradise called Mexico, exactly in the Quintana Roo State. This is in the southeast part of the country, called the Yucatan Peninsula.
In this zone, there are three main states: as you guessed, Yucatan, Quintana Roo, and Campeche. This area is so big even some neighboring countries happened to be here (Belize and Guatemala). But what makes this place special?
One of the most important geographical details of this paradise is that it is located just below the Tropic of Cancer, meaning it is a tropical area. The tropics have unique characteristics like their changing weather (sometimes there is a hurricane season), the massive flora, and the unique fauna (animals) that can be found there.
Making Quintana a perfect destination for people who want to get away from the stress of work, families who want to experience another country's natural beauty or even explorers who want to live extreme adventures. Offering a variety of activities for everyone.
Why do we need to compare them?
Although all these places are marvelous (to say the least), there is a concrete reason we need to compare them: all of these have different activities you can enjoy.
Of course, depending on your plans, you should choose your destination. It is completely different from visiting a place for its extreme and outdoor activities than staying at a spa. That is why we are making this article! You can decide which is the best place to visit depending on what kind of adventure you want.
In case you were wondering, resting can also be an adventure (just wait to read what we have to say about it).
Also, it's important to know where these places are located because there is something most people get wrong when visiting Mexico: they all think everything is close.
And for your information, Mexico is one of the biggest countries in Latin America. Just in case you need to prove: Mexico is almost the same size as western Europe. And so is the case of Quintana Roo.
Although you can easily access these places due to the good transportation services, you will need to be patient on the road since, depending on where you are staying, it will be how long it will take you to move from one place to another.
Furthermore, most of the Cancun highway is under maintenance, so moving around the state will take longer.
Let's go on and check which place you should visit without further ado!
Cancún: the most popular destination
When you tell your friends you visited Cancún, they'll think you went to a beautiful sandy beach. But there is so much more than amazing Cancun's beaches. Of course, that is one of the most known places, but Cancún is where you can experience Mexican culture on many different levels.
Where should you stay in Cancún?
As one of the most visited places in Mexico (the second most visited by international guests in the country), we can tell you a ton of options for you to choose from. Many hotels are in the renowned Hotel Zone (known by the locals as "Zona Hotelera").
Depending on your budget, we suggest you choose from the amazing variety of hotels in Cancun.
But what if you want to experience the authentic side of Cancun? Then don't worry. There are tons of Airbnb options in the main part of the city. You'll probably find somewhere that will get you the best experience. You can find hotels there too, so don't worry.
Best Cancun activities
As you know, Cancun has evolved since it opened its doors to international visitors. We'll gladly say that this is the perfect city to visit if you want to live in a little bit of everything.
You can go shopping at three of the most famous malls in the region.
Plaza Las Americas, Puerto Cancun, and Plaza la Isla are the most popular malls for the locals. There you can find department stores and fast food restaurants. Perfect for people that want to wander among locals. You just have to remember that Plaza Las Americas is located very near downtown Cancun, just in case you want to explore the daily life of locals.

On Puerto Cancun and Plaza la Isla, you can have amazing views of the sea since both are located near exclusive living areas. Also, they have amazing top gourmet restaurants inside.
But Cancun is not all about shopping. It also has amazing cultural spots, like the Mayan Museum of Cancun.
It's one of the most important museums in Mexico (as well as one of the newest).

Here you can see original Mayan artifacts not only from Cancun but also from the areas where the ancient Mayan people lived (like Chichen Itza or Palenque).
Finally but not least important, the reason why many people come to Cancun: the stunning beaches.
This seaside mixes the most beautiful white sand with a turquoise sea that will blow your mind once you visit Cancun. Most of the sandy beaches in Cancun are in the hotel zone. But they are quite different. Some of them have a quieter sea (due to a nearby island that receives the harder waves of the sea), while others have nothing between them and the ocean.
Now that we set the bar, are you ready to compare Cancun with different destinations?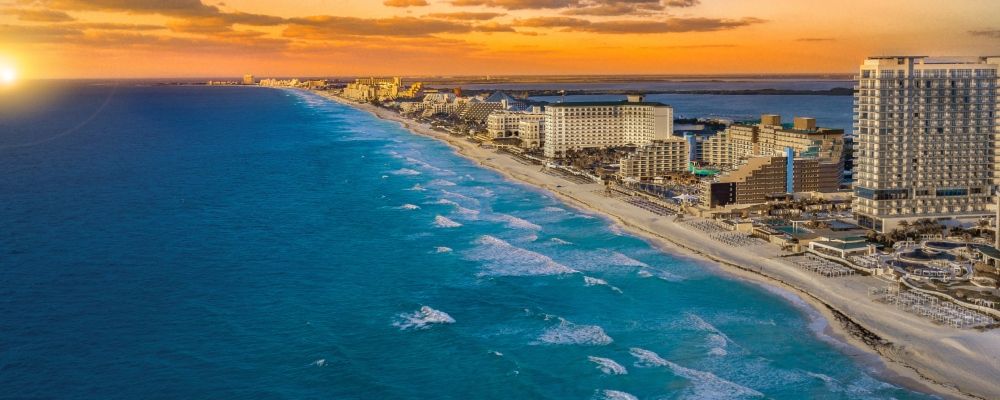 Playa del Carmen: one of the most known cities in Quintana Roo
Playa del Carmen is well known among locals and tourists because it has multiple amusement parks, well-connected highways, and big harbors. But this place has much more to offer than just that.
Here you can see a city growing, having multiple businesses outside the tourism industry (although it is still the most important).
Where should you stay in Playa del Carmen?
We are not gonna lie. There are many more options for you if you want to stay in this magnificent place. For example, there are hotels with a seaside view, like Pelicano Inn or Thompson, all located at Playa del Carmen Hotel Zone.
But if you want an out-of-the-box experience (and you save enough money), you could stay at an amazing overwater bungalow (one-level houses floating in the lagoon or the ocean). This is in the Mayakoba zone, almost 50 km from Cancun Airport.
Also, there are multiple hotels downtown and near the famous 5fh avenue, where most famous restaurants and malls are gathered.
Best Playa del Carmen activities
Playa del Carmen is a traveler's dream come true, mainly because there are most outdoor and extreme outdoor activities that one can imagine. For example, in this city is Xplor park.
Visitors can do underground expeditions inside its cenotes or underground caverns, view the jungle from 45 meters above the ground zip line or even explore the park's jungle through All Terrain Vehicles.
Also, you can visit the amazing cenotes. This nature's beauty is natural sinkholes filled with water that has formed inside caves.
Most of them are near the Playa del Carmen highway and are easy to find since they are all on the road called Ruta de Los Cenotes (Cenotes Road).
Finally, we can say that in Playa del Carmen, most of the amusement parks in the region.
There are multiple themed parks, like the internationally known park Xcaret. Here there are tons of activities like scuba diving, amazing restaurants (with Mexican and international food), and even a spa inside!

Recently Nickelodeon decided to invest in its water park in Playa del Carmen. There you can find activities related to the most popular characters of the network, spa, and much more.
As you can see, Playa del Carmen has something for everyone.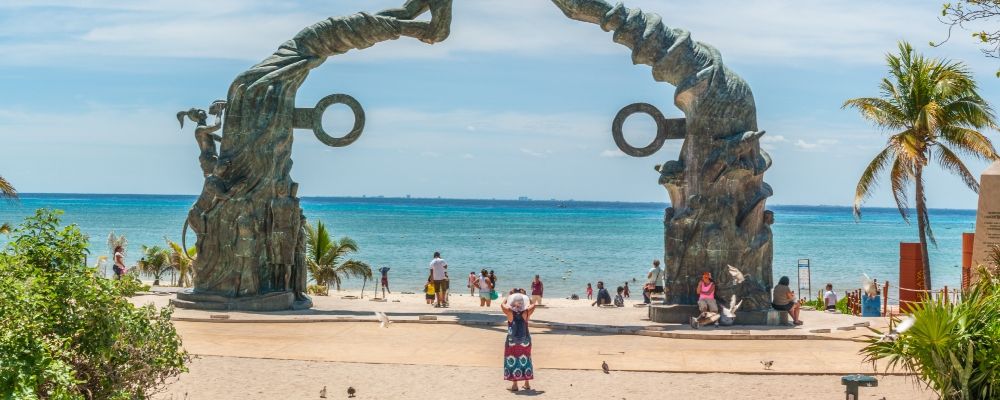 Cozumel, a paradise nearby
One of the most notable things about both Playa del Carmen and Cancun it's that these destinations have amazing islands that are just a ferry trip away. So, although these isles are completely different, we can see their closest neighbors' influence upon them.
While Isla Mujeres is a complete tourist area, Cozumel still has places where you can see the locals living their day-to-day life, far away from the tourism industry.
To get here from the Cancun international airport, you'll have to make a huge trip, having to take a bus service or private transfer just to get to the ferry port that will finally get you to Cozumel.
Where should you stay in Cozumel?
Of course, the Cozumel waters are mind-blowing. When you get there, you can see the turquoise waters of all kinds of fishes, even some that can jump! So if you want to be near this paradise, you should stay in the hotel zone.
In the Cozumel Hotel zone, you can enjoy an amazing view of the turquoise waters and one of the calmest seas you'll ever see in your life.

But if you want to experience the real day by-day, you can stay downtown Cozumel (where even some Mexicans stay there). But don't worry, the people are friendly, and you can stay somewhere with tequila tastings if you are lucky enough.
Best Cozumel activities
Cozumel is one of the best places of all to explore the ocean! Its calm waters allow visitors to snorkel at low depths (3 meters) to watch the amazing marine life.
Snorkeling Tour: you can choose from the multiple options the guides give you. But mostly, they all go to the same place: the amazing Palancar, Columbia, and El Cielo coral reefs. There you can see real starfishes, sea turtles, and many fishes in their natural environment.

Diving at Chankanaab: Many places offer diving tours if you want to go deep into the ocean. At Chankanaab, you'll particularly have different ways to dive. You can choose the traditional way to dive (with an air tank) or the Sea trek (a recreational underwater diving system with a helmet).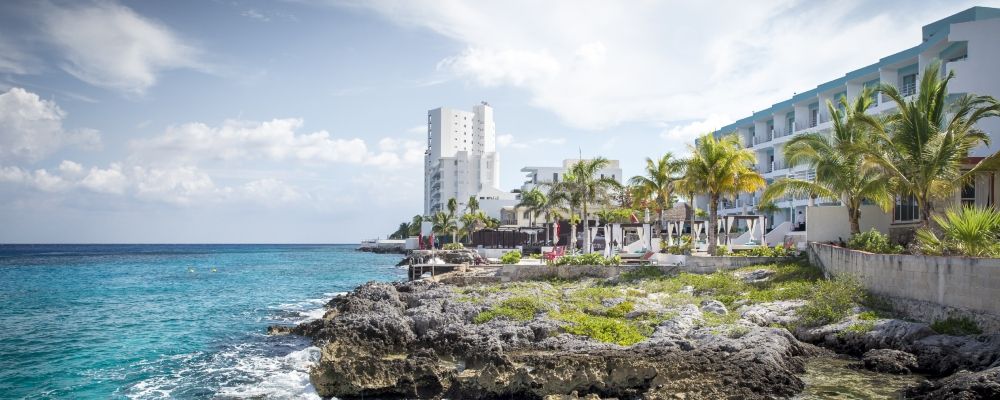 Enjoy Tulum: where culture and party mix
Tulum is one of the most popular places in the world to go partying, and it has its reasons. The reality is that Tulum has many places to go to a party, as many beach clubs have emerged.
On the other hand, this place is also known as one a spiritual retreat for many people that want to find themselves or just to get away from their day-to-day.
Where to stay at Tulum?
Tulum is a popular destination known for its white sand beach and ancient Mayan ruins. The town offers a variety of accommodation options to suit different budgets and preferences.
If you're looking for a luxurious and deluxe hotel, there are several options to choose from in the hotel zone. One of the top deluxe hotels in Tulum is Azulik. This eco-friendly hotel offers a unique experience with its treehouse-style accommodation and stunning ocean views. The hotel features a spa, yoga deck, and private access to a Tulum beach.

Another great option for a deluxe hotel is the Nômade. This hotel offers a bohemian-chic experience with its thatched-roof bungalows and stunning beachfront location. The hotel features a spa, yoga deck, and private beach access.
Best Tulum activities
Here are some things to do in Tulum that you should consider during your visit:
Visit the Tulum Ruins: Tulum is home to some of the most well-preserved ancient Mayan ruins in Mexico. The Tulum ruins are located on a cliff overlooking the Caribbean Sea and offer a glimpse into the rich history of the Mayan civilization.

Explore the cenotes: Tulum is surrounded by natural swimming holes called cenotes. These crystal-clear pools are perfect for swimming, snorkeling, and diving. Some popular cenotes in Tulum include Gran Cenote ,Cenote Calavera and Cenote dos ojos.

Take a yoga class: Tulum is a popular destination for yoga and wellness. The town offers a variety of yoga studios and classes, some of which are held on the beach town or in the jungle.

Visit a spa: Tulum is known for its spa and wellness centers. Some popular spa centers include the Papaya Playa Project, Casa Malca, and Nomade. These centers offer a variety of spa treatments, yoga classes, and meditation sessions.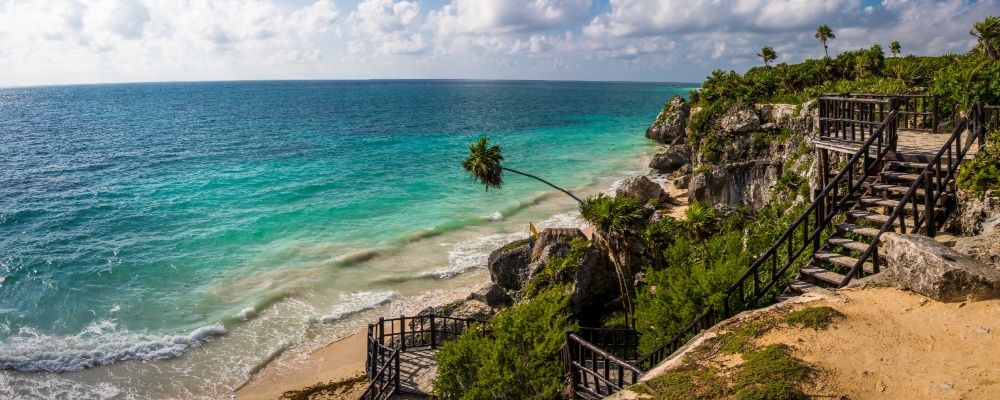 Where will you go?
Of course, knowing where to have fun beach vacations is difficult if you are coming to Mexico. Cancun, Playa del Carmen, Tulum, and Cozumel are all popular vacation destinations on Mexico's Caribbean coast, known for their beautiful beaches, clear waters, and rich Mayan culture.
Each destination offers a unique experience and caters to different types of travelers.
As you've seen, Cancun is a well-established tourist destination that offers a wide range of activities, from lounging on the beach to exploring ancient Mayan ruins in its museum. It's also home to some of the most luxurious all inclusive resorts and hotels in the continent, making it a popular choice for honeymooners and those looking for a high-end vacation.
Playa del Carmen is, for now, a more laid-back city located south of Cancun. It has a more bohemian vibe and a thriving arts and culture scene. It's also home to the famous Fifth Avenue, a pedestrian street lined with shops, bars, and restaurants.
Those who reach Playa del Carmen now are a great choice for a more authentic Mexican experience.
Tulum is a picturesque town located on the south of the Riviera Maya. It's known for its beautiful beaches, cenotes, and ancient Mayan ruins. Tulum is a popular destination for eco-tourists and those looking for a more relaxing and secluded experience.
Cozumel is an island located off the coast of the Yucatan Peninsula. It's known for its crystal-clear waters and vibrant coral reefs, making it a popular destination for snorkeling and diving. Cozumel is also home to some of the best beaches in Mexico and has a charming downtown area with various shops and restaurants.
Each of these destinations offers its unique experience; the best one for you will depend on what you're looking for in a vacation. Cancun and Playa del Carmen are great choices if you're looking for all inclusive resorts.
Playa del Carmen is a great option if you're looking for an authentic Mexican experience with a bohemian vibe. Also, you'll find the Playa del Carmen Port, which will help you get to Cozumel.
Tulum is perfect for those looking for a more secluded and natural experience, and Cozumel is a great choice for those interested in snorkeling and diving.